"Less Talk, More Rock"
Listen to Benjy Mudie every Thursday night between 8 and 12pm on Radio 2000.
Radio 2000
(97.2 to 100.2FM)
Click
here
for the frequency in your area.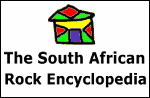 This website is part of the South African Rock Encyclopedia
Benjy says...



Greetings fellow rockers,



Rory Gallagher



It's rare to field so many calls during an artist special so the outpouring of adulation from many of you during Thursday night's Rory Gallagher special only goes to underscore just how influential this highly underrated Irish guitarist remains. His quicksilver, nimble playing on tunes like "A Million Miles Away" and "Calling card" still makes my hair stand up - I challenge any of the so-called modern players to evoke such passion ..... Next week's special will delve into the music of Canada's The Tea Party - Guitarist and singer Jeff Martin started TTP in the early 90's and with the release of their debut album "Splendor Solis" in 1993 it became apparent to discerning rock fans that here was a band who sounded totally different to anyone else in the rock hemisphere. They've released another 8 albums since then including the stunning new record "Seven Circles" (reviewed last week). Don't miss an introduction to one of the best bands on the planet next Thursday...................



That's right folks .... win this amazingly funky Rolling Stones mini fridge, courtesy of EMI Music. It has the distinctive 'tongue' logo on the front and handily keeps a six pack of frosties ... well ... frosty. Its the only one available in the country and exclusive to Rock of Ages ... now I hear you asking (pant pant) ... Benj, how do I win this? Well all you have to do is pop along to the Rock of Ages website, click on the pic of the fridge, which will take you to the competition page and do your thing ... pretty simple, all the rules are there ... and if you don't happen to be the 'lucky one' then you also could stand a chance of winning one of ten copies of the fab new Stones album "A Bigger Bang" (that's if you don't already have it!).



Rock of Ages's Recommendations





Blending elements of folk, free form jazz, blues, Indian raga and improvisational rock into an intoxicating brew, Durban's Abstract Truth featured the talents of ex Freedom's guitarist Kenny Henson, saxophonist/flautist Sean Bergin, bassist/sometime drummer George Wolfaardt and keyboardist Peter Measroch. The band released 2 stunning albums "Silver Trees" and "Totum" as well as a compilation "Cool Sounds For Heads" in the early 70's before fragmenting into various other bands. Highly prized by classic rock collectors worldwide and hailed on the same level as Jade Warrior, Audience, etc both "Silver Trees" and "Totum" have been combined onto a single officially sanctioned CD, digitally remastered with rare pics, liner notes, etc. The music of Abstract Truth has definitely stood the test of time and sounds as fresh as it did some 35 years ago ... for more information on this album and other classic SA rock albums visit www.freshmusic.co.za/retrofresh.



Speaking of Audience, one of my fave 70's UK bands, I was thrilled to finally lay my hands on a copy of the band's debut 1969 album, simply titled "Audience" . Whilst not as musically advanced as the later classic "House on the hill" it is still an amazing album that sizzles with energy with guitarist/vocalist Howard Werth and saxophonist Keith Gemmell in full flow.Check out "Poet", "Harlequin" and "Heaven Was An Island" plus an early version of "House ....". A Rock of Ages and devoted rock fan André Marais mailed me with the new Audience website details where I ordered the new live album. Yes, it's true the mighty Audience have reformed after what seems to be a very long 'lunch' break and are touring with plans for a brand new album of original material in 2006. I have also made contact with bassist Trevor Williams and hopefully will be interviewing him for the show soon .... check out www.audienceareback.com for more info .....



Beggars Opera



Not had your fill of classic rock yet? Well then on the 'prog' side of rock I recently picked up the third Beggars Opera album "Pathfinder" which includes their unique take on Jimmy Webb's "McArthur Park" as well as a handful of really cool classically influenced keyboard tunes. This 70's Scottish band were one of the leading lights of the then 'progressive rock' school and are worth investigating ......

See you next week and don't forget 'Turn it loud'!

Benjy

Rock of Ages is brought to you by CD Wherehouse
- where the obsessed unite.

Contact Rock of Ages

Email: click here
Snail mail:
PO Box 782022, Sandton 2146
Studio phone: 089-1102003
Richard Filmer @ CDW

Disclaimer:
The views, opinions, rants, raves and ramblings expressed on this website are the author's own and in no way reflect the views of Radio 2000 or the SABC.



Latest Playlist
Win a custom made Rolling Stones fridge courtesy of EMI Music South Africa - exclusive to Rock Of Ages.

This Rolling Stones fridge is custom made to hold a six pack of beer and is the only one of it's kind in SA.

Click here to enter.


News from the
World of Rock
BADFINGER DRUMMER DIES
Michael Gibbins, drummer with '60s UK band Badfinger, has died at the age of 56. They rose to prominence when they became the first act to sign to the Beatles' Apple label. They had a hit in 1968 with the Paul McCartney-penned 'Come And Get It'. Recently, Def Leppard recently covered their song 'No Matter What'.

PINK PULSE
Pink Floyd are to release a double disc DVD called 'Pulse' on December 5. It features the band's 1994 performance at London's Earl's Court, which included the whole of the 'Dark Side Of The Moon' album in its entirety. There will also be backstage footage and other extras.

IRON MAIDEN TRIBUTE ALBUM
Iron Maiden fans the world over will have something new to get excited about as the newly re-launched Restless Records releases Numbers From The Beast: An All Star Salute to Iron Maiden, a tribute to the legendary band. The album, which features Maiden's own Paul Di'Anno and marks Restless' return to its metal and punk roots, is produced by Grammy Award winner and tribute album pioneer Bob Kulick (Kiss, Metallica, Aerosmith) along with Brett Chassen and features appearances from current or former members of Iron Maiden, KISS, AC/DC, Motörhead, Anthrax, Dio, Judas Priest, Testament, Twisted Sister, Extreme, Whitesnake, Slaughter, Helmet, Dokken and many others.

THE DARKNESS RETURNS - November 28
The Darkness return with their second album, 'One Way Ticket To Hell ... And Back', featuring the first single 'One Way Ticket'. Everything you've heard is true. All of it. The exhaustion and the fear, the pressure, paranoia and pan pipes, the breakdowns and break-ups, the sackings, sitar solos and endless studio sessions, and now ultimately - with this, their second album - the rebirth and redemption of The Darkness. So, when it came to making a second album, the stakes were high. This meant finding an extraordinary producer that could realise their ambitions. Enter Roy Thomas Baker; affectionately know as RTB, responsible for crafting some of the most impressive and influential records of all time with a CV that includes Queen, David Bowie, The Rolling Stones, Free and The Who.

DREAM THEATER GO TO THE 'DARK SIDE'
Dream Theater will perform the whole of the Pink Floyd classic 'Dark Side Of The Moon' when they play at the Hammersmith Apollo in London on October 25. Get tickets via the ticket link at www.totalrock.com


Live Gigs
THE MOCHINES
14th Mercury Live


JOHNATHAN MARTIN BAND (EX-JACK HAMMER)
14th October Habernero's, Kalk Bay
15th Dorp Street Theatre, Stellenbosch
16th October Acoustic Café, Muizenberg

ARNO CARSTENS/ALBERT FROST
16th Barnyard Theatre,Franschoek - UNPLUGGED
20th Belgian Beer Pub, Stellenbosch
21st and 22nd BMW Pavilion, V&A Waterfront

STONED GOBLIN
Friday 14th Carnival Court, Long Street, Cape Town
22nd October Gandalfs in Observatory


"Benjy says..." Archive
---
Stay tuned every Thursday 8-12pm for the best in classic rock on RADIO 2000.
---
Your Host
Benjy Mudie
Then
Now
Benjy Mudie was inducted into the South African Rock Hall Of Fame on 14th August 2002. Of Scottish origin, Mudie started out in the music industry working in record shops. He later became the A&R man for WEA records, signing such luminaries as Lesley Rae Dowling, Baxtop and Falling Mirror. He has ventured briefly into the realms of songwriting, getting co-writing credit for Little Sister's song 'You Got My Heart', but it is mainly for his running of record labels, notably Tusk and more recently Fresh and Retro Fresh that he is honoured. With these labels he has tirelessly dedicated himself to putting South African music out there, showing an unshaking belief in the quality of SA music.
----------------------------------------------------------------------
Our Sponsors
Rock Of Ages is brought to you by Compact Disc Wherehouse.
Branches:
Sandton City
The Zone, Rosebank
Gateway, Durban
The Waterfront, Cape Town.
"Looking for that rock album?"
Talk to
Richard Filmer
at CD Wherehouse.