"Less Talk, More Rock"
Listen to Benjy Mudie every Thursday night between 8 and 12pm on Radio 2000.
Radio 2000
(97.2 to 100.2FM)
Click
here
for the frequency in your area.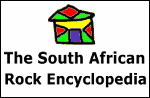 This website is part of the South African Rock Encyclopedia
Benjy says...



One of the great joys in doing Rock of Ages is playing music by great artists that somehow, for whatever reason, get overlooked by mainstream rock radio. I get a thrill on 'turning' rock fans on to bands that continually inspire me and one such band are Canadian rockers, The Tea Party.

My 'Lightswitch' guest last night, Blk Sonshine's Neo Muyanga, was totally blown away with how different they sound compared to most of the newer rock bands out there. Whilst they do have a 'Zep' feel there are also Celtic folk, Indian and Arabic scales and ambient influences mixed in. Guitarist Jeff Martin, in my opinion, is one of the most inventive players around. For an introduction get the Best of album called 'Tangents' as well as the jaw dropping new record "Seven Circles". If you have a problem locating The Tea Party albums drop Richard Filmer a line at rf2@cdwherehouse.co.za, he's become a firm fan!

Next week's special will be a musical journey with one of rock music's enduring heroes, Neil Young. From his early days with The Mynah Birds (which included a young pre-funkster Rick James!) and the legendary, highly influential Buffalo Springfield to his on-off relationship with Crosby, Stills and Nash and his 35+ years as a cutting edge solo artist and fronting Crazy Horse, Neil Young has played to no piper's tune ,just his own muse. Whether it's gentle aching acoustic songs or loud ragged rock glory Neil Young has made some of the most important rock music of the last half century..... Don't forget to keep those 'Special' suggestions coming, my email address is at the bottom of the page.

Rock on until next Thursday...

Benjy

Rock of Ages is brought to you by CD Wherehouse
- where the obsessed unite.

Contact Rock of Ages

Email: click here
Snail mail:
PO Box 782022, Sandton 2146
Studio phone: 089-1102003
Richard Filmer @ CDW

Disclaimer:
The views, opinions, rants, raves and ramblings expressed on this website are the author's own and in no way reflect the views of Radio 2000 or the SABC.



Latest Playlist
Win a custom made Rolling Stones fridge courtesy of EMI Music South Africa - exclusive to Rock Of Ages.

This Rolling Stones fridge is custom made to hold a six pack of beer and is the only one of it's kind in SA.

Click here to enter.


News from the
World of Rock
OZZY'S SINGLE 'LIFE'
Ozzy Osbourne is to release his version of the Beatles' 'In My Life' as a single on November 14. This comes from his covers album, 'Under Cover', due out soon.

ZZ, CHEAP TRICK STARS COCK UP
Billy Gibbons from ZZ Top and Cheap Trick's Robin Zander guest on the new album from te Revolting Cocks. Titled 'Revolting Cocks: Cocked & Loaded', it will be released by the 13th Planet label in February. There are also appearances from Jello Biafra and Gibby Haynes (Butthole Surfers).


Live Gigs
ARNO CARSTENS/ALBERT FROST
21st and 22nd BMW Pavilion, V&A Waterfront

CDW Live
Arno Carstens - Saturday 22 October 2005 - CD Wherehouse V & A Waterfront. 14h00 till 15h00
Louise Carver - Saturday 22 October 2005 CD Wherehouse The Zone, Rosebank 12h00 till 12h45

STONED GOBLIN
22nd October Gandalfs in Observatory


"Benjy says..." Archive
---
Stay tuned every Thursday 8-12pm for the best in classic rock on RADIO 2000.
---
Your Host
Benjy Mudie
Then
Now
Benjy Mudie was inducted into the South African Rock Hall Of Fame on 14th August 2002. Of Scottish origin, Mudie started out in the music industry working in record shops. He later became the A&R man for WEA records, signing such luminaries as Lesley Rae Dowling, Baxtop and Falling Mirror. He has ventured briefly into the realms of songwriting, getting co-writing credit for Little Sister's song 'You Got My Heart', but it is mainly for his running of record labels, notably Tusk and more recently Fresh and Retro Fresh that he is honoured. With these labels he has tirelessly dedicated himself to putting South African music out there, showing an unshaking belief in the quality of SA music.
----------------------------------------------------------------------
Our Sponsors
Rock Of Ages is brought to you by Compact Disc Wherehouse.
Branches:
Sandton City
The Zone, Rosebank
Gateway, Durban
The Waterfront, Cape Town.
"Looking for that rock album?"
Talk to
Richard Filmer
at CD Wherehouse.