"Less Talk, More Rock"
Listen to Benjy Mudie every Thursday night between 8 and 12pm on Radio 2000.
Radio 2000
(97.2 to 100.2FM)
Click
here
for the frequency in your area.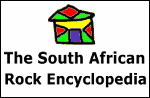 This website is part of the South African Rock Encyclopedia


Benjy says...



Greetings fellow rockaholics,

Where else on radio can you hear the likes of Beggars Opera, Wishbone Ash, Dream Theater, Frank Zappa, Free, Steppenwolf, Otis Waygood, Led Zeppelin, Steve Vai, The Flock, Curved Air and the rest of the best in classic and new rock? Right here on Rock of Ages of course! ... and if you are enjoying the music be sure to tell all your like minded friends ..... I'm glad so many of you enjoyed the Savoy Brown special, you have to be a unique group to survive 40 years in the cutthroat world ... founder guitarist Kim Simmonds should be knighted for his services to music! ...... Granted there are many fine guitarists out there; the flashy ones, the technical ones, the 'speed merchants', etc BUT there are very few that combine all of this with sheer soul and feel. One modern day string-bender who does just that is the subject of next week's special ... Joe Bonamassa. Since Rock of Ages took up the crusade to expose his phenomenal talent we have been inundated with calls and mails from fans asking for more .... well, your wish is my command next Thursday.



Joe Bonamassa

Born in upstate New York, Joe Bonamassa started playing on a short scale Chiquita guitar at the age of four, graduating to a full-scale guitar at seven. By the time he was 8, Joe was playing the blues like a veteran. "Stevie Ray Vaughn was a huge influence in my early days," says Bonamassa, "but not my only one. I was influenced by all the great blues masters – Duke Robillard, Danny Gatton, Eric Clapton, and Robben Ford were all musicians I gravitated towards. I just naturally loved the blues and the seductive sound of the Stratocaster." At ten, Joe was performing locally, and at twelve, he was asked to open for B.B. King. After the performance, King would say, "This kid's potential is so great that he hasn't begun to scratch the surface. He's one of a kind …. a legend before his time." In 2000, Joe finished work on his debut solo CD, A New Day Yesterday. This was followed by the albums "Blues Deluxe" , "Had to cry today" , "So its like that " and " A new day yesterday - live". The memorable melodies and potent guitar work brings to mind the classic blues-based rock of Cream, Lynyrd Skynyrd, the Jeff Beck Group, and the Allman Brothers Band with a touch of Jimi, Stevie and Roy.



Rock of Ages Live at CD Wherehouse



In keeping with our dual motto of "Less talk, more rock" and in this case "Taking the music to the people", Rock of Ages will be broadcasting live from 3 CD Wherehouse superstores in the coming weeks. Nick and I would love to see and meet you so please come and support us - let's show everyone the power of rock radio!

Thursday 24th November 7pm-12 midnight CD Wherehouse, Gateway Durban - with live performance by Red House
Thursday 1st December 7pm-12 midnight CD Wherehouse,V&A Waterfront Cape Town - with live performance by The Mochines
Thursday 8th December 7pm-12 midnight CD Wherehouse,The Zone Rosebank JHB - with live performance by Jim Neversink.
NB The live performances start sharply at 7pm



Don't forget to enter our Cream reunion competition, you stand a chance to win 1 of 5 double cd/double DVD packs, courtesy of Gallo Music - again all you have to do is go here to enter.



Rock of Ages's recommendations



www.rock.co.za/abstracttruth

NB - Next week's show, 10th November, will be pre-recorded as I will be away on a short trip overseas - back 'live on the 17th'.

Benjy

Rock of Ages is brought to you by CD Wherehouse
- where the obsessed unite.

Contact Rock of Ages

Email: click here
Snail mail:
PO Box 782022, Sandton 2146
Studio phone: 089-1102003
Richard Filmer @ CDW

Disclaimer:
The views, opinions, rants, raves and ramblings expressed on this website are the author's own and in no way reflect the views of Radio 2000 or the SABC.



Latest Playlist
Win a double CD and double DVD of Cream's historic Royal Albert Hall 2005 reunion concert, courtesy of Gallo Records ... we have 5 sets to give away.

Click here to enter.


News from the
World of Rock
MANSON PLANS CHILDREN'S TV SHOW
Marilyn Manson is plotting to scare the children of the world ... by creating a TV programme in his own image. This is planned as a cartoon.

TOMMY GOES COUNTRY
Motley Crue drummer Tommy Lee appears in the new video from country rocker Keith Anderson. It's for the song 'XXL?' and lots of girls are said to be involved!

FAREWELL TO BB
Blues legend BB King is teaming with Gary Moore for what's being termed his farewell UK tour. The dates are: Sheffield Arena March 29, Manchester MEN Arena 31, Birmingham NEC Arena April 1, Bournemouth BIC 2, London Wembley Arena 4.

CREAM COIN IT
Cream grossed an astonishing $10.5 million from their three sold-out shows at Madison Square Garden in New York last week. More than 56,000 fans saw the gigs, which are expected to be the band's last. Despite lucrative touring offers, Eric Clapton, Jack Bruce and Ginger Baker aren't expected to repeat the exercise.

LEMMY ADDRESSES WELSH ASSEMBLY In a somewhat unlikely alliance, Lemmy has agreed to address the Welsh National Assembly on November 3. He's been invited by Tory member William Graham to talk today about drug abuse. Motorhead play in Cardiff tonight.
Live Gigs
Robertson Rock Festival
2-4 December Robertson Rocks - featuring Karen Zoid, Boulevard Blues Band, Lancaster Band, Fokofpolisiekar, Hog Hoggidy Hog, Rudimentals and many more – visit their website at www.robertsonrocks.co.za

Dan Patlansky
Thursday 10 Tanz Café, Bryanston

Boulevard Blues Band
6th November Guzzlers, Tableview
13th Berties Mooring, Gordons Bay
19th Flaming Fox, Parklands
20th Guzzlers, Tableview
23rd Berties Mooring, Gordons Bay


CLASSIC ROCK BIRTHDAYS
November 7
Joni Mitchell - (1943)
Bonnie Bramlett (Delaney & Bonnie) - (1944)
Robert Nix (Atlanta Rhythm Section) - (1944) Roy Wood (Electric Light Orchestra) - (1946)
Bonnie Raitt - (1949)
Rickie Lee Jones - (1954)

November 9
Joe Bauchard (Blue Öyster Cult) - (1948)
Tom Fogerty (Creedence Clearwater Revival) - (1941 - 1990)
Alan Gratzer (REO Speedwagon) - (1948)
November 10
Greg Lake (Emerson Lake and Palmer) - (1947)
Ronnie Hammond (Atlanta Rhythm Section) - (1950)

November 11 Chris Dreja (The Yardbirds) - (1945)
Vince Martell (Vanilla Fudge) - (1945)

November 12 Neil Young - (1945)
Buck Dharma (Blue Öyster Cult) - (1947)


"Benjy says..." Archive
---
Stay tuned every Thursday 8-12pm for the best in classic rock on RADIO 2000.
---
Your Host
Benjy Mudie
Then
Now
Benjy Mudie was inducted into the South African Rock Hall Of Fame on 14th August 2002. Of Scottish origin, Mudie started out in the music industry working in record shops. He later became the A&R man for WEA records, signing such luminaries as Lesley Rae Dowling, Baxtop and Falling Mirror. He has ventured briefly into the realms of songwriting, getting co-writing credit for Little Sister's song 'You Got My Heart', but it is mainly for his running of record labels, notably Tusk and more recently Fresh and Retro Fresh that he is honoured. With these labels he has tirelessly dedicated himself to putting South African music out there, showing an unshaking belief in the quality of SA music.
----------------------------------------------------------------------
Our Sponsors
Rock Of Ages is brought to you by Compact Disc Wherehouse.
Branches:
Sandton City
The Zone, Rosebank
Gateway, Durban
The Waterfront, Cape Town.
"Looking for that rock album?"
Talk to
Richard Filmer
at CD Wherehouse.