"Less Talk, More Rock"
Listen to Benjy Mudie every Thursday night between 8 and 12pm on Radio 2000.
Radio 2000
(97.2 to 100.2FM)
Click
here
for the frequency in your area.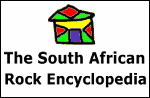 This website is part of the South African Rock Encyclopedia


LIVE!!!
Rock Of Ages broadcasting live from CD Wherehouses round the country in November and December.

In keeping with our dual motto of "Less talk, more rock" and in this case "Taking the music to the people", Rock of Ages will be broadcasting live from 3 CD Wherehouse superstores in the coming weeks. Nick and I would love to see and meet you so please come and support us - let's show everyone the power of rock radio!

Thursday 24th November 7pm-12 midnight CD Wherehouse, Gateway Durban - with live performance by Red House
Thursday 1st December 7pm-12 midnight CD Wherehouse, V&A Waterfront Cape Town - with live performance by The Mochines
Thursday 8th December 7pm-12 midnight CD Wherehouse, The Zone Rosebank JHB - with live performance by Jim Neversink.

NB The live performances start sharply at 7pm

Benjy says...





Gentle Giant



If any band could be termed off-the-wall, strange and downright quirky then surely Gentle Giant fit the bill? (ok Zappa too!). Founded by the Scottish born Shulman brothers in the early 70's, Gentle Giant fused an intoxicating brew of rock, classical, free form jazz, English madrigals and medieval folk into a gloriously complex and original prog rock potion. No two GG albums sound alike but the albums "Free hand", "The power and the glory" and "In a glass house" are highly recommended for classic rock fans who enjoy the likes of Yes and early Genesis. For more on Gentle Giant go to www.blazemonger.com/GG



Porcupine Tree



Next week's special will be Porcupine Tree.

Porcupine Tree was born in 1987 as a psychedelic, experimental, and progressive music outlet for the home studio explorations of Steven Wilson. Steven and his friend Malcolm Stocks developed an almost entirely fictional history of a legendary seventies group, complete with non-existent band members and an absurd discography - this was The Porcupine Tree. To back up the story, Steven recorded several hours worth of music supposedly by this imaginary band. One thing led to another and after some positive reviews of the demo cassette the real Porcupine Tree was born. The band have recorded 13 albums with the latest "Deadwing" recently snatching the prestigious Classic Rock prize for "Album of the year". For more information on this amazing band go to www.porcupinetree.com Keep the rock real Benjy Rock Of Ages www.rock.co.za/rockofages

Next week's show will be broadcast live from CD Wherehouse, Gateway, Durban. The show starts at 7pm with a live performance of Durban based rockers, Red House followed by 4 hours of the best in classic and new 'retro' rock....Both Nick and I hope to see you there!




Rock of Ages recommends





G3 - Live In Tokyo



First up is the stunning new G3 "Live in Tokyo" project featuring uber-guitarists Joe Satriani, Steve Vai and John Petrucci which is available as a double cd and on DVD. Over 90 minutes of steel melting, soul shredding and mind numbing riffs - 3 solo sets from each of the players plus 3 all star jams where the lads pay tribute to ZZ Top ("La Grange"); Deep Purple ("Smoke on the water") and 'the man with the guitar', Jimi Hendrix ("Foxey lady"). Sheer bliss for lovers of the 6 string!



BB King and Friends



Just released is the new and perhaps the final album from the proclaimed 'King of the blues'. "BB King and Friends" finds the man celebrating his 80th birthday with an all-star cast including Billy Gibbons, Van Morrison, Roger Daltrey, Eric Clapton, John Mayer, Mark Knopfler and many more. BB revisits some of his fave tunes as well as tackling some new blues chestnuts, his trademark stinging lead breaks (courtesy of 'Lucille') shows that he has lost none of his skills and in places he just eats up the guest players and spits them out! Happy Birthday BB King!



Atomic Rooster - Death walks behind you



Finally my recommendations wouldn't be complete without a nod to the real classics....If one accepts that the 70's saw the emergence of some of the greatest 'heavy' bands then there were few as heavy as Atomic Rooster. Driven by the swirling Hammond of Vincent Crane (Ex Crazy World of Arthur Brown - remember "Fire"?), powered by the percussive thunder of Paul Hammond and topped by the riff heavy guitar of John DuCann, Atomic Rooster's "Death walks behind you" is one of the all time classic rock albums. It's been recently remastered with bonus tracks, pics and great liner notes documenting the rise, and sad demise, of a band that could have been as huge as the 'Heep or 'Purple. It includes the band's 2 'hit' singles "Tomorrow night" and "The Devil's answer".

Rock on until next Thursday...

Benjy

Rock of Ages is brought to you by CD Wherehouse
- where the obsessed unite.

Contact Rock of Ages

Email: click here
Snail mail:
PO Box 782022, Sandton 2146
Studio phone: 089-1102003
Richard Filmer @ CDW

Disclaimer:
The views, opinions, rants, raves and ramblings expressed on this website are the author's own and in no way reflect the views of Radio 2000 or the SABC.



Latest Playlist
Win a double CD and double DVD of Cream's historic Royal Albert Hall 2005 reunion concert, courtesy of Gallo Records ... we have 5 sets to give away.

Click here to enter.


News from the
World of Rock
HUGHES GETS CHILI
Glenn Hughes is currently working on songs for his next solo album. And he'll be joined by Red Hot Chili Peppers duo Chad Smith (drums) and John Frusciante (guitar). The as yet untitled album is to be recorded at Smith's home studio in Hollywood.

PAUL v/s YOKO (again)
Oh, please. Paul McCartney and Yoko Ono have been publicly feuding for so long (about 35 years now) that it's hardly news when one of them takes a dig at the other. How about when one of them apologizes for something said about the other? Ono made a snide remark about McCartney's songwriting at an awards show in London last month. Now she's telling Rolling Stone that reporters blew her remarks out of proportion (can you imagine such a thing happening?) and that if she offended Sir Paul in any way, she's sorry and she loves you yeah, yeah, yeah.

GENESIS REUNION?
There's been a growing amount of chatter this week about a possible reunion of Genesis. The band has officially been on hiatus since 1998. Phil Collins and Peter Gabriel, both former lead vocalists for the popular progressive rock group, are both talking about the possibility that the band may reunite sooner rather than later.

Gabriel, a founding member of the band who left in 1975 to pursue a solo career, tells Rolling Stone that "The odds are better now than before. We're going to have the conversation." Collins, the band's drummer who replaced Gabriel as lead vocalist tells the Reuters news service, "If it happens, I'll be there," playing drums and leaving the lead vocals to Gabriel. Guitarist Steve Hackett told the Chicago Sun-Times that he has been contacted by Genesis management and says, "I do think it will happen." If it does happen, it'll be the first time Genesis has performed together since recording a new version of "The Carpet Crawlers" for a 1999 greatest hits compilation. The last time Gabriel performed with the group was in a one-time-only concert in 1982.

HENDRIX THE FILM
To celebrate the late Jimi Hendrix's induction into the UK Music Hall Of Fame (which happened in London on November 16), there will be a two-disc DVD authorised biography released on January 30. It's called 'A Film About Jimi Hendrix' and was put together in 1973.

OZZY PLAYS FOR THE QUEEN
Ozzy Osbourne is to be one of the artists at this year's Royal Variety Performance, in front of HRH Queen Elizabeth II. The Prince Of Darkness was due to appear in 2004, but had to withdraw, due to other commitments.

MULTIPLE GUITARS ON THE WATER
German TV programme 'Wetten, Dass?' have just screened an unusual vesion of Deep Purple's classic 'Smoke On The Water'. It featured no less than 250 guitarists wailing away at the famous riff.


Live Gigs
Robertson Rock Festival
2-4 December Robertson Rocks - featuring Karen Zoid, Boulevard Blues Band, Lancaster Band, Fokofpolisiekar, Hog Hoggidy Hog, Rudimentals and many more – visit their website at www.robertsonrocks.co.za

Boulevard Blues Band
23rd Berties Mooring, Gordons Bay


CLASSIC ROCK BIRTHDAYS
November 17
Gene Clark (The Byrds) - (1944 - 1991)
Martin Barre (Jethro Tull) - (1946)

November 18
Graham Parker - (1950)
John McFee (Doobie Brothers) - (1953)

November 19
Ray Collins (Mothers of Invention) - (1937)
Fred Lipsius (Blood Sweat & Tears) - (1943)

November 20
George Grantham (Poco) - (1947)
Duane Allman (Allman Brothers) - (1946 - 1971)
Joe Walsh (Eagles - (1947)

November 21
Lonnie Jordan (War) - (1948)
Gary Pihl (Boston)

November 22
Little Steven Van Zandt (E Street Band) - (1950)
Rod Price (Foghat) - (1947 - 2005)

November 23
Bruce Hornsby - (1954)

November 24
Pete Best (The Beatles) - (1941)


"Benjy says..." Archive
---
Stay tuned every Thursday 8-12pm for the best in classic rock on RADIO 2000.
---
Your Host
Benjy Mudie
Then
Now
Benjy Mudie was inducted into the South African Rock Hall Of Fame on 14th August 2002. Of Scottish origin, Mudie started out in the music industry working in record shops. He later became the A&R man for WEA records, signing such luminaries as Lesley Rae Dowling, Baxtop and Falling Mirror. He has ventured briefly into the realms of songwriting, getting co-writing credit for Little Sister's song 'You Got My Heart', but it is mainly for his running of record labels, notably Tusk and more recently Fresh and Retro Fresh that he is honoured. With these labels he has tirelessly dedicated himself to putting South African music out there, showing an unshaking belief in the quality of SA music.
----------------------------------------------------------------------
Our Sponsors
Rock Of Ages is brought to you by Compact Disc Wherehouse.
Branches:
Sandton City
The Zone, Rosebank
Gateway, Durban
The Waterfront, Cape Town.
"Looking for that rock album?"
Talk to
Richard Filmer
at CD Wherehouse.