"Less Talk, More Rock"
Listen to Benjy Mudie every Thursday night between 8 and 12pm on Radio 2000.
Radio 2000
(97.2 to 100.2FM)
Click
here
for the frequency in your area.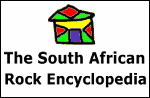 This website is part of the South African Rock Encyclopedia


LIVE!!!
Rock Of Ages broadcasting live from CD Wherehouses round the country in December.

In keeping with our dual motto of "Less talk, more rock" and in this case "Taking the music to the people", Rock of Ages will be broadcasting live from 3 CD Wherehouse superstores in the coming weeks. Nick and I would love to see and meet you so please come and support us - let's show everyone the power of rock radio!

Thursday 1st December 7pm-12 midnight CD Wherehouse, V&A Waterfront Cape Town - with live performance by The Mochines
Thursday 8th December 7pm-12 midnight CD Wherehouse, The Zone Rosebank JHB - with live performance by Jim Neversink.

NB The live performances start sharply at 7pm

Benjy says...



A great live broadcast in Durban on Thursday with an energy packed 5 song set from KZN rockers Red House followed by Rock of Ages instore at CD Wherehouse in Gateway. There was a great turnout of rock fans, many of whom are regular listeners, including Patrick from Greytown who took a day off work to party with Nick and I - way to go! My personal thanks to Carol, Wayne and Marcus from CDW for making the gig such a success. Judging by the instore reaction to the Porcupine Tree special (the store sold out their entire stock!) there are a lot of prog rock fans looking for something new and PT certainly fits the bill.... they are sometimes unfairly compared to Pink Floyd but in my opinion they, along with the likes of Dream Theater, represent a new direction in progressive rock music.

Next week's show will be broadcast live from CD Wherehouse, V&A Waterfront, Cape Town. The show starts at 7pm with a live performance by the Mochines followed by 4 hours of the best in classic and new 'retro' rock .... Both Nick and I hope to see you there!




Rock of Ages recommends





Deep Purple





Deep Purple are rightly regarded as one of the giants of rock music and although their creative heyday was in the 70's they have continued to release new albums over the following decades, some good and some ... well ... not so good. So it was with equal measures of anticipation and trepidation that I bought the new album "Rapture of the deep", hoping that somehow the Purple would reinvent themselves and deliver an album that I could rank up there with "Machine Head", "Fireball" and "Burn". Well whilst it isn't as groundbreaking as those albums it is by far the best Deep Purple album in years - guitarist Steve Morse, drummer Ian Paice, keyboard player Don Airey (who replaced the retired Jon Lord) and bassist Roger Glover play like men possessed on "Money talks", "Wrong man" and the ripping title track ... and Ian Gillan? Well he seems to have a new lease on his voice and remind us as to why he is regarded as one the best rock singers in the world.



Competitions





Dire Straits



Throughout December we will be running both an on-air and email competition to celebrate the release of the new Dire Straits album "Private Investigations - The Best of Dire Straits". Up for grabs over the next few weeks will be 12 copies of the album and 12 "One night only " DVD's so stay tuned!





Tracks

Sultans Of Swing
Love Over Gold
Romeo And Juliet
Tunnel Of Love
Private Investigations
Money For Nothing
Brothers In Arms
Walk Of Life
On Every Street
Going Home
Why Aye Man (radio edit) - Mark Knopfler
Boom Like That - Mark Knopfler
What It Is - Mark Knopfler
All The Road Running - Mark Knopfler


Rock on until next Thursday...

Benjy

Rock of Ages is brought to you by CD Wherehouse
- where the obsessed unite.

Contact Rock of Ages

Email: click here
Snail mail:
PO Box 782022, Sandton 2146
Studio phone: 089-1102003
Richard Filmer @ CDW

Disclaimer:
The views, opinions, rants, raves and ramblings expressed on this website are the author's own and in no way reflect the views of Radio 2000 or the SABC.



Latest Playlist
Win a Dire Straits CD, 'Private Investigations - The Best Of Dire Straits and Mark Knopfler' and a DVD of 'On The Night', courtesy of Universal Music ... we have 6 sets to give away.

Click here to enter.


News from the
World of Rock
GALLAGHER DVD
Wienerworld are releasing a three-disc DVD box set called 'Rory Gallagher - The Complete Rockpalast Collection' on December 5. This features five shows filmed between 1976 and 1990.

LED ZEPPELIN SCULPTURES
McFarlane Toys are to make special scupltures based on the album sleeve for 'Led Zeppelin 1'. These will be available from February. For full details, go to http://www.spawn.com/

X MARKS HALFORD?
Although it's not yet been confirmed, there are reports that Judas Priest frontman Rob Halford is to play the role of Dr. X on the new Queensryche album 'Operation: Mindcrime II'. The follow-up to the acclaimed 1988 concept album 'Operation: Mindcrime', this will be released in March.

FAREWELL TO WRAY Legendary guitarist Link Wray has died, at the age of 76. One of the most important guitarists of all time, Wray was a crucial influence on both metal and punk. He is best known for his 1958 instrumental 'Rumble' (which was so aggressive that it was banned by some US radio stations), 1959's 'Rawhide' (covered by the Dead Kennedys among others) and 'Jack The Ripper' in 1963.


Live Gigs
Robertson Rock Festival
2-4 December Robertson Rocks - featuring Karen Zoid, Boulevard Blues Band, Lancaster Band, Fokofpolisiekar, Hog Hoggidy Hog, Rudimentals and many more – visit their website at www.robertsonrocks.co.za


CLASSIC ROCK BIRTHDAYS
November 25
Roy Lynes (Status Quo) - (1953)
Bev Bevan (Electric Light Orchestra) - (1946)

November 26
John McVie (Fleetwood Mac) - (1945)
Tina Turner - (1939)

November 27
Jimi Hendrix - (1942 - 1970)

November 28 Beeb Birtles (Little River Band) - (1948)

November 29
John Mayall (Bluesbreakers) - (1933)
Denny Doherty (Mamas and the Papas) - (1940)
Felix Cavaliere (The Rascals) - (1944)
Ronnie Montrose - (1947)
Barry Goudreau (Boston) - (1954)

November 30
Dick Clark - (1929)
George McArdle (Little River Band) - (1954)
Leo Lyons (Ten Years After) - (1944)
Roger Glover (Deep Purple) - (1945)
Billy Idol - (1955)


"Benjy says..." Archive
---
Stay tuned every Thursday 8-12pm for the best in classic rock on RADIO 2000.
---
Your Host
Benjy Mudie
Then
Now
Benjy Mudie was inducted into the South African Rock Hall Of Fame on 14th August 2002. Of Scottish origin, Mudie started out in the music industry working in record shops. He later became the A&R man for WEA records, signing such luminaries as Lesley Rae Dowling, Baxtop and Falling Mirror. He has ventured briefly into the realms of songwriting, getting co-writing credit for Little Sister's song 'You Got My Heart', but it is mainly for his running of record labels, notably Tusk and more recently Fresh and Retro Fresh that he is honoured. With these labels he has tirelessly dedicated himself to putting South African music out there, showing an unshaking belief in the quality of SA music.
----------------------------------------------------------------------
Our Sponsors
Rock Of Ages is brought to you by Compact Disc Wherehouse.
Branches:
Sandton City
The Zone, Rosebank
Gateway, Durban
The Waterfront, Cape Town.
"Looking for that rock album?"
Talk to
Richard Filmer
at CD Wherehouse.