"Less Talk, More Rock"
Listen to Benjy Mudie every Thursday night between 8 and 12pm on Radio 2000.
Radio 2000
(97.2 to 100.2FM)
Click
here
for the frequency in your area.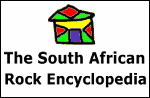 This website is part of the South African Rock Encyclopedia


Benjy says...



Dear Rock of Ages fans,

I hope you enjoyed the Gary Moore special last night. The Joburg live broadcast went off without any major problems, I am back live in the Cape Town studio next Thursday and I look forward to bringing you another 4 hours of great rock! There is no newsletter this week as I have just returned back to Cape Town and have to leave again for a few days. The normal news, gigs, recommendations will resume next week ... in the meantime keep the rock real ... and ... turn it loud!



Gary Moore






Rock of Ages recommends





Killer Queen



The last few years have seen a virtual tsunami of 'tribute' albums to the giants of classic rock - from AC/DC through Led Zep and Cheap Trick to Frank Zappa. Most of them do not work, either because the artists concerned merely copy the original version note-for-note or radically reinterpret them to a point that they lose the original spirit of the song. So when I was sent the latest tribute album "Killer Queen" I thought 'oh boy this is going going to be a mess', after all Queen were one of the mightiest rock bands of all time and the controversy over Paul Rodgers joining Brian and Roger in a new version of the band still rages on among fans worldwide. On that note it's interesting to hear that QPR (Queen + Paul Rodgers) have gone on record stating that they are not trying to recreate the 'Freddie Mercury' years but rather continuing as a live band and that Queen were four members and not just one. It is also important to point out that many of the huge Queen hits were written by guitarist Brian May so hey ... why not I say!

Anyway "Killer Queen" is one of the best tribute albums that I have heard - newcomer Gavin DeGraw's soulful rock interpretation of "We are the champions" is absolutely awesome and as for Shinedown's rabid thrash of "Tie your mother down"? Well it kicks serious ass and will liven up any party. Other notable tracks include the funky "Stone cold crazy" (Eleven with Queens of the Stone Age's Josh Homme) and Mexicali rockers Los Lobos's version of "Sleeping on the sidewalk". Inevitably two bands cover "Bohemian Rhapsody" and whilst they are good versions I think that the original can never be topped ... a great album!



Competitions





Dire Straits



Throughout December we will be running both an on-air and email competition to celebrate the release of the new Dire Straits album "Private Investigations - The Best of Dire Straits". Up for grabs over the next few weeks will be 12 copies of the album and 12 "On The Night" DVD's so stay tuned!





Tracks

Sultans Of Swing
Love Over Gold
Romeo And Juliet
Tunnel Of Love
Private Investigations
Money For Nothing
Brothers In Arms
Walk Of Life
On Every Street
Going Home
Why Aye Man (radio edit) - Mark Knopfler
Boom Like That - Mark Knopfler
What It Is - Mark Knopfler
All The Road Running - Mark Knopfler

Click here to enter.

Rock on until next Thursday...

Benjy

Rock of Ages is brought to you by CD Wherehouse
- where the obsessed unite.

Contact Rock of Ages

Email: click here
Snail mail:
PO Box 782022, Sandton 2146
Studio phone: 089-1102003
Richard Filmer @ CDW

Disclaimer:
The views, opinions, rants, raves and ramblings expressed on this website are the author's own and in no way reflect the views of Radio 2000 or the SABC.



Latest Playlist
Win a Dire Straits CD, 'Private Investigations - The Best Of Dire Straits and Mark Knopfler' and a DVD of 'On The Night', courtesy of Universal Music ... we have 6 sets to give away.

Click here to enter.


News from the
World of Rock
SABBATH FOR HALL OF FAME
Black Sabbath will finally be inducted into the Rock And Hall Of Fame. The time will come at the 21st annual induction, which is to happen in New York next March. Sabbath have consistently, and inexplicably, been passed over. In 1999, Ozzy famously asked for the band's name to be removed from the list nominees, deeming the whole thing to be irrelevant to a band such as Sabbath.

CARS RE-FORM
The celebrated '80s pop-rockers The Cars are to re-united next year for a tour, But it will be without frontman Ric Ocasek. His place is to be taken by Todd Rundgren.

ROCK AUCTION When Robert Zimmerman scribbled 16 pages of poems back in 1960, they weren't worth much to anyone but the young college student himself. 45 years later, Bob Dylan's early work is worth $78,000 to the collector who bought "Poems Without Titles" at Monday's (November 21) auction of rock memorabilia at Christie's auction house in New York.

Also at auction was an electric guitar played by Eric Clapton. It was expected to bring $3,000 to $5,000. The winning bidder added a zero and paid $36,000 for the Fender composite Stratocaster.

Also notable are some items that failed to attract any bidders: Jim Morrison's handwritten lyrics for the Doors' "Not to Touch the Earth" and the medallion Jimi Hendrix wore during his breakthrough performance at the 1967 Monterey Pop Festival.


Live Gigs
No gig news at present
CLASSIC ROCK BIRTHDAYS
While you're celebrating the festive holidays, don't forget to hoist a glass to the classic rockers who were born in the last month of the year.

December 12
Dickey Betts (Allman Brothers Band)(1943)
Clive Bunker (Jethro Tull) (1946)

December 13
Skunk Baxter (Doobie Brothers, Steely Dan) (1948)
Ted Nugent (1948)

December 14
Cliff Williams (AC/DC) (1949)

December 15
Carmine Appice (Vanilla Fudge, Cactus) (1946)
Dave Clark (Dave Clark Five) (1942)
Alan Freed (1922-1965)

December 16
Billy Gibbons (ZZ Top) (1949)

December 17
Paul Butterfield (1942-1987)
Paul Rodgers (Free, Bad Company) (1949)

Full List of December rock birthdays is here.


"Benjy says..." Archive
---
Stay tuned every Thursday 8-12pm for the best in classic rock on RADIO 2000.
---
Your Host
Benjy Mudie
Then
Now
Benjy Mudie was inducted into the South African Rock Hall Of Fame on 14th August 2002. Of Scottish origin, Mudie started out in the music industry working in record shops. He later became the A&R man for WEA records, signing such luminaries as Lesley Rae Dowling, Baxtop and Falling Mirror. He has ventured briefly into the realms of songwriting, getting co-writing credit for Little Sister's song 'You Got My Heart', but it is mainly for his running of record labels, notably Tusk and more recently Fresh and Retro Fresh that he is honoured. With these labels he has tirelessly dedicated himself to putting South African music out there, showing an unshaking belief in the quality of SA music.
----------------------------------------------------------------------
Our Sponsors
Rock Of Ages is brought to you by Compact Disc Wherehouse.
Branches:
Sandton City
The Zone, Rosebank
Gateway, Durban
The Waterfront, Cape Town.
"Looking for that rock album?"
Talk to
Richard Filmer
at CD Wherehouse.