"Less Talk, More Rock"
Listen to Benjy Mudie every Thursday night between 8 and 12pm on Radio 2000.
Radio 2000
(97.2 to 100.2FM)
Click
here
for the frequency in your area.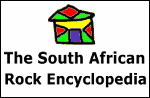 This website is part of the South African Rock Encyclopedia






Benjy says...



Dear Rock of Agers,

It's a mean feat for any band to stay together for 5 years nevermind 36 years, as in the case of progressive rock stalwarts, YES. Last night's special clearly showed just what amazing musicians they were individually, for me the bass playing of Chris Squire was the glue that held it all together and there are few modern players who could hold a candle to him ... with maybe the exception of Les Claypool or Flea from the RCHP. Although our own Trevor Rabin went on to join the band, and give them their biggest commercial success, it's the lineup that produced the masterpieces of "Fragile" and "Close to the edge" that classic rock lovers still hold in such high regard. You can be sure to hear more of YES and many other prog rock masterpieces in the shows to come ....... Next week's special will be Roy Buchanan.



Roy Buchanan



Roy Buchanan was one of America's most soulful masters of the electric guitar. Even posthumously, he commands the ardent respect of his fellow guitarists and a devoted army of fans. The Buchanan sound is totally unique: heartbreaking, searing solos, trademark shimmering tone, and a mixture of snarls, wails and squeals that mark him as a wizard of the instrument. He was a pioneer in the use of controlled harmonics, and although this technique has been used by rock's greatest guitarists, especially Jeff Beck, Robbie Robertson and ZZTop's Billy Gibbons, all acknowledge Buchanan as the master.

In 1971, already riding on word-of-mouth reputation that included accolades from John Lennon, Eric Clapton, Merle Haggard, and an invitation to join the Rolling Stones, Roy "broke" nationally as the result of an hour-long Public Television documentary. Entitled "The Best Unknown Guitarist In The World", the show won Roy a contract with Polydor and began a decade of national and international touring. He cut five albums for Polydor (one went gold) and three for Atlantic (one gold), while playing virtually every major rock concert hall and festival. The major labels gave him fame and fortune, but no artistic freedom. "They kept trying to make me into some sort of pop star". Finally, disgusted with the over-production forced on his music, Roy quit recording in 1981, vowing never to enter a studio again unless he could record his own music his own way. He went on to record three blues based albums for the Alligator label but sadly died tragically (and controversially) in Virginia in 1988 leaving a void in the world of guitar playing, one that quite frankly has never been filled.

(thanks to Hotshotdigital.com)

So join me next week for a 45 minute musical journey through the music of one of the masters of the electric guitar.



Rock of Ages's recommendations





Legend Of A Mind



Another one of those fantastic classic rock label retrospectives that seem to be the rage these days is "Legend of a mind" ... and this time it is the turn of Decca's Deram, Threshold and Nova labels. A 3 CD set with biogs, rare photos and exclsuive interviews, over 235 minutes of music from the legendary UK 'underground' and progressive rock scene 1967-1975. Artists featured include early Thin Lizzy, Caravan, Camel, Ten Years After, East of Eden, Moody Blues, Trapeze, Keef Hartley, Savoy Brown plus some real rarities that I have only ever read about like The End, Aardvark, Egg and Clark-Hutchinson ... and the ultra ultra rare Mellow Candle. Talk to Richard Filmer at CD Wherehouse about this (address below).



Acid Alex



It's unusual for me to recommend a book, let alone one that isn't about rock music but Alex Lovejoy's "Acid Alex" is probably the best biography that I have read in the last decade. The reviews that I have read compare him to the late Hunter Thompson and whilst I love Gonzo's early work this is better ... you see Alex Lovejoy speaks my language, about towns and cities I know personally, situations and events that strike a chord within, even musos that I knew well ... It's a 'ware' South African story of a life lost in the darkness and eventual redemption, about what happens when the monkeys call the tune and Shylock comes calling for his pound of flesh. It's in short one of the great South African rock 'n roll stories ever written and if there is any justice he should win a literary prize ... Highly recommended.

Competitions

Congratulations to Hughie Thompson (Durbs); Etienne Vlok (Rosebank); Andre Minnie (Goodwood); WP van Niekerk (White River) and Graham Schoonraad (Cape Town) who all won a copy of the new DARKNESS album "One way ticket to hell ... and back", courtesy of Gallo Music. Please allow ±4 weeks for delivery via the record company.

Rock of Ages is brought to you by CD Wherehouse
- where the obsessed unite.

Contact Rock of Ages

Email: click here
Snail mail:
PO Box 782022, Sandton 2146
Studio phone: 089-1102003
Richard Filmer @ CDW

Disclaimer:
The views, opinions, rants, raves and ramblings expressed on this website are the author's own and in no way reflect the views of Radio 2000 or the SABC.



Latest Playlist
News from the
World of Rock
GRAMMY FEVER
Don't forget the Grammys on February 8: Robert Plant, The Stones, The Boss, Sir Paul Mac and other classic rockers are up for awards on the night ....... check DSTV schedule for local broadcast time.

TIPTON ON THE EDGE
Judas Priest guitarist Glenn Tipton is to have an album called 'Edge Of The World' released in early March. It features recordings made with the late Cozy Powell (drums) and John Entwistle (bass).

CULT RE-UNION
It's now official. The Cult are to re-form. They'll tour America from March 1. The band will feature vocalist Ian Astbury and guitarist Billy Duffy. The rest of the line-up has yet to be confirmed.

OH NO ... NOT AGAIN
John Lydon is considering reforming seminal punk act the SEX PISTOLS for one final money-spinning show. Lydon - who went by the stage name Johnny Rotten - has been approached to appear with surviving bandmates Steve Jones, Glen Matlock and Paul Cook in Japan. And the punk rockers are tempted to film the show as their final performance and go out with a bang .... hey what happened to 'it's better to burn out then to fade away'?

BRIAN JONES BIOPIC
Screen Media Films in association with Intandem Films are set to release the biopic, STONED, a film about Brian Jones, a founding member of The Rolling Stones, on March 24th. Brian Jones was the consummate artist, pop star, fashion icon & womanizer. During the seven short years of his glittering rise to stardom and fateful plummet between 1962 - 1969 he became a music legend, creating The Rolling Stones one of the greatest rock and roll bands ever. Having reinvented the Blues, he nonchalantly turned his back on the world of pop and found more pleasure in scoring movies and recording ethnic music in Morocco. This is not a film about one of The Rolling Stones - this is a murder mystery about the death of one of the most talented musicians of the 60's who couldn't or wouldn't write pop songs.
Live Gigs
Here is a list of some great live artists who are out playing for the masses over the next few weeks. Help the survival of original South African music by getting along to their shows ... sure as hell beats the weekend TV hands down!

Boulevard Blues Band
Rock of Ages's favourite live blues band will be recording a live in concert album at Die Boer in Durbanville on Thursday 15th and Friday 16th February. It promises to be a night to remember so book your space now at (021)797-1911.

Lancaster Band
24 Feb Acoustic Cafe, Muizenberg

Arno Carstens
8 Feb Blou Hond,
Linden
9 Feb Potch Rag
10 Feb Café Barcelona,Pretoria
12 Feb 88 Lounge,Joburg
17 Feb Madinat Amphitheater, Jumeria Beach, Dubai

Piet Botha
25th February 2006 the South African music industry pays tribute to one of it's great legends, Piet Botha, at a festival to be held at the Foundry Fly Lounge, cnr. of Hans Stydom Avenue and N4 (Witbank) freeway, Silver Lakes, Pretoria East.

The event, which is appropriately named "A Good Friend of Mine", a title of one of his favourite songs, starts at 13h00 in the afternoon and will feature top acts like Albert Frost, Anton Goosen, Gert Vlok Nel, Southern Gypsey Queen, Not My Dog, Scicoustic, Akkedis and many more of SA's best acts currently playing on the local music circuit. All the artists participating in this festival, have at some or other stage been involved with Botha, either by playing with him, having shared the stage with him, had an album produced by him or have been mentored by the master.

Stoned Goblin
10 Feb The One Ring, Observatory
11/18 Feb Gandalfs, Observatory
4/24 March Gandalfs Observatory
11 March Belgian Beer Pub, Stellenbosch


CLASSIC ROCK BIRTHDAYS

Birthday archives


December
January


"Benjy says..." Archive
---
Stay tuned every Thursday 8-12pm for the best in classic rock on RADIO 2000.
---
Your Host
Benjy Mudie
Then
Now
Benjy Mudie was inducted into the South African Rock Hall Of Fame on 14th August 2002. Of Scottish origin, Mudie started out in the music industry working in record shops. He later became the A&R man for WEA records, signing such luminaries as Lesley Rae Dowling, Baxtop and Falling Mirror. He has ventured briefly into the realms of songwriting, getting co-writing credit for Little Sister's song 'You Got My Heart', but it is mainly for his running of record labels, notably Tusk and more recently Fresh and Retro Fresh that he is honoured. With these labels he has tirelessly dedicated himself to putting South African music out there, showing an unshaking belief in the quality of SA music.
----------------------------------------------------------------------
Our Sponsors
Rock Of Ages is brought to you by Compact Disc Wherehouse.
Branches:
Sandton City
The Zone, Rosebank
Gateway, Durban
The Waterfront, Cape Town.
"Looking for that rock album?"
Talk to
Richard Filmer
at CD Wherehouse.