"Less Talk, More Rock"
Listen to Benjy Mudie every Thursday night between 8 and 12pm on Radio 2000.
Radio 2000
(97.2 to 100.2FM)
Click
here
for the frequency in your area.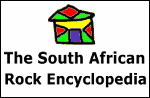 This website is part of the South African Rock Encyclopedia




Benjy says...



Hi fellow classic rock fans,

Firstly my apologies for the delayed newsletter & playlist, I went away early on Friday morning and have just got back plus my trusty webmaster Brian Currin has been off on tour with Jack Hammer in Mozambique - hence the delay in posting said info on the Rock of Ages website. I'm glad so many of you joined me for last week's Red Hot Chili Peppers special, thanks for the great emails and calls. The RHCP are truly are one of the only new bands of the last 20 years to keep the real rock flag flying and if you haven't checked out their new album "Stadium Arcadium" yet ... well then I suggest that you do .... This coming week's special will be on early 70's prog rockers, Gravy Train.

All aboard the Gravy Train..........

Norman Barrett / guitar, vocals
Barry Davenport / drums
J.D. Hughes / keyboards, vocals, flute
Lester Williams / bass, vocals

With a blues-rock basis and a hard rocking sound that related them to other great British proto-prog bands such as Beggar's Opera and Warhorse, Gravy Train allowed themselves to be prog via the introduction of complex structures and arrangements for their compositional ideas: a big influence was Jethro Tull as it was during the latest 60s, but there was also the influence of Traffic, both of them recycled with a slightly harder edge despite the featured role that J.D. Hughes' sensational flute plays on the early albums.

That's what you can expect from their 1970's eponymous debut album, the band showed that they could create very good progressive music in pieces such as 'The New One', 'Dedication to Sid', 'Enterprise' and the robust 16 minute long closer. Their 1971 second album "A Ballad of a peaceful man" is a magnificient work of art and represents one of the 70's most impressive albums. Combining delicate prog (aka Jade Warrior and Crimson's "In The Court") with well timed and thought out harsher explosive moments and extended jams. "A Ballad Of A Peaceful Man" is filled with heavy "psychy" guitar, loads of delicious analog keyboard parts and a lot of amazing flute playing.

By 1973 however the band had left the influential Vertigo label and had signed with the fledgling psuedo prog Dawn Records and released a third album,aptly titled "Second Birth". Sadly it has often been forgotten and literally dismissed in the brilliance of their first two albums. As with all Gravy Train albums guitars are in the forefront with some excellent flute, bass, key and drum interplay on songs like "Motorway", "Morning coming" and the stunning title track. However by 1974's "Staircase to the day" the writing was on the wall, courtesy in part by the looming punk apocalypse and despite critical acclaim it failed to sell and the band fragmented.

Gravy Train fans should not ignore this overlooked prog masterpiece especially tracks like "Starbright starlight" and "Bring my life on back to me".

Discography: 1970 Gravy Train (Vertigo) / 1971 A ballad of a peaceful man (Vertigo) / 1973 Second Birth (Dawn) / 1974 Staircase to the day (Dawn)..........

Info courtesy of the Prog Archives (www.progarchives.com)



Important Rock of Ages information



As part of it's sports mandate Radio 2000 will be covering all of the major live games in this year's Soccer World Cup and 2 of these games clash with Rock of Ages on Thursday 15th and 22nd June. Unfortunately there will be no Rock of Ages on these dates, we will return live, loud and in your face on 29th June. This also means that our 2nd Birthday celebrations will be extended into July with lots of interviews, competitions and prizes.



Rock of Ages's recommendations



After a fairly quiet couple of months the releases have been coming fast and furious; there are new albums by the perennial Neil Young ("Living with war"); one time alt rockers Pearl Jam ("Pearl Jam"); the double Red Hot Chili Peppers ("Stadium Arcadium"); an amazing new outing from Paul Simon ("Surprise"); Springsteen's Pete Seeger tribute ("We shall overcome") as well as Kevin Martin & the HiWatts ("The possibility of being") and the explosive return of power blues rock trio, Danko Jones ("Sleep is the enemy") ... I will be reviewing these albums over the next few weeks ......... However this week special mentions go to Pebbleman's "The Red Stone Album" and "Ars Longa Vita Brevis" .............





Pebbleman is the alter ego of Mother City guitarist extraordinaire Richard Pryor - those of you who have seen and heard him fire off those stinging licks in the Boulevard Blues Band will know just what a great player he is. However "The Red Stone Album" sees him venturing into melodic hard rock territory with shades of Satriani/McAlpine/Vai and this is where he really shines. Check out "Headglow", Loaded gun" and "Architect of pain" for an overdose of great guitar rock. The album is not available in the stores but you can get directly from Richard at 083-4671031 .....





If you are, like myself, an ardent early 70's rock fan then "Ars Longa Vita Brevis" is tailormade for you. It's a 3 cd compendium of progressive rock 1967-1974 available on Sanctuary Records and features heavyweights like The Nice, Renaissance, Soft Machine, ELP, Atomic Rooster, Keef Hartley Band, Colosseum and Man as well as a host of more obscure bands that I had read about but never actually got around to listening to: things like Comus, Gryphon, Skin Alley, Stray, Jan Dukes de Gray, Heavy Jelly and Marsupilami. The set strikes a good balance between the traditional progrock sound and bands that were regarded as generally 'progressive' like Jethro Tull, Savoy Brown, Uriah Heep and Gravy Train .... well worth investing in !



Competitions



Don't forget that Rock of Ages is turning 2 in June and to celebrate this landmark we are giving away tons of cds, dvd's and t-shirts courtesy of the wonderful folks in the music companies, all of whom will be credited on air. What do we actually have to give away during the course of the month??? How about albums by Pearl Jam, Springsteen, Cassette, Ben Lee, Warren Zevon, Toto ...... triple cd sets by Scorpions, Queen, Purple and Bowie ... dvds by Mark Knopfler and Bryan Adams ..... Stones t-shirts ... Essential Rock hampers.......

In order to keep things simple here are the guidelines for entering the on-air competitions:

1. You cannot enter a competition if you have won a prize on the show in the last 6 months. As we have had recent incidents of previous winners using family members to win again within the period Rock of Ages competitions are limited to one entry per family within the 6 months.
2. Please switch your radio off if it is a call-in competition. This is because it causes feedback on-air which pisses everyone off, especially the technical staff.
3. Please do not call before the question is asked and before I forget - please don't ask me "what was the question?" Lets give everyone a chance to dial.....
4. When we are doing "Who the Rockspert" where we ask 3 questions please don't get your poor wife, partner or teenager to call in to answer the first question and then prompt or coach them - it's embarrassing for them and irritating for the rest of us...



---

Rock of Ages is brought to you by CD Wherehouse
- where the obsessed unite.

Contact Rock of Ages

Email: click here
Snail mail:
PO Box 782022, Sandton 2146
Studio phone: 089-1102003
Richard Filmer @ CDW

Disclaimer:
The views, opinions, rants, raves and ramblings expressed on this website are the author's own and in no way reflect the views of Radio 2000 or the SABC.



Latest Playlist
News from the
World of Rock
The land of the ice and snow……
The Irish Examiner is reporting that the surviving members of legendary rock band LED ZEPPELIN received the prestigious Polar Music Prize from Sweden's king in the city where they recorded their final studio album 27 years ago.

Robert Plant, Jimmy Page and John Paul Jones crossed the stage of the Stockholm Concert Hall - also the venue for the annual Nobel Prizes - to accept the award they shared with Russian conductor Valery Gergiev. John Bonham, the group's drummer, who died in 1980, was represented by his daughter, Zoe

Allmans Die Hard
Movie star BRUCE WILLIS is returning to his singing roots this summer as a guest on the ALLMAN BROTHERS BAND tour. The DIE HARD star, who scored a string of hits in the 1980s, will join the likes of BEN HARPER, ROBERT RANDOLPH and PETER FRAMPTON as an onstage guest of the rockers.

Rush DVD Box
Rush built its phenomenally loyal following on its legendary live performances. Even after more than 30 years on stage, Rush live on video remains a guaranteed hit, and they have the gongs to prove it. The DVD companion to the band's most recent album, 2003's Rush In Rio, is five times platinum (U.S.), and more recently, 2005's R30, a DVD-only live-and-more package, is already triple platinum (U.S.). Now the band's first three concert videos will be issued for the first time together and on DVD. The four-disc box set Rush 'Replay' will be released on June 26th 2006 in the U.K.

Universal Music Enterprises and Anthem Entertainment have returned to the Rush archive and digitally re-mastered the visuals, whilst founding member, guitarist Alex Lifeson, has mixed up brand new dts and Dolby Digital 5.1 Surround versions of the original concert multi-tracks for the three videos which started it all, 'Exit… Stage Left', 'Grace Under Pressure' and 'A Show Of Hands'.

Axl Vs Hilfiger
Axl Rose got into a bit of a tiff with Tommy Hilfiger recently at The Plumm in Manhattan, NYC. Tommy threw a fit when Axl moved his girlfriend's drink. "I moved his girlfriend's drink so it wouldn't spill," Rose told the Kevin & Bean on KROQ during a short interview "It was the most surreal thing, I think, that's ever happened to me in my life."Tommy was in such a snit over the moved drink he "smacked" Axl in the arm. "He just kept smacking me," Rose said. Club owner Noel Ashman to the New York Post, "Axl was a gentleman and had the good sense not to retaliate, as he would have done some serious damage to Hilfiger." [Maybe Axl was in shock that Tommy had a girlfriend?]

Pebbleman CD
I've had a few enquiries for Pebbleman's "The Red Stone Album" album which I have played on the show a couple of times. The good news is that Richard Filmer has a few copies at CDW Waterfront so if Satriani/Vai style guitar rock is your thing then check this album out.


Live Gigs
Arno Carstens
31st May Rhodes Drill Hall, Grahamstown

Back on Track
Every Saturday @ Cheetah's ,Brackenfell CT from 5.30pm-play 60's/70's blues and rock Jack Hammer
3rd June The Dros, Centurion
11th June 88's Norwood
22nd June Steak & Ale PTA
30th June Steak & Ale PTA

@ London Calling Fairview, Joburg. Contact:011 6181018
9 June Sniper On The Roof, Suicide Kings, And Gross Misconduct

The Nu Folk (Jim Neversink, Josie Field & Laurie Levine)
4th June (from 3.30pm) Back to Basix, Westdene

Stoned Goblin
3 June Gandalfs, Obs
10 June Cool Runnings, Obs
30 June One Ring, Obs

Tanz Café Bryanston
2nd June Farenheit & Lonehill Estates
3rd June Acoustic Rhythm Project featuring Andy McGibbon


"Benjy says..." Archive
---
Stay tuned every Thursday 8-12pm for the best in classic rock on RADIO 2000.
---
Your Host
Benjy Mudie
Then
Now
Of Scottish origin, Benjy Mudie started out in the music industry working in record shops. He later became the A&R man for WEA records, signing such luminaries as Lesley Rae Dowling, Baxtop and Falling Mirror. He has ventured briefly into the realms of songwriting, getting co-writing credit for Little Sister's song 'You Got My Heart', but it is mainly for his running of record labels, notably Tusk and more recently Fresh and Retro Fresh that he is honoured. With these labels he has tirelessly dedicated himself to putting South African music out there, showing an unshaking belief in the quality of SA music.
----------------------------------------------------------------------
Our Sponsors
Rock Of Ages is brought to you by Compact Disc Wherehouse.
Branches:
Sandton City
The Zone, Rosebank
Gateway, Durban
The Waterfront, Cape Town.
"Looking for that rock album?"
Talk to
Richard Filmer
at CD Wherehouse.