"Less Talk, More Rock"
Listen to Benjy Mudie every Thursday night between 8 and 12pm on Radio 2000.
Radio 2000
(97.2 to 100.2FM)
Click
here
for the frequency in your area.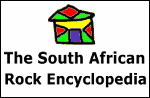 This website is part of the South African Rock Encyclopedia




Benjy says...



Dear classic rock fans,

The Football World Cup is upon us and with it a 2 week break from Rock of Ages whilst Radio 2000 carries the live broadcast of certain matches that unfortunately conflict with our normal broadcast time of 8 to midnight. Although it's going to feel a bit weird not being on air for the 2 weeks, it gives me a chance to think about what I can do to make the show more informative, challenging and musically exciting. Above all else my aim has always been to play the best in rock music for you, the discerning music fan. Keep those 'specials' suggestions coming in, your feedback is important to me!

Rock of Ages will be back, in loud living colour, live on air on Thursday 29th June with a 45 minutes Joe Walsh special as well as new album reviews, more 2nd birthday competitions 'n prizes and the best in classic rock.





Joe Walsh ...... (born November 26, 1947 ) is a great American guitarist and rock musician who has had both a successful solo career and membership of bands such as the James Gang and the Eagles. A native of Wichita, Kansas, Walsh moved to Montclair, New Jersey and spent time in various bands playing around the Cleveland area while attending Kent State University, but came to widespread attention in 1969 after replacing Glen Schwartz as lead guitarist for The James Gang, an American power trio. Walsh was the standout of the band, noted for his innovative rhythm playing and creative guitar riffs. The James Gang recorded four albums including "Yer Album" and "Rides again" and had a number of what are now classic rock hits like "Funk #49"and "Walk away" before Walsh left the group in 1971 for a career as a solo artist.Walsh's solo debut was Barnstorm (1972). Its followup was The Smoker You Drink, The Player You Get (1973). Several cuts from these albums, notably Rocky Mountain Way, received heavy airplay and continue to be classic rock favorites.

After releasing another studio album and a live set, Walsh was invited to join the Eagles in 1976, replacing departing guitarist Bernie Leadon. He brought a harder-edged sound to the group as evidenced on the albums "Hotel California" and the patchy "The Long Run".As the Eagles began to decline Walsh re-ignited his solo career with the well-received discs But Seriously Folks (1978) (which featured his hit comic depiction of rock stardom, Life's Been Good) and There Goes the Neighborhood (1981). He continued to record and release albums throughout the 1980s, but musical trends seemed to pass him by and he maintained a very low profile until the late-1990s Eagles reunion and tour. Walsh sang the US National Anthem at the beginning of Game 4 of the 1995 World Series. In 1989, Walsh recorded a MTV Unplugged with the R&B musician Dr. John.

A versatile guitarist, Walsh's abilities on acoustic, electric, and slide guitar have also made him well-regarded as a featured player or guest soloist; Walsh has recorded and performed with many other artists including Dan Fogelberg, Steve Winwood, The Who's John Entwistle and on the first two Ringo Starr and his All-Starr Band tours. In 2004, Walsh performed live before a huge crowd at Eric Clapton's Crossroads Guitar Festival in Texas.





Discography:
James Gang: Yer Album; Rides again; Thirds; In Concert
Solo: Barnstorm; The smoker you drink, the player you get; So What?; You cant argue with a sick mind; But seriously folks; Best of Joe Walsh; There goes the neighborhood; You bought it, you name it; The Confessor; You got any gum?; Ordinary average guy; Songs for a dying planet; Look what I did (anthology); Little did he know
With the Eagles: Hotel California; The Long Run; Eagles Live; Hell freezes over



Rock of Ages's recommendations



Danko Jones are a hard hitting power trio from Canada whose new album "Sleep is the enemy" blows the socks off the majority of the so called top rock albums of the moment (or the past year for that matter). Guitarist/vocalist Jones's potent combination of sledgehammer riffs coupled with infectious grooves and choruses on songs like "Sticky situation" and "Baby hates me" make me wanna punch my fist in the air and scream 'Yeah'!!! Highly recommended and a worthy contender for Album of 2006........Thank god for bands like Danko Jones. *****

Ratings


*****
Volcanic .... not to be missed.
****
Seismic .... recommended for rock connoisseurs.
***
Aftershock .... solid effort.
**
Xmas cracker ... Pooof!
*
Do I need to explain this?





Rock of Ages turns 2!!!!



We are celebrating our 2nd birthday throughout June and July with tons of competition prizes courtesy of the following wonderful people and labels: Nigel King and Cerys Grant @ SonyBMG; Josi Kruger @ Universal; Charise Matthews @ Gallo Music; Adrian Skirriw @ ASP Records; Rob Cowling @ Sheer Music; Gillian Ezra @ EMI Records.



Competitions



Here are the winners of Thursday 8th June competitions: The "Rockspert of the week" is none other than Alistair Fraser of Durban who has won The Essential Rock Hamper (Courtesy SonyBMG) ..... Deep Purple Platinum Collection (Courtesy EMI) winners were: Roger Laurence (Goodwood); Karel van Staden (George); Molly Suraj (Howick); Jereome Levendal (Kasselsvlei) and Francois Zietsman (Grahamstown) ..... Mark Knopfler/Emmylou Harris album (Courtesy Universal) winners were: Gordon Forbes (Edenvale); Steve Palframan (Eshowe); Jason Peet (Boksburg); Raine Feldate (Germiston) and Richard Hill (Sybrand Park) ...... Winner of the signed Danko Jones (Courtesy ASP Records)albums were: Jason Thomas (Plettenberg Bay); Tim Nordin (Krugersdorp) and Jeffrey Bayman (Ottery) - CONGRATULATIONS to all of you, please allow 4-6 weeks delivery time for your prizes to reach you via the sponsors.

Coming in July is the Pink Floyd PULSE competition where you will have a chance to win Floyd dvds and cds .... tune in on Thursday 29th June for details.

Rock on until we meet again ...

Benjy



---

Rock of Ages is brought to you by CD Wherehouse
- where the obsessed unite.

Contact Rock of Ages

Email: click here
Snail mail:
PO Box 782022, Sandton 2146
Studio phone: 089-1102003
Richard Filmer @ CDW

Disclaimer:
The views, opinions, rants, raves and ramblings expressed on this website are the author's own and in no way reflect the views of Radio 2000 or the SABC.



Latest Playlist
News from the
World of Rock
Grateful Dead Keyboard Curse Continues
It's enough to make the hair on the back of your neck stand up.
With the death of Vince Welnick on Friday (June 2) history, sadly, has repeated itself yet again. Welnick, who was 55, was Grateful Dead 's last keyboard player, from 1990 until the group disbanded in 1995. He had replaced Brent Mydland, who died of a drug overdose. Mydland had replaced Keith Godchaux, who died in a car accident a year after leaving the band. Godchaux had replaced Pigpen McKernan, who died of a gastrointestinal hemorrhage. The Sheriff's office in Sonoma County California says Welnick committed suicide at his home.

Welnick had played with The Tubes and Todd Rundgren prior to joining the Dead. After the death of his friend Jerry Garcia and subsequent breakup of the Dead, Welnick formed the group Missing Man Formation. He had been scheduled to play at Chicago's House of Blues next week.

courtesy About Classic Rock

Billy takes the long walk
Billy Preston, the exuberant keyboardist who landed dream gigs with the Beatles and the Rolling Stones and enjoyed his own series of hit singles, including "That's the way God planned it" and "Nothing From Nothing," died Tuesday at 59.

New Who Album
It has long been rumoured, but now confirmed that this October will see the release of the first new album from The Who in 23 years. Ahead of this will be the release of an 11 minute single entitled 'Wire & Glass', to be released on July 17th. This single is actually a combination of 6 tracks edited together as one track (so that it will qualify for the singles chart). The 6 tracks will appear in full on the, as yet untitled, forthcoming album and form part of a longer mini opera that will make up some of the new album (the whole album will also include other songs not part of the mini opera). For further detailed enlightenment on the new Who album and the novella that it is based upon, as told by Pete Townshend himself visit www.petetownshend.co.uk.


Live Gigs
Back on Track
Every Saturday @ Cheetah's, Brackenfell CT from 5.30pm-play 60's/70's blues and rock

Jack Hammer
11th June 88's Norwood
22nd June Steak & Ale PTA
30th June Steak & Ale PTA

Retro's @ Magic's, R82 Old Vereeniging Rd, Walkerville
Relive the experience! Flashback to the 60's, 70's, 80's, 90's

Stoned Goblin
10 June Cool Runnings, Obs
30 June One Ring, Obs


"Benjy says..." Archive
---
Stay tuned every Thursday 8-12pm for the best in classic rock on RADIO 2000.
---
Your Host
Benjy Mudie
Then
Now
Of Scottish origin, Benjy Mudie started out in the music industry working in record shops. He later became the A&R man for WEA records, signing such luminaries as Lesley Rae Dowling, Baxtop and Falling Mirror. He has ventured briefly into the realms of songwriting, getting co-writing credit for Little Sister's song 'You Got My Heart', but it is mainly for his running of record labels, notably Tusk and more recently Fresh and Retro Fresh that he is honoured. With these labels he has tirelessly dedicated himself to putting South African music out there, showing an unshaking belief in the quality of SA music.
----------------------------------------------------------------------
Our Sponsors
Rock Of Ages is brought to you by Compact Disc Wherehouse.
Branches:
Sandton City
The Zone, Rosebank
Gateway, Durban
The Waterfront, Cape Town.
"Looking for that rock album?"
Talk to
Richard Filmer
at CD Wherehouse.