"Less Talk, More Rock"
Listen to Benjy Mudie every Thursday night between 8 and 12pm on Radio 2000.
Radio 2000
(97.2 to 100.2FM)
Click
here
for the frequency in your area.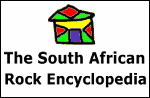 This website is part of the South African Rock Encyclopedia




Benjy says...



Greetings fellow rock fans ... It's good to be back on air after a 2 week break for the footie, what a show last night and thanks to everyone who called in to say hi ... much appreciated. I hope you enjoyed the Joe Walsh special, he is truly a rock legend with a great legacy behind him and he still makes music that is both entertaining and relevant. This coming week I will be featuring, in my opinion, one of the best prog rock bands of the early 70's, Atomic Rooster.





Atomic Rooster was a British progressive rock group formed by ex-Crazy World of Arthur Brown members, keyboardist Vincent Crane and drummer Carl Palmer in 1969. Their only real chart success came in 1971 with the hit singles "Tomorrow Night" (a British #11 hit), and "The Devil's Answer" (which reached #4 in the British charts). In 1970 the band released their self-titled debut album Atomic Rooster with Nick Graham fronting on bass,vocals and flute. Between Palmer's departure (to be the third part of Emerson, Lake & Palmer), and the recording of a second album, guitarist John Cann (also credited as John Du Cann) joined the Rooster giving a whole new dimension to the music with his distinctive guitar attack. Nick Graham too exited the band. Death Walks Behind You featured Paul Hammond on drums, and this record yielded the aforementioned "Tomorrow Night" and is by far their most cohesive and memorable album.





Now with a certain success in the charts, the band was augmented with ex Leafhound singer Peter French for their next effort , In Hearing Of ... the third album. It showed the band at full throttle, and yielded the also mentioned "The Devil's Answer". After this album Cann, Hammond and French left the band. Peter French went to join Cactus, while John Cann and Paul Hammond teamed up with ex-Quatermass bass player John Gustafson and founded Hard Stuff. Vincent Crane put it together one more time recruiting 1960s British soul singer and ex-Colosseum vocalist Chris Farlowe, along with old chums guitarist Johnny Mandala and drummer Ric Parnell (who contributed with some composing on the last album) for a totally fresh incarnation of Atomic Rooster, and released Made in England. They managed to release one more album, Nice 'n' Greasy, but the sound was somewhat diluted, although the tracks "Voodoo in You" and "Take One Take" reminded their fans of past glories. It proved to be the last record in the 1970s.

The band ceased to exist until the early 1980s, when Vincent Crane and John DuCann with several drummers teamed up once again, and during the New Wave of British Heavy Metal, had some hits in the charts, like "Lose Your Mind" and a remake of "Tomorrow Night".After this stint, Vincent Crane (born Vincent Cheesman, on 21 May 1943, in Reading, Berkshire) went on to join Dexy's Midnight Runners in the mid-80s, and also recorded A Case For The Blues as part of Katmandu, a one-off project with Peter Green of Fleetwood Mac and Ray Dorset of Mungo Jerry. He died on February 14, 1989. John DuCann recently licensed the release of the only existing tapes of the Rooster that featured Crane, Palmer and himself – some BBC sessions recorded by John Peel in 1970 and 1971.

Discography

Atomic Rooster (1970) **
Death Walks Behind You (1970) *****
In Hearing Of Atomic Rooster (1971) ***
Made In England (1972) **
Nice 'n' Greasy (1973) *
Atomic Rooster (1980) *
Headline News (1983) *

Rock of Ages's recommendations



Danko Jones are a hard hitting power trio from Canada whose new album "Sleep is the enemy" blows the socks off the majority of the so called top rock albums of the moment (or the past year for that matter). Guitarist/vocalist Jones's potent combination of sledgehammer riffs coupled with infectious grooves and choruses on songs like "Sticky situation" and "Baby hates me" make me wanna punch my fist in the air and scream 'Yeah'!!! Highly recommended and a worthy contender for Album of 2006........Thank god for bands like Danko Jones. *****

Ratings


*****
Volcanic .... not to be missed.
****
Seismic .... recommended for rock connoisseurs.
***
Aftershock .... solid effort.
**
Xmas cracker ... Pooof!
*
Do I need to explain this?

Rock of Ages turns 2!!!!

We are celebrating our 2nd birthday throughout June and July with tons of competition prizes courtesy of the following wonderful people and labels: Nigel King and Cerys Grant @ SonyBMG; Josi Kruger @ Universal; Charise Matthews @ Gallo Music; Adrian Skirriw @ ASP Records; Rob Cowling @ Sheer Music; Gillian Ezra @ EMI Records.



Competitions



Here are the winners of the Thursday 29th June competitions: The "Rockspert of the week" (Take a bow) is Shane Cordier of Orange Grove who has won The Essential Rock Hamper (Courtesy SonyBMG) ..... Rolling Stones T shirts (Courtesy EMI) winners were: Gerrard Martin Muller (Ridgewood); Marx van Eeden (Garsfontein) and Elric Pretorius (Vanderbijlpark) ..... Mark Knopfler dvd winners (Courtesy of Universal) were: Francois Viljoen (Strand); Werner Steynberg (Ridgewood); Jaco van Schalkwyk (Kempton Park; Russell Paul (Blackheath) and David Kesler( Yeoville) ...... Winners of the Bruce Springsteen albums (courtesy of SonyBMG) were Dayman Pnematicatos (Ballito); Chris Timm (Parklands); Susie Gale (Plumstead); M.A Vachiat (Mayfair) and K. Koekemoer (Sandringham).

CONGRATULATIONS to all of you, please allow 4-6 weeks delivery time for your prizes to reach you via the sponsors.

Rock on until we meet again ...

Benjy



---

Rock of Ages is brought to you by CD Wherehouse
- where the obsessed unite.

Contact Rock of Ages

Email: click here
Snail mail:
PO Box 782022, Sandton 2146
Studio phone: 089-1102003
Richard Filmer @ CDW

Disclaimer:
The views, opinions, rants, raves and ramblings expressed on this website are the author's own and in no way reflect the views of Radio 2000 or the SABC.



Latest Playlist
WIN ONE OF SIX PINK FLOYD PULSE DVD AND CD SETS (Courtesy of SonyBMG and Rock of Ages)

Click here to enter.



News from the
World of Rock
Dream Theater Score A Release
Prog metallists and Rock of Ages faves Dream Theater are to release a three-CD, two DVD disc set in late August through Rhino Records. It's to be called 'Score'. The showpiece of this is the whole of the '20th Anniversary World Tour' grand finale, filmed and recorded at Radio City Music Hall in New York in Aoril. This is nearly three hours of music, more than half performed with an orchestra.

Little Spencer
Former Fleetwood Mac guitarist Jeremy Spencer is to release a solo album in mid-July. It's called 'Precious Little'. It's the 57 year old's first solo album since 1979. Spencer famously walked out of Fleetwood Mac in 1971, to join the religious cult The Children Of God ... can't wait for this!

Grenade Day
Green Day may have inadvertently saved the life of 12-year-old UK fan Ruby Wilson. When she saw a strange object in her garden, in Halifax, Ruby immediately recognised it as a hand grenade, because of the picture of one the band used on the cover of their mega-selling album 'American Idiot'. And therefore she knew it could be dangerous.

Black Ringtone Goes Platinum / Million Crazy Tones
As if 'Back In Black' wasn't already mega successful, now the title track has picked up a platinum certification in America - as a ringtone. Ozzy's classic 'Crazy Train' has gone platinum again. The song has now been downloaded a million times in America as a ringtone.

Maiden Matters
Iron Maiden are to call their new album 'A Matter Of Life And Death'. Co-produced by ex-Capetonian Kevin Shirley with Steve Harris, it will be released in early September. The full track listing is: 'Different Worlds', 'These Colours Don't Run', 'Brighter Than A Thousand Suns', 'The Pilgrim', 'The Longest Day', 'Out Of The Shadows', 'The Reincarnation Of Benjamin Breeg', 'For The Greater Good Of God', 'Lord Of Light', 'The Legacy'.

Cars off the road
Is it just me or is it just a tad ironic that the New Cars / Blondie Road Rage Tour has been cancelled because of a traffic accident? Cars guitarist Elliot Easton suffered a broken collarbone when the band's tour bus swerved to avoid another vehicle. He played four more shows before going to a doctor and undergoing surgery.

Axl Arrested And Fined
Guns n' Roses frontman Axl Rose was arrested this week by Swedish police, after getting into a fight with a security guard at the Berns Hotel in Stockholm, where the band were staying. He faces charges of damaging property, assaulting a security guard, and threatening police. What started the problem remains unclear, but Axl had allegedly been up all night partying, following GNR's sold out show in the city. He was finally released from jail at the end of the day, after paying a fine of 50,000 kronor.


Live Gigs
Back on Track
Every Saturday @ Cheetah's, Brackenfell CT from 5.30pm-play 60's/70's blues and rock

Jim Neversink (with the Diesel Whores)
1st July Cellar Door, Newtown, Joburg

Jack Hammer
30th June Steak & Ale PTA

Julian Laxton Band "Legends in Rock"
18/19 August Welkom Civic Centre (tickets@Computicket)
Saluting Legends like Clapton, Hendrix, Zeppelin, Deep Purple, Black Sabbath, Status Quo, Bad Company, Santana, Rolling Stones, Freedoms Children, Hawk, Julian Laxton, etc
www.julianlaxton.co.za

London Calling (Fairview, Joburg)
14th July PUNK NIGHT withT ouched By Nausea, Solitary Confinement, Hasten The Storm, Japan & I

Red House
July 1 The Red Door, Pietermaritzburg

Rock Evolutions - V & A Waterfront's Theatre @ The Pavilion
21st July to 27th August (Thurs, Fri & Sat evenings only)
Show chronicles the development of rock music in all shapes and forms ... starting with the 50s' pioneering days of blues and 12-bar rock 'n roll and concluding with the current heavily-amplified nu-metal rock. There are visits along the way to the British Invasion & Psychedelic Rock of the 60s, the theatrical Stadium rock of the 70s, the glam and hard rock of the 80s and the 90s grunge & alternative revolution.

Running with Scissors
30th June Vagabonds, Randburg
1st July Kahoonies, Roodepoort (with Cutting Jade)
6th July Foundry Fly Lounge, Pretoria (with Candy Fly)

Simon Van Gend with Polstar & Humaniser
30th June Zulu Bar, Long Street

Stoned Goblin
30 June One Ring, Obs

Tanz Café
July 1 Missy Higgins with Josie Field/Farrell Purkiss
July 6 Love Jones
July 7 Blues Train
July 8 Bluesdotcom
You say it's your birthday...
July 2
Pete Briquette - Boomtown Rats - 1954
Johnny Colla - Huey Lewis & The News - 1952


July 4
Ralph Johnson - Earth, Wind & Fire - 1951

July 5
Robbie Robertson - The Band - 1943
Huey Lewis - Huey Lewis & the News - 1950

July 6
Rik Elswit - Dr. Hook - 1945
Bill Haley - 1925

July 7
Ringo Starr- 1940



Courtesy of About ClassicRock

Birthday archives


December
January
February
March
June
July


"Benjy says..." Archive
---
Stay tuned every Thursday 8-12pm for the best in classic rock on RADIO 2000.
---
Your Host
Benjy Mudie
Then
Now
Of Scottish origin, Benjy Mudie started out in the music industry working in record shops. He later became the A&R man for WEA records, signing such luminaries as Lesley Rae Dowling, Baxtop and Falling Mirror. He has ventured briefly into the realms of songwriting, getting co-writing credit for Little Sister's song 'You Got My Heart', but it is mainly for his running of record labels, notably Tusk and more recently Fresh and Retro Fresh that he is honoured. With these labels he has tirelessly dedicated himself to putting South African music out there, showing an unshaking belief in the quality of SA music.
----------------------------------------------------------------------
Our Sponsors
Rock Of Ages is brought to you by Compact Disc Wherehouse.
Branches:
Sandton City
The Zone, Rosebank
Gateway, Durban
The Waterfront, Cape Town.
"Looking for that rock album?"
Talk to
Richard Filmer
at CD Wherehouse.