"Less Talk, More Rock"
Listen to Benjy Mudie every Thursday night between 8 and 12pm on Radio 2000.
Radio 2000
(97.2 to 100.2FM)
Click
here
for the frequency in your area.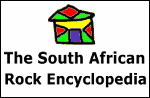 This website is part of the South African Rock Encyclopedia




Benjy says...



Hi Rock of Ages believers,

This is a shortened version of the newsletter due to yours faithfully being away in the bush for a week's R&R.

I hope that you enjoyed the Pink Floyd Part 2 special last night where we explored the esoteric side of the band - concentrating more on the obscure album tracks as opposed to the well known tunes. Listening to Syd Barrett's Astronomy Domine and Arnold Layne again for the first time in many years I was blown away with just how 'out there' they were for the time, I mean this is 1967 just as the psychedelic explosion was happening worldwide. Syd in particular was a trailblazing musician who sadly got too close to the flame and burnt out before his time. He lived a quiet life in Cambridge, England oblivious I suppose to the 'cult of Syd' that has developed over the last 3 and a half decades. He sadly passed away on the 7th July 2006.

You learn something new every day ... did you know that the classic "Set the controls for the heart of the sun" (from "Saucerful of secrets" is one of the few tracks that features the extended lineup of the Floyd .... Roger Waters, David Gilmour, Richard Wright, Nick Mason ... and Syd Barrett? .... the special also coincided with our Floyd "Pulse" competition, details below - don't forget to enter.



Rock of Ages news

Please note that due to yet another football match, this time Manchester United v/s Chiefs (I think), there will be no Rock of Ages next Thursday, 20th July. However the good news is that this seems to be the end of the sport interruptions and I will be back live with the best in rock on Thursday 27th July. The special that week will be the influential 70's rock band, Boston.





Boston formed in 1969 when Tom Scholz, an MIT engineering graduate, joined as keyboardist a band founded by guitarist Barry Goudreau, along with singer Brad Delp on vocals and Jim Masdea on drums. Although the band, Mother's Milk, did not last, it laid the foundation for the band that would become known as Boston. After the break-up, Scholz began to create a series of tape recordings in his home studio in a suburb outside Boston. At first he was primarily an engineer and keyboard player, accompanied by Goudreau, Delp, and Masdea. The first tapes failed to interest record companies; but a second set of tapes, performed largely by Scholz on guitar (which he learned to play while in Goudreau's band), drew the attention of executives at Epic Records, a division of CBS who earlier did not accept their demos.

It was only after the label insisted on seeing the band perform that bassist Fran Sheehan was added; the label's unhappiness with Masdea's performance led to his replacement by Sib Hashian for the recording of Boston's eponymous first album in 1975 and 1976. Some debate remains about the circumstances surrounding the recording of the album, with Scholz claiming the album consisted (with the exception of "Let Me Take You Home Tonight") of his guitar work and Delp's vocals, and the new members (who were not actually officially signed to the label) just played during the band's concert tour. Regardless of the method involved, Boston was an immediate success, and helped revive the popularity of mainstream rock at a time when punk and disco were beginning to take hold. It ranks as one of the highest selling albums of all time, with more than 17 million copies sold. Boston's debut album still holds the record for the best selling debut album of all time.

The band embarked on a worldwide tour to support the album, establishing Boston within a short time as one of rock's top acts. However, tensions began to develop, at first between the band's label, which wanted a big follow-up album to capitalize on Boston, and Scholz who did not want to be rushed in his many duties.





The result was Don't Look Back, released in 1978, two years after the debut album; at the time, this was considered a fairly long gap between albums, but Scholz considered Don't Look Back to be a rush job, expressing unhappiness with the album's second side in particular which was confirmed on the Third Stage episode of In the Studio with Redbeard when he cited that quote "CBS had no confidence in a second Boston album" end quote and quote "said Epic/CBS was trying to cash in on the success of the debut album". Although it sold four million copies in its first month, Don't Look Back in the end sold about half as well as the first album.Another tour followed, and the album's title track was a hit, but Scholz's relationship with both Epic and the other band members began to deteriorate. While Scholz began the slow process of working on Boston's third album, guitarist Barry Goudreau began work on his first solo album, also for Epic. Delp and Hashian appeared on the album, as did vocalist Fran Cosmo. They were each listed in the liner notes for the album, identified by their first names only. When Scholz saw a CBS album by Boston's other guitarist, with "Sib," "Brad," and "Fran" in the band, he suspected his label, and Goudreau, of forming a "Boston in exile." Regardless of whether this was true (later band members would be involved in outside projects without any objections from Scholz), Scholz demanded that the label stop promoting the album, which had gained significant radio play; Epic acquiesced. Scholz made it clear he would not be working again with any of the band members besides Delp.





A series of acrimonious lawsuits followed, and further slowed progress toward the next album, which was now being recorded in much the same way the original tapes were: in Scholz's home studio, with Delp, Masdea, and former Sammy Hagar guitarist Gary Pihl. (The by-now-former members of Boston would later claim that they also played on the tracks recorded during this time.) A tape of a song they had been working on, "Amanda," leaked out of the studio in 1984 and was widely bootlegged, but drew strong praise from the band's fans."Amanda" became the lead single six years later when Third Stage was finally released in 1986, after MCA Records bought out Boston's contract. Loosely built around the theme of life's "third stage" (the onset of middle age), the album was a big hit, and was widely discussed in the non-music press. Boston's subsequent tour, on which the new album was played, in sequence, in its entirety, sold out across the United States. In 1988, Boston participated in local charity concert sponsored by Tea Party Concerts to benefit AIDS. This move was lauded by local radio personalities, due to the stigma attached to AIDS that existed at that time. Boston has continued to be involved in a number of charities, including anti-domestic-violence groups and local homeless programs. (www.bandboston.com)





Another eight years passed before Walk On (1994), the first album without Delp, because of his prior commitment to Barry Goudreau's band RTZ, and ironically featuring vocalist Fran Cosmo, who had performed on Goudreau's solo album, in his place. Unlike the previous albums, it only went Platinum and reached #7(instead of the Multi-Platinum and Top 5 placing Boston were used to), and did not produce any hit singles although "I Need Your Love" did well on rock radio. The same timespan passed before Corporate America (2002), which featured Delp, Cosmo, and a different-looking line-up with drummer Jeff Neal, Fran Cosmo's son Anthony, and Kimberly Dahme, on which Dahme and Anthony Cosmo contributed songs, including a country song title "With You" written by Dahme. The band also released a greatest-hits album in 1997, which contained a handful of new songs.

As of 2006, a new Boston album is currently in the works, although no release date has been given. The band's first two albums for Epic Records have been remastered personally by Scholz and are currently available.

Discography

Boston (1976) *****
Don't Look back (1978) ***
Third Stage (1986) ***
Walk on (1994) **
Greatest Hits (1997) ****
Corporate America (2002) **

Info courtesy: Wikipedia (www.en.wikipedia.org)

Rock of Ages turns 2!!!!

We are celebrating our 2nd birthday throughout June and July with tons of competition prizes courtesy of the following wonderful people and labels: Nigel King and Cerys Grant @ SonyBMG; Josi Kruger @ Universal; Charise Matthews @ Gallo Music; Adrian Skirriw @ ASP Records; Rob Cowling @ Sheer Music; Gillian Ezra @ EMI Records.



Rock on until we meet again ...

Benjy



---

Rock of Ages is brought to you by CD Wherehouse
- where the obsessed unite.

Contact Rock of Ages

Email: click here
Snail mail:
PO Box 782022, Sandton 2146
Studio phone: 089-1102003


Disclaimer:
The views, opinions, rants, raves and ramblings expressed on this website are the author's own and in no way reflect the views of Radio 2000 or the SABC.



Latest Playlist
WIN ONE OF SIX PINK FLOYD PULSE DVD AND CD SETS (Courtesy of SonyBMG and Rock of Ages)

Click here to enter.



News from the
World of Rock
Keef the Pirate
Keith Richards is to have a cameo role in the third 'Pirates Of The Caribbean' movie, due to go into production next month. He'll play Captain Jack Sparrow's dad. Sparrow, of course, is portrayed by Johnny Depp, who always claimed that he'd based his characterisation to some extent on the Rolling Stones legend.

Barney Back On National Radio
Radio 2000 has announced that alternative/SA Music guru Barney Simon has joined the station and as from Tuesday 11th July he will be hosting a weekly 4 hour show every Tuesday. Barney will be featuring South African music in all it's hues and sounds plus gig guides, legal stuff, gear reviews, interviews, classifieds demos and much more. Rock of Ages is absolutely thrilled that Barney has become part of the 2000 team, not only is he a fountain of knowledge of all things alternative and a committed rock lover but he is also one of the nicest people in the music business (p.s. don't tell him I said so!) www.rock.co.za/radio

CBGB'S CLOSES
After more than 30 years, the legendary New York club is to close down on September 30. This is because owner Hilly Cristal has failed to reach an agreement with the building's landlords over the rent. CBGB's was responsible to showcasing hordes of new bands in the early 70's that went on to become punk & new wave stars including The Ramones, Talking Heads, Blondie and Television.


Live Gigs
Jack Hammer
21st July Die Blou Hond, Linden
28th July Steak & Ale, Centurion
29th July Pierneef Theatre
4/5th August Oppikoppi
25th August Café Barcelona, Pretoria

Jim Neversink Tour
27 July - Steak And Ale - Pretoria (with Josie Field)
28 July - EVOL - Cape Town
3 August - Upper Level - Stellenbosch (with Diesel Whores)
4 August - Mercury Live in CT (with Diesel Whores)
5 August - Radium Beer Hall (Norwood/Orange Grove)
6 August - Oppikoppi (Northam)
11 August - Back 2 Basix (with Josie Field) (Westdene)
12 August - The Bohemian (Richmond)
19 August - Bourbon Street - Potchefstroom

Julian Laxton Band "Legends in Rock"
18/19 August Welkom Civic Centre (tickets@Computicket)
Saluting Legends like Clapton, Hendrix, Zeppelin, Deep Purple, Black Sabbath, Status Quo, Bad Company, Santana, Rolling Stones, Freedoms Children, Hawk, Julian Laxton, etc

Rock Evolutions - V & A Waterfront's Theatre @ The Pavilion 21st July to 27th August (Thurs, Fri & Sat evenings only)
(Show chronicles the development of rock music in all shapes and forms… starting with the 50s' pioneering days of blues and 12-bar rock 'n roll and concluding with the current heavily-amplified nu-metal rock. There are visits along the way to the British Invasion & Psychedelic Rock of the 60s, the theatrical Stadium rock of the 70s, the glam and hard rock of the 80s and the 90s grunge & alternative revolution).

Back on Track
Every Saturday @ Cheetah's, Brackenfell CT from 5.30pm-play 60's/70's blues and rock
You say it's your birthday...
July 13
Roger McGuinn - Byrds - 1942
Stephen Bladd - J. Geils Band - 1942

July 15
Marky Ramone - Ramones - 1956
Linda Ronstadt - 1946
Jeff Carlisli - .38 Special - 1952
Joe Satriani - 1956

July 16
Stewart Copeland - Police - 1952

July 17
Geezer Butler - Black Sabbath - 1949
Chet McCracKen - Doobie Brothers - 1952
Mick Tucker - Sweet - 1947
Spencer Davis - Spencer Davis Group - 1939

July 18
Cesar Zuiderwijk - Golden Earring - 1950

July 19
Brian May - Queen - 1947
Bernie Leadon - Eagles - 1947

July 20
John Lodge - Moody Blues- 1943
Carlos Santana- 1947

July 21
Cat Stevens (Yusuf Islam) - 1947

July 22
Don Henley - Eagles - 1947
Rick Davies - Supertramp - 1944

July 23
Blair Thornton - BTO - 1950
Dino Danelli - Rascals - 1944
Slash - Guns 'N Roses - 1965
Andy Mackay - Roxy Music - 1946

July 25
Jim McCarty - Yardbirds, Renaissance - 1940

July 26
Roger Taylor - Queen - 1949
Gary Cherone - Van Halen - 1960
Mick Jagger - Rolling Stones- 1943

July 28
Rick Wright -Pink Floyd - 1945
Steve Morse - Deep Purple - 1948
Simon Kirke - Bad Company - 1949

July 29
John Sykes - Whitesnake - 1959
Patty Scialfa - E Street Band - 1953
Neal Doughty - REO Speedwagon -1946
Geddy Lee - Rush - 1953

July 31
Bob Welch -Fleetwood Mac - 1946
Bill Berry - R.E.M. - 1959
Hugh McDowell - Electric Light Orchestra - 1953

Courtesy of About ClassicRock

Birthday archives


December
January
February
March
June
July


"Benjy says..." Archive
---
Stay tuned every Thursday 8-12pm for the best in classic rock on RADIO 2000.
---
Your Host
Benjy Mudie
Then
Now
Of Scottish origin, Benjy Mudie started out in the music industry working in record shops. He later became the A&R man for WEA records, signing such luminaries as Lesley Rae Dowling, Baxtop and Falling Mirror. He has ventured briefly into the realms of songwriting, getting co-writing credit for Little Sister's song 'You Got My Heart', but it is mainly for his running of record labels, notably Tusk and more recently Fresh and Retro Fresh that he is honoured. With these labels he has tirelessly dedicated himself to putting South African music out there, showing an unshaking belief in the quality of SA music.
----------------------------------------------------------------------