"Less Talk, More Rock"
Listen to Benjy Mudie every Thursday night between 8 and 12pm on Radio 2000.
Radio 2000
(97.2 to 100.2FM)
Click
here
for the frequency in your area.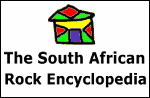 This website is part of the South African Rock Encyclopedia




Benjy says...



Greetings rocksperts ....... Wasn't last night's PATTO special a gas! If you hadn't heard them before and enjoyed the music why not get yourself a copy of the "Hold your fire" album which has been recently reissued with bonus tracks by Repertoire Records in Germany. As I be away for 2 days next week I unfortunately had to record Thursday's show (31st), hopefully that will be the last interruption to the live show for some time.

The special will be one of the originators of the British prog rock movement of the late 60's - King Crimson. Enjoy the show and we'll catch up together live on the 7th...





King Crimson was founded by guitarist Robert Fripp and drummer Michael Giles in 1969. Their dense musical style has typically been categorised as progressive rock and math rock though it has held strong elements of jazz, classical, heavy metal and folk. Though its membership has fluctuated considerably during its lifetime, the band continues to perform and record music. A considerable amount of King Crimson's history consists of the various personnel changes that have occurred within the group. Throughout its history, Robert Fripp has been the only consistent member, although he has stated that he does not necessarily consider himself the band's leader. To him King Crimson "is a way of doing things" , and the musical consistency that has persisted throughout the band's history, despite frequent rotation of its members, reflects this point of view.

King Crimson has found little success in the way of radio or music video presence, but they have a vast discography, tour frequently, and have a devoted following. Robert Fripp and Michael Giles began discussing the formation of King Crimson in November of 1968, soon before the breakup of the short-lived and unsuccessful band Giles, Giles and Fripp. The first musician to be added to the lineup was multi-instrumentalist Ian McDonald. Lyricist Peter Sinfield and singer-guitarist Greg Lake, who was to play bass and sing, were soon recruited afterward; thus the first incarnation of King Crimson was born. Early in January 1969, the group rehearsed for the first time. The group's high-profile premiere took place at the famous free concert in Hyde Park, London, staged by The Rolling Stones in July 1969. The first album, In the Court of the Crimson King was released in October , King Crimson went on tour through England, and later the United States, performing alongside many contemporary popular musicians and musical groups, including Iron Butterfly, Janis Joplin, The Rolling Stones, and Fleetwood Mac. Tensions and musical differences within the band eventually reached a limit, however; Ian McDonald and Michael Giles left the band in December 1969 to pursue solo work. In 1970, they recorded the McDonald and Giles studio album. McDonald went on to be a founding member of Foreigner in 1976.

King Crimson's lineup fluctuated tremendously during the next few years. The remaining trio of Fripp, Sinfield, and Lake persevered for a short while, releasing the single Cat Food/Groon in March of 1970. During this time, material was being developed for King Crimson's second album, In the Wake of Poseidon. Woodwind player Mel Collins came on board, and bassist Peter Giles appeared on several tracks. Greg Lake departed in April to form Emerson, Lake & Palmer, leaving King Crimson without a vocalist until Gordon Haskell took over singing, in addition to playing bass, for the band's third album, Lizard. Andy McCulloch played drums for the album, with Jon Anderson of Yes singing on one song. Haskell and McCulloch left just before the release of Lizard, leaving King Crimson in the unenviable position of being a rock band without a singer, bassist, or drummer. Fripp and Sinfield began auditioning vocalists and musicians. Among the singers who tried out for them was young Bryan Ferry, leader of the fledgling band Roxy Music. While his voice wasn't right for King Crimson's material, both Fripp and Sinfield were highly impressed by Ferry's performance, and they helped Roxy Music obtain a recording contract with E.G. Records. (Sinfield would go on to produce the first Roxy Music LP.) Drummer Ian Wallace and vocalist Boz Burrell were selected, but after more than two dozen potential bassists had come and gone, Fripp decided simply to teach Boz to play bass. Burrell maintains that he was chosen because he preferred the more "twangy" Rotosound brand of strings. In the midst of the lengthy tour that followed, the band released Islands in 1971. At the end of that year, King Crimson parted ways with long-time member and lyricist Peter Sinfield, who then hooked up with old friend Greg Lake, and became the primary lyricist for Emerson, Lake and Palmer. The remaining members undertook a tour the following year, with the intention of disbanding afterwards. Recordings from this tour were later edited by Fripp to become the Earthbound album.





Shortly after the Earthbound tour, Collins, Wallace and Burrell left King Crimson to form a band called Snape, with British blues legend Alexis Korner (Burrell later became the bassist of Bad Company). Fripp once again began looking for new members. The first to join was improvising percussionist Jamie Muir, whom Fripp had been considering as a possible member for some time. Next came vocalist and bassist John Wetton; formerly of the band Family and one of Fripp's college acquaintances. Wetton had been under consideration for the previous lineup of the band, but that proposition had fallen through. Now that King Crimson was starting over from scratch again, the opportunity was ripe.Drummer Bill Bruford was next to sign up, choosing to leave the commercially successful Yes for the relatively unstable and unpredictable King Crimson. Bruford himself was more interested in artistic pursuits, and the framework of King Crimson appealed to that sensibility in him. Finally, violin, viola and keyboard player David Cross was selected to flesh out the sound of the new band. With Pete Sinfield gone, a new lyricist was needed. John Wetton recommended his old friend Richard Palmer-James, who got the job.Rehearsals and touring began in late 1972, and Larks' Tongues in Aspic was released early the next year, and the group spent the remainder of 1973 touring Britain, Europe, and America. This era of King Crimson demonstrated a kinship with the nascent heavy metal music then developing mainly in the United States and the United Kingdom. Fripp's guitar playing was loud and aggressive, and Bruford's propulsive drumming meshed with Wetton's often powerful bass guitar.

Muir left the group early in 1973, and during the lengthy tour that followed, the remaining members began assembling material for their next album, Starless and Bible Black. By early 1974, the album was finished. Most of the album was recorded from live performances in 1973, with only two full tracks (The Great Deceiver and Lament) and part of another track (The Night Watch) being studio productions, a fact that emphasises King Crimson's essentially live nature. Fripp never felt that recordings of any sort were adequate to capture the atmosphere and energy of a live performance. Another recording of live gigs, USA, was recorded soon afterwards but not released for another year.David Cross's place in the group, meanwhile, was coming under pressure. His role as a violin-player had been more important in the earlier days of this version of Crimson, but as the music progressed & ... and got louder & ... he increasingly felt his contribution was unheard and sidelined: reduced, as he once said, to being just the electric piano player. He went, leaving the remaining trio to record Red which included appearances by musicians from previous albums: Robin Miller on oboe, Marc Charig on cornet and former King Crimson member Mel Collins on soprano saxophone. Cross appeared on Providence, recorded in its namesake in Rhode Island. Ian McDonald also returned as a session musician on alto saxophone, with plans to rejoin as a full-time member. Fripp, increasingly distracted from Crimson by the writings of the mystic George Gurdjieff, even spoke of being replaced by McDonald. This was the second time in the band's history that Fripp considered leaving the group to continue without him.The Red line-up never toured, however; two months before the album's release, Robert Fripp announced that King Crimson had ceased to exist. "King Crimson is completely over for ever and ever," he said. It seemed that King Crimson was to end in Red; instead, it was the end of an era.

Early in 1981, Fripp and Bruford began considering the formation of a new group, to be called Discipline. The two spent some time searching for a bassist, but had little success in recruiting one until Tony Levin stopped by. Levin was known for his session work with John Lennon and Yoko Ono, Peter Gabriel and others, and would have been one of Fripp's first choices had he known Levin was available. King Crimson had its bassist, and also a new sound in the Chapman Stick, which Levin would use instead of bass guitar on all but one of the tracks on their forthcoming LP.During this time, Fripp called up guitarist Adrian Belew, who was on tour with Talking Heads. Fripp had never worked with another guitarist in the same band, so the decision to seek a second guitarist was highly indicative of Fripp's desire to create a sound completely unlike King Crimson. Belew, for his part, was flattered. He would join immediately following his tour with Talking Heads.During rehearsals and initial recorded sessions in 1981, Fripp began suspecting that this new band really was King Crimson, despite his decision to call it Discipline. The other members concurred, and so King Crimson was reborn. The group released a trilogy of albums: Discipline, Beat, and Three of a Perfect Pair. Belew was responsible for the vocals, as well as almost all of the lyrics on the three albums. Also, with Belew, King Crimson for the first time had a lyricist who was also a performing member of the band, discounting the VCS3 synthesiser that Peter Sinfield used during Lizard.This version of King Crimson bore some resemblance to new wave music, possibly as a result of Belew's tenure with Talking Heads, often considered progenitors of the genre. Fripp intended to create the sound of a "rock gamelan", with an interlocking rhythmic quality to the paired guitars that he found similar to Indonesian gamelan ensembles.After Three of a Perfect Pair, King Crimson disbanded for several years. Fripp entered into a series of legal wranglings with his bandmates, and this occupied much of his time, but resulted in the development of Discipline Global Mobile, a company through which King Crimson and various side projects and archives have emerged.





Fripp, Belew, Levin, Gunn and Marotta convened in early 1993 to throw some musical ideas around. King Crimson reformed as a sextet in 1994 adding in Bill Bruford . This "double trio" formation released a few CDs in the mid 1990s: VROOOM (1994), THRAK (1995), and THRaKaTTaK (1996). The new King Crimson sound was something of a mixture of Discipline-era complementary guitars with the heavy rock feel of 1974's Red. Staging and rehearsing the sextet was an expensive proposition, however: this, combined with the level of experimentation within the band, soon contributed to its collapse.

In the late 1990s, Discipline Global Mobile operated as a distinctly artist-friendly label, and featured not only the works of King Crimson, but also of many side projects. ProjeKcts One, Two, Three, and Four, each a splinter group (a "fraKctalisation", according to Fripp) of King Crimson, released various recordings, demonstrating the improvisational musical highwire act that the constituent musicians are able to produce.In 1998, DGM created the King Crimson Collector's Club (KCCC), a subscription-based service that released a live recording (originating from soundboard or bootleg recordings) every two months. Most of these live recordings are now available to buy at their website.After the initial ProjeKcts' task was completed, Fripp outlined several possible futures for King Crimson. One of the ideas presented was ProjeKct Zero, a ProjeKct unit that would feature all six King Crimson members. Bruford was not interested and quit the band to focus on jazz, and Levin let his active involvement in King Crimson rest until further notice; this left Belew, Fripp, Gunn, and Mastelotto as the next line-up. Their first studio effort was The ConstruKction of Light (2000), accompanied by another album, Heaven and Earth, which was released under the name ProjeKct X. Heaven and Earth was edited together by Mastelotto from material recorded during the rehearsal and recording period of the studio album.After the economic reversals of 2000 and 2001, DGM ceased acting as a general label and artist's blog site and refocused its energy on King Crimson. A lengthy The ConstruKction of Light tour was followed by another tour opening for the band Tool and the Level Five tour that served to write, rehearse, and evolve new pieces for the next album. In 2003, the album The Power to Believe was released and the band toured in support of it.

Fripp, as noted, has described King Crimson as "a way of doing things", and also as "an experiment in organizing anarchy". Over a period of 35 years, and many changes in membership, configuration, and instrumentation, King Crimson has maintained a kind of constancy in its musical vision rare among long-lived bands.

Current lineup
Robert Fripp - lead guitar, occasional mellotron or piano (1968 - present)
Adrian Belew - guitar, vocals (1981 - present)
Tony Levin - bass, Chapman Stick, backing vocals (1981 - 1999, 2003 - present)
Pat Mastelotto - drums, percussion (1994 - present)

Former members
Greg Lake - vocals (1968-70), bass (1968-69)
Peter Giles - bass (1970)
Gordon Haskell - bass, vocals (1970)
Boz Burrell - bass, vocals (1971-72)
John Wetton - bass, vocals (1972-74)
Trey Gunn - Warr guitar, Chapman stick (1994-2003)
Michael Giles - percussion (1968-70)
Andy McCulloch - percussion (1970)
Ian Wallace - percussion (1971-72)
Jamie Muir - percussion (1972-73)
Bill Bruford - percussion (1972-1997)
Peter Sinfield - lyrics, lighting (1968-71)
Richard Palmer-James - lyrics (1972-1974)
Ian McDonald - reeds, woodwinds, mellotrons (1968-69, sideman in 1974)
Mel Collins - sax, flute (1970-72)
David Cross - violin, viola, flute, mellotrons, keyboards (1972-74)

Discography

In the Court of the Crimson King (1969) **
In the Wake of Poseidon (1970) **
Lizard (1970) *
Islands (1971) *
Larks' Tongues in Aspic (1973) *
Starless and Bible Black (1974) *
Red (1974) *
Discipline (1981)
Beat (1982)
Three of a Perfect Pair (1984) **
THRAK (1995)
The ConstruKction of Light (2000)
The Power to Believe (2003)

* recommended
** Essential

Information and pics courtesy of Wikipedia and the the Elephant Talk website.

Catch you every Thursday 8 to Midnight ...

Benjy



---

Contact Rock of Ages

Email: click here
Snail mail:
PO Box 782022, Sandton 2146
Studio phone: 089-1102003


Disclaimer:
The views, opinions, rants, raves and ramblings expressed on this website are the author's own and in no way reflect the views of Radio 2000 or the SABC.



Latest Playlist
Rock Of Ages News
Sweet Guitar Hero O' Mine The Guns n' Roses classic 'Sweet Child O' Mine' and 'Freebird' by Lynyrd Skynyrd have been confirmed for inclusion on the Playstation 2 game 'Guitar Hero II', due out in November. The track listing will also feature 'Madhouse' - Anthrax, 'Shout At The Devil' - Motley Crue, 'Trippin' On A Hole In A Paper Heart' - Stone Temple Pilots, 'War Pigs' - Black Sabbath, 'John The Fisherman' - Primus, 'Strutter' - Kiss, 'YYZ' - Rush, 'You Really Got Me' - Van Halen, 'Psychobilly Freakout' - Reverend Horton Heat, 'Who The Hell Was In My Room Last Night' - Butthole Surfers.

Short Cuts ... Paul Stanley's first solo album since 1978 is to be released in late October. Called 'Live To Win', this will be on the New Door label. The Kiss star is planning a tour in the Autumn ...New British classic rock hopefuls The Answer are to support Paul Rodgers at the Royal Albert Hall in London on October 3. The show is sold out already ... Ozzy Osbourne is said to be working on two albums at the moment. One is his new solo record, set to be released in February. The other's the soundtrack for his musical based on the life of Rasputin ... Deep Purple frontman Ian Gillan is writing a political thriller. The novel's to be called 'Wessex', and he already has a publisher lined up ... Queen + Paul Rodgers are to record a new studio album. Work will begin in October at a secret location ... Aerosmith bassist Tom Hamilton is to sit out part of the band's upcoming US tour. This is because he's just undergone radiation treatment for throat cancer. His place will be taken by David Hull.

Treat for SA Dylan fans ..... His Royal Bobness is releasing his first new album in years called "Modern times" and the folks at Sony BMG have come up with a cool treat for all the fans out there. If you buy the new album at either CD Wherehouse or Look & Listen then you will recieve a free 100 page booklet containing all his album artwork and tracklistings ... while stocks last of course.

More rock on Radio 2000...
Suffering from Rock withdrawal symptoms on a Tuesday night? Well then tune the dial el pronto to Barney Simon's show between 8 and midnight every Tuesday on Radio 2000 (or R2K as Barney calls it) for the best in South African rock plus gig guide,albums reviews, demos, new releases, news from around the country and much more ...... Unmissable! .... Also don't forget to catch Michelle Constant between 1pm and 3pm Monday-Friday for news, music, interviews and loads of cool stuff .... and of course .... Mo G on the morning drive, weekdays 8-10am ... Exclusively on Radio 2000.

Live Gigs
Nu Folk featuring Paul E. Flynn, Jim Neversink, Josie Field, Laurie Levine & Silent Running
27th August Back 2 Basix, Westdene

Red House 25th August @ the Jazz and Popular Music Centre.University of KZN,Durban

White Mountain Folk Festival
22-25 September Giants Castle Kwa Zulu Natal

Friday - Starplayer, Thirty Three, Movie55, SpoonFeedas
Saturday - Fox Fyre, Zoe, Fiona Tozer, Laurie Levine, Guy Buttery, Shomon, Nibs van der Spuy, Farryl Purkiss, Rory Eliot (Plush), Jim Neversink
Sunday - Krane, Jason Glover, Melody Kaye, Cubic Inch, Quark, Ménage à Trois, Sitter, Karen Zoid

Jack Hammer
25th August Café Barcelona, Pretoria
26th Blue Moon, Nelspruit
1st September Bertie's Mooring, Gordon's Bay
3rd Lord Nelson Hotel, Simonstown
6th Durbanville KunsKafee
7th Bohemia, Stellenbosch
11th Dorp Street, Stellenbosch
22nd Steak & Ale, Pretoria
23rd SinkShack, Bronkhorstspruit

Lancaster Band

2nd September Zula Bar, Long Street - new ep and DVD release.


You say it's your birthday...

August 24
John Cipollina - Quicksilver Messenger Service - 1943
Ken Hensley - Uriah Heep - 1945
Mike DeRosier - Heart - 1951
Malcolm Duncan - Average White Band - 1945
Jim Capaldi - Traffic - 1944
August 25
Gene Simmons - KISS - 1949
Rob Halford - Judas Priest - 1951
Elvis Costello - 1954
August 27
Alex Lifeson - Rush - 1953
Glen Matlock - Sex Pistols - 1956
August 28
Dave Hlubek - Molly Hatchet - 1952
Daniel Seraphine - Chicago - 1948
August 29
Chris Copping - Procol Harum - 1945
Rick Downey - Blue Oyster Cult - 1953
Dick Halligan - Blood, Sweat & Tears - 1943
August 30
Micky Moody - Whitesnake - 1950
"Papa" John Phillips - Mamas & the Papas - 1935
August 31
Gina Schock - The Go-Go's - 1957
Van Morrison - 1945

Courtesy of About ClassicRock

Birthday archives


January
February
March
April
May
June
July
August
September
October
November
December


"Benjy says..." Archive
---
Stay tuned every Thursday 8-12pm for the best in classic rock on RADIO 2000.
---
Your Host
Benjy Mudie
Then
Now
Of Scottish origin, Benjy Mudie started out in the music industry working in record shops. He later became the A&R man for WEA records, signing such luminaries as Lesley Rae Dowling, Baxtop and Falling Mirror. He has ventured briefly into the realms of songwriting, getting co-writing credit for Little Sister's song 'You Got My Heart', but it is mainly for his running of record labels, notably Tusk and more recently Fresh and Retro Fresh that he is honoured. With these labels he has tirelessly dedicated himself to putting South African music out there, showing an unshaking belief in the quality of SA music.
----------------------------------------------------------------------