"Less Talk, More Rock"
Listen to Benjy Mudie every Thursday night between 8 and 12pm on Radio 2000.
Radio 2000
(97.2 to 100.2FM)
Click
here
for the frequency in your area.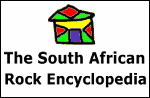 This website is part of the South African Rock Encyclopedia
Benjy says...



Even after two and a half years hosting Rock of Ages I still get a huge buzz listening to and playing new music and this past week's show was such fun ... new blues rock albums from Walter Trout and Dan Patlansky (who is so talented it's scary!); classic rock infused offerings from the likes of Ireland's The Answer and the new Audioslave (their best album yet) plus the amazing prog rock of Proto-Kaw featuring Kansas guitarist Kerry Livgren ..... Listening to the Babe Ruth special I wondered what had happened to Jenny Haan and Alan Shacklock? ... she was such an amazing singer with both power and range and tres sexy to boot: as for guitarist Alan Shacklock ... whether he was caressing a nylon string acoustic, spinning out flamenco patterns (ala "The Mexican") or hammering out stinging leads (as in "Wells Fargo") he certainly was one of the most underrated guitarists of the decade ..... I'll hopefully be broadcasting from the Joburg studios this week and the special will be one of the best rock 'jam' bands around - Gov't Mule.





Gov't Mule is a southern rock/jam band formed in 1994 as an Allman Brothers Band side project, but has taken on a life of its own. Like many jam bands, Gov't Mule does not get a lot of radio airplay but is popular due to constant touring and intense fan loyalty. Many popular rock musicians claim Gov't Mule as their favorite band including James Hetfield of Metallica, and Henry Rollins of Black Flag and Rollins Band.





When the Allman Brothers Band reformed in 1989 in response to the popularity of the Dreams box set, Warren Haynes was added on lead guitar and Allen Woody was added on bass. The two shared a love for '60s power trios, like Cream, Jimi Hendrix Experience, and James Gang. With no bands making similar music in the 90s (except, arguably, ZZ Top), Haynes, Woody, and former Dickey Betts drummer Matt Abts came together as Gov't Mule during Allman Brothers' breaks. They released their debut CD Gov't Mule in 1995. It was followed by Live At Roseland Ballroom.When it became apparent that the Allman Brothers weren't planning on recording any new material, Haynes and Woody left to concentrate full-time on Gov't Mule in 1997. Dose, the studio follow up to their first studio effort, was released in early 1998. They were joined by members of the Allman Brothers, the Black Crowes, and Parliament/Funkadelic for their 1998 New Year's Eve concert. This was released in both a two and four CD version as Live ... With A Little Help From Our Friends. The band exposed some of their roots with covers of Neil Young, Free, Traffic, Jimi Hendrix, Black Sabbath, and Mongo Santamaria (via John Coltrane).





In 2000, the band released Life Before Insanity to critical praise. Many thought that this would be Gov't Mule's breakthrough CD. However, Woody was found dead in New York City in August. Haynes and Abts considered breaking up the band but did stage a concert called "One for Woody" to raise money for his daughter's education. The Allman Brothers, the Black Crowes, members of the Grateful Dead, and other friends of Woody also performed at the concert. At both the One for Woody performance and other shows, Haynes began appearing with the Allman Brothers Band again. With Dickey Bett's departure from the Allmans, Warren came back full time to the band at the beginning of 2001 and has continued splitting his time between the Allmans, Gov't Mule and for a period Phil Lesh and Friends and the reformed Dead.





The next year, Haynes and Abts began to record a tribute CD using Woody's favorite bass players. These sessions resulted in two CDs The Deep End, Volume 1 (2001) and The Deep End, Volume 2 (2002). A documentary of the recording sessions was also made by Phish bassist Mike Gordon called Rising Low. Bass contributions to the CDs came from Jack Bruce of Cream, John Entwisle of The Who, Mike Watt of Minutemen, Les Claypool of Primus, Flea of the Red Hot Chili Peppers, and Chris Squire of Yes among others. When it came to touring in support of the Deep End CDs, Haynes and Abts used a revolving door of keyboardists and bassists. Keyboardists included Chuck Leavell from the Allman Brothers and the Rolling Stones, Rob Barraco and Danny Louis. Bassists included among others, Dave Schools of Widespread Panic, Oteil Burbridge of the Allman Brothers, George Porter Jr. of The Meters, Greg Rzab formerly of The Black Crowes and the Buddy Guy Band and Andy Hess, also formerly of The Black Crowes. Louis and Hess were eventually added as permanent members of Gov't Mule.

The first CD with Louis and Hess Deja Voodoo was released in September 2004. Additional material from those sessions was released in 2005 as Mo' Voodoo. Gov't Mule continues to tour extensively and have become staple acts at many music festivals including Bonnaroo, Wakarusa, Langerado, and Vegoose.The new lineup's sophomore release, titled High and Mighty, is out now

Info and pics courtesy of Gov't Mule website www.mule.net, MuleZone www.mulezone.com and Wikipedia www.wikipedia.net

Members:

Warren Haynes - guitar, vocals (1994-present)
Matt Abts - drums, percussion (1994-present)
Allen Woody - bass, vocals (1994-2000)
Andy Hess - bass (2003-present)
Danny Louis - keyboards, guitar, vocals (2002-present)

Discography

Govt Mule, 1995 *
Live From Roseland Ballroom, 1996
Dose, 1998 *
Live ... With A Little Help From Our Friends, 1998 **
Life Before Insanity, 2000
The Deep End, Volume 1, 2001 *
The Deep End, Volume 2 2002
The Deepest End, Live In Concert, 2003
Deja Voodoo, 2004 **
Mo' Voodoo (EP), 2005
High & Mighty, 2006 *

* recommended
** Essential

Rock of Ages CD Compilation

Coming shortly - the first of many Rock of Ages cd compilations ... it's called "Footstomping Music" which I guess is pretty self explanatory and it features some of the real heavyweights of classic rock. The difference with other compilations featuring some of the these great bands is that we have avoided including the obvious 'hit' songs and gone for other more representative tracks. Here is a partial list of Who's Who on the album which is being released through Universal Music, hopefully by the beginning of November.

grand funk railroad - footstomping music
wishbone ash - blowin' free
taste - what's going on
uriah heep - look at yourself
black sabbath - sweet leaf
nazareth - go down fighting
mountain - never in my life
santana - toussaint 'l overture
blue oyster cult - the red & the black
lynyrd skynyrd - gimme back my bullets
deep purple - burn
robin trower - too rolling stoned
thin lizzy - chinatown

Catch you every Thursday 8 to Midnight ...

Benjy



---

Contact Rock of Ages

Email: click here
Snail mail:
PO Box 782022, Sandton 2146
Studio phone: 089-1102003


Disclaimer:
The views, opinions, rants, raves and ramblings expressed on this website are the author's own and in no way reflect the views of Radio 2000 or the SABC.



Latest Playlist
Rock Of Ages News
Clapton & Cale
After years of admiring each others musical masterworks and Clapton covers of Cale songs such as After Midnight and Cocaine, guitar greats J.J. Cale and Eric Clapton have teamed up for the first time to create an original album together, The Road To Escondido. The 14 track CD was produced and recorded by the duo in August 2005 in California. The resulting music defies being labeled into any one category, but instead finds influence across the spectrum of blues, rock, country and folk. A hybrid sound that is unique musically, while still bearing the signature styles of Cale and Clapton recognized by fans around the world.

Shorts Cuts ... ZZ Top have cleared the decks somewhat, having split with RCA Records and also with longtime manager Bill Ham. No news, though, on what the Li'l Ole Band From Texas plan next ... Axl Rose is being sued by art brokers Acquire D'Arte. They claim he agreed to pay $2.36 million for an Andy Warhol portrait of John Lennon but then would only pay $1.21 million ... Nickelback and the Red Hot Chili Peppers have both picked up three nominations for the American Music Awards, which happen in Los Angeles on November 21. The two giants go head to head in the following categories: Favourite Pop/Rock Band, Duo Or Group, Favourite Pop/Rock Album and Favourite Alternative Artist. Pearl Jam have also been nominated in the last category.

More Classic Rock?
I can highly recommend the About Classic Rock website run by Dave White. Not only does Dave host one of the most knowledgeable classic rock blogs on the Net but the site itself is very entertaining and informative. There are always great indepth stories on the artists and the rock quizzes are addictive. If you are like me, a classic rock fan, then the weekly About Classic Rock newletter is a must. Sign up at classicrock.about.com

More rock on R2K ......
Suffering from Rock withdrawal symptoms on a Tuesday night? Well then tune the dial el pronto to Barney Simon's show between 8 and midnight every Tuesday on Radio 2000 (or R2K as Barney calls it) for the best in South African rock plus gig guide,albums reviews, demos, new releases, news from around the country and much more ...... Unmissable! .... Also don't forget to catch Michelle Constant between 1pm and 3pm Monday-Friday for news, music, interviews and loads of cool stuff .... and of course .... Mo G on the morning drive, weekdays 8-10am ... Exclusively on Radio 2000.

Live Gigs
Rocktober Fest
(Jack Hammer / Duck & Cover / Southern Gypsy Queen)
6th October Steak & Ale, Centurion

Red House
Saturday 23 Kohoonies Roodepoort
Tuesday 26 Zanzi Bar Pretoria
Wednesday 27 Roxy's Melville
Thursday 28 Woodstock Hartebeespoort
Saturday 30 Woodstock Hartebeespoort

Boulevard Blues Band
17th Sunday Berties Mooring, Gordons Bay
20th Wed Berties Mooring Acoustic sessions
22nd/23rd Fri/Sat Hermanus Whale Festival.........Times TBA
24th Gecko Bar Hermanus
25th to 1st of Oct Potchefstroom Aardklop festival

October
6th - 'Die Boer' Durbanville
7th 'Berties Mooring' Gordons Bay. CD Launch for 'Live and Direct'
11th - Berties Mooring
13th/14th Colesburg National Harley Davidson Festival with Bed on Bricks and Karen Zoid
20th -Berties Mooring
21st - Mowbray Golf Club 20th school reunion Acoustic band
26th - Simonsvlei Wine Estate Stellenbosch
28th - Flaming Fox
29th - Berties Mooring

Robin Auld (EP TOUR)
24th Pepper Street, Jeffrey's Bay
29th Die Boer, Durbanville
30th Fogey's at the Railway House, Muizenberg

White Mountain Folk Festival
22-25 September Giants Castle Kwa Zulu Natal
Friday - Starplayer, Thirty Three, Movie55, SpoonFeedas
Saturday - Fox Fyre, Zoe, Fiona Tozer, Laurie Levine, Guy Buttery, Shomon, Nibs van der Spuy, Farryl Purkiss, Rory Eliot (Plush), Jim Neversink
Sunday - Krane, Jason Glover, Melody Kaye, Cubic Inch, Quark, Manage a Trois, Sitter, Karen Zoid


You say it's your birthday...
September 21
Don Felder - Eagles - 1947
Leonard Cohen - 1934
Don Preston - Mothers of Invention - 1932
Moon Zappa - 1967

September 22
Joan Jett - 1961
David Coverdale - Whitesnake - 1949

September 23
Ray Charles - 1930
Bruce Springsteen - 1949

September 24
Linda McCartney - 1941

September 26
Cesar Rosas - Los Lobos - 1954
Craig Chaquico - Jefferson Starship - 1954
Olivia Newton-John - 1948

September 27
Randy Bachman - Bachman Turner Overdrive - 1943
Don Cornelius - Soul Train - 1936
Meat Loaf - 1947

September 28
Nick St. Nicholas - Steppenwolf - 1943

September 29
Jerry Lee Lewis - 1935
Mark Farner - Grand Funk Railroad - 1948
Mike Pinera - Iron Butterfly - 1948

Courtesy of About ClassicRock

Birthday archives


January
February
March
April
May
June
July
August
September
October
November
December


"Benjy says..." Archive
---
Stay tuned every Thursday 8-12pm for the best in classic rock on RADIO 2000.
---
Your Host
Benjy Mudie
Then
Now
Of Scottish origin, Benjy Mudie started out in the music industry working in record shops. He later became the A&R man for WEA records, signing such luminaries as Lesley Rae Dowling, Baxtop and Falling Mirror. He has ventured briefly into the realms of songwriting, getting co-writing credit for Little Sister's song 'You Got My Heart', but it is mainly for his running of record labels, notably Tusk and more recently Fresh and Retro Fresh that he is honoured. With these labels he has tirelessly dedicated himself to putting South African music out there, showing an unshaking belief in the quality of SA music.
----------------------------------------------------------------------