"Less Talk, More Rock"
Listen to Benjy Mudie every Thursday night between 8 and 12pm on Radio 2000.
Radio 2000
(97.2 to 100.2FM)
Click
here
for the frequency in your area.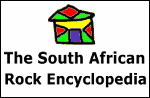 This website is part of the South African Rock Encyclopedia
Benjy says...



Salutations rockers, It's a shortened newsletter this week having just got back from my trip to Joburg. Thanks for being so patient with me on Thursday night as I maneuvered my way around an unfamiliar audio desk, deep in the bowels of the SABC! Despite a few hiccups and a couple of 'right fingers on the wrong buttons' the show went fairly smoothly and a good rocking time was had by all. I would like to welcome my new engineer Jill to Rock of Ages. Thanks too for all the calls and memories of listening to Chicken Shack in the 70's - a special thank you to the fan who called to tell me that "The Letter" was her and her late husband's fave Shack tune and it made her night to hear it again (I'm sorry that I forgot your name). After the Brit blues of Chicken Shack it's time for a quantum leap to what makes rock music really tick so this week's special is something ... well special.

The acid test for any self respecting rock artist is the stage, reputations are made or broken when the lights dim and the crowd roars in anticipation ... the volume gets turned up, the kick drum thuds and the guitars howl out their mantra ... It's rock and roll time!

So to celebrate the live stage this week's special will be some of the greatest rock artists living up to their reputations .... Live in Concert ......

90 minutes of Humble Pie, Deep Purple, Jimi, Led Zep, Thin Lizzy, Rush, Floyd, AC/DC, Robin Trower, The Who, Ten Years After, Rainbow and many more. I will try to play as many of your recommendations as possible and those that I can't fit on on the night will be featured in upcoming shows. So join me on Thursday for the Rock of Ages Live in Concert Special ... tell your friends!



Rock of Ages CD Compilation

Coming shortly - the first of many Rock of Ages cd compilations ... it's called "Footstomping Music" which I guess is pretty self explanatory and it features some of the real heavyweights of classic rock. The difference with other compilations featuring some of the these great bands is that we have avoided including the obvious 'hit' songs and gone for other more representative tracks. Here is a partial list of Who's Who on the album which is being released through Universal Music, hopefully by the beginning of November.

grand funk railroad - footstomping music
wishbone ash - blowin' free
taste - what's going on
uriah heep - look at yourself
black sabbath - sweet leaf
nazareth - go down fighting
mountain - never in my life
santana - toussaint 'l overture
blue oyster cult - the red & the black
lynyrd skynyrd - gimme back my bullets
deep purple - burn
robin trower - too rolling stoned
thin lizzy - chinatown

Rock of Ages's recommendations



The last couple of months have seen some great new albums released for the rock connoisseur: Iron Maiden's "A matter of life and death" *** is the sound of a classic rock band back on top of their game. What has made the 'Maiden shine above 99% of the metal bands, both old and new, is their ability to combine sheer power with melody and the new album has both in equal doses. Produced by ex Capetonian Kevin "Caveman" Shirley, the band have made their best album in over 2 decades ......





Returning to the rock fray after a patchy second album Audioslave have really delivered the goods on "Revelations" ****. Retaining the machine gun riffs of their groundbreaking debut but this time fusing it with a more soulful funky sound the band have never sounded so focused. Chris Cornell sings like a man intent on wrenching every bit of emotion out of the songs and Tom Morello? Well again he astounds all and sundry with his blazing guitar style, pulling sounds out of six strings that a battery of Moogs would fail to emulate - one of the true masters of the guitar.

Ratings:

| | |
| --- | --- |
| ***** | Volcanic....not to be missed. |
| **** | Seismic....highly recommended...buy it! |
| *** | Aftershock....solid effort. |
| ** | Xmas cracker...Pooof! |
| * | Do I need to explain this? |



Catch you every Thursday 8 to Midnight ...

Benjy



---

Contact Rock of Ages

Email: click here
Snail mail:
PO Box 782022, Sandton 2146
Studio phone: 089-1102003


Disclaimer:
The views, opinions, rants, raves and ramblings expressed on this website are the author's own and in no way reflect the views of Radio 2000 or the SABC.



Latest Playlist
Rock Of Ages News
Shorts Cuts ... There are strong rumours that Phil Collins, Mike Rutherford and Tony Banks are to re-unite as Genesis for an '07 tour but it seems unlikely that Peter Gabriel will be involved. However, as usual none of this is official. Iron Maiden are to release the song 'Different World' as their next UK single with new recordings included as extra tracks. This is taken from their brilliant new album "A matter of life and death" ....... Patti Smith is to play the last ever show at the legendary CBGB's in New York on October 15 .... Former Kiss guitarist Vinnie Vincent has lost a Supreme Court battle over what he claims to be unpaid royalties from the Kiss album 'Lick It Up'. Vincent had previously had a lower court rule against him.

More Classic Rock?
I can highly recommend the About Classic Rock website run by Dave White. Not only does Dave host one of the most knowledgeable classic rock blogs on the Net but the site itself is very entertaining and informative. There are always great indepth stories on the artists and the rock quizzes are addictive. If you are like me, a classic rock fan, then the weekly About Classic Rock newletter is a must. Sign up at classicrock.about.com

More rock on R2K ......
Suffering from Rock withdrawal symptoms on a Tuesday night? Well then tune the dial el pronto to Barney Simon's show between 8 and midnight every Tuesday on Radio 2000 (or R2K as Barney calls it) for the best in South African rock plus gig guide,albums reviews, demos, new releases, news from around the country and much more ...... Unmissable! .... Also don't forget to catch Michelle Constant between 1pm and 3pm Monday-Friday for news, music, interviews and loads of cool stuff .... and of course .... Mo G on the morning drive, weekdays 8-10am ... Exclusively on Radio 2000.

Live Gigs



Boulevard Blues Band

11th - Berties Mooring
13th/14th Colesburg National Harley Davidson Festival with Bed on Bricks and Karen Zoid
20th - Berties Mooring
21st - Mowbray Golf Club 20th school reunion Acoustic band
26th - Simonsvlei Wine Estate Stellenbosch
28th - Flaming Fox
29th - Berties Mooring

Josie Field

11th October 88 Lounge, Norwood


You say it's your birthday...
October 13
Paul Simon - 1941
Sammy Hagar - Van Halen - 1947
Robert Lamm - Chicago - 1944

October 14
Justin Hayward - Moody Blues - 1946
Cliff Richard - 1940

October 16
Bob Weir - Grateful Dead - 1947
C.F. Turner - Bachman Turner Overdrive - 1943

October 17
Gary Puckett - Union Gap - 1942
Jim Seals - Seals & Crofts - 1941

October 18
Chuck Berry - 1926
Keith Knudsen - Doobie Brothers - 1949
Gary Richrath- REO Speedwagon - 1949
Laura Nyro - 1947

October 20
Tom Petty - 1950

Courtesy of About ClassicRock

Birthday archives


January
February
March
April
May
June
July
August
September
October
November
December


"Benjy says..." Archive
---
Stay tuned every Thursday 8-12pm for the best in classic rock on RADIO 2000.
---
Your Host
Benjy Mudie
Then
Now
Of Scottish origin, Benjy Mudie started out in the music industry working in record shops. He later became the A&R man for WEA records, signing such luminaries as Lesley Rae Dowling, Baxtop and Falling Mirror. He has ventured briefly into the realms of songwriting, getting co-writing credit for Little Sister's song 'You Got My Heart', but it is mainly for his running of record labels, notably Tusk and more recently Fresh and Retro Fresh that he is honoured. With these labels he has tirelessly dedicated himself to putting South African music out there, showing an unshaking belief in the quality of SA music.
----------------------------------------------------------------------