"Less Talk, More Rock"
Listen to Benjy Mudie every Thursday night between 8 and 12pm on Radio 2000.
Radio 2000
(97.2 to 100.2FM)
Click
here
for the frequency in your area.
Weekly Newsletter
To receive your weekly dose of Rock News, Playlists, Recommendations, Competitions and much, much more, please join our
Mailing List
.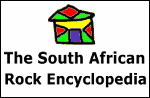 This website is part of the South African Rock Encyclopedia
Benjy says...



Hi Rock of Agers,

Whilst Ian Anderson took Jethro Tull off on a 35 year medieval prog-folk-rock tangent complete with codpieces, minstrels and dodgy tramps in grubby overcoats, original guitarist Mick Abrahams walked a more bluesy, jazz inflected road with his band Blodwyn Pig. If you didn't catch the 'Pig special on Thursday try and get your hands on the band's 2 influential albums, "Gettin to this" and "Rings out ahead", they deserve a place of pride in any self respecting classic rock fan's collection... This coming Thursday I will be presenting an audio overview of one of the more unique bands of the early 70's ... Family. Fronted by the enigmatic and vibrato-enhanced voice of Roger Chapman, Family carved out a niche in the emerging UK 'prog' scene and released a string of critically acclaimed albums. They were also firm favourites on the festival and polytechnic live circuit but despite scoring several 'hit' singles along the way they never really hit the big time. Which is sad really as Family are, in my opinion, certainly one of the more interesting rock bands of the period ....... I recently reconnected with the band's music and will be featuring tracks from the first six albums, expect to hear all the faves like "The Weavers answer", "Burlesque" and "No mule's fool" among others plus a handful of rare live tracks.

The Rock of Ages Special - Family





Originally formed in 1962 as The Farinas and then changing their name to The Roaring Sixties, the group settled on the name Family in '67 at the suggestion of producer/songwriter Kim Fowley. Family remained virtually unknown in the U.S. although their wildly eclectic progressive rock made them a hitmaker in the U.K. Traffic's Dave Mason co - produced their debut album with Jimmy Miller. After the release of their second album, 1969's Family Entertainment, the group launched into a U.S. tour. Unfortunately the day before it was to start, bassist Rick Grech quit to join Blind Faith with Eric Clapton, Steve Winwood and Ginger Baker. Family's debut peformance at The Fillmore East ended in a fistfight between vocalist Roger Chapman and promoter Bill Graham. A few days later Chapman lost his voice and his visa, and Family returned to the U.K. In '72, Family opened for Elton John but despite FM airplay of 1971's Fearless and 1972's Band Stand, they never found a U.S.audience.





In '73, Family played a farewell concert tour of the U.K. which included a final show in their hometown of Leicester. Chapman and guitarist Charlie Whitney formed Streetwalkers which would include future Iron Maiden drummer Nicko McBrain (Chapman would become highly successful in Germany with his touring group The Shortlist), guitarist Jim Cregan went on to join Steve Harley And Cockney Rebel, later joining up with Rod Stewart, bassist John Wetton, who had been with the group from '70 to '71, went on to join King Crimson, Roxy Music, Uriah Heep and later Asia . Original bassist Rick Grech passed on in 1990.





1965: Leicester Art College student, guitarist John "Charlie" Whitney forms the R & B based Farinas with Jim King, Harry Overnall (drums), Tim Kirchin (bass) hey perform Chuck Berry and Coasters covers. Ric Grech replaces Kirchin and Roger Chapman joins on lead vocals. He influences the repertoire beyond blues/R&B. The band's sound is expanded with instrumentation of acoustic numbers, along with violin and sax. The band travels in their van to clubs and colleges all over England. Name changes to the Roaring Sixties; develop gangster image wearing baggy, double-breasted suits 1967: Demos recorded in London with U.S. producer Kim Fowley, who dubs them "The Family" from their Mafia image. Become heavies in the London underground scene. Family loses the suits in favor of blue jeans and vests. Rob Townsend replaces Overnall on drums. They become heavily influenced by U.S. west coast bands like The Byrds and The Doors.... Charlie Whitney: "Up until then, we'd just taken old blues things and rearranged them, but suddenly we found we were pouring out new songs. When we came to London, everyone always thought that we took acid all the time, but we were much more of a working class band. People would take one look at Roger and say 'He has just got to be on acid'." October 1967: One single with Liberty, "Scene Through the Eye of a Lens/Gypsy Woman" produced by Jimmy Miller. It had moderate sales, but no airplay.





1968: Band signs with Reprise. Around this time Jenny Fabian moves into the band's Chelsea pad. The following year she pens Groupie, a paperback with more or less accurate tales of the the UFO/Middle Earth club scene in London, and Family's identity in the book is less than secret. Jimmy Miller was to produce their debut album, but got tied up with the Rolling Stones Beggars Banquet. Instead, Family records MUSIC IN A DOLL'S HOUSE with producer Dave Mason (Traffic), who contributes one song "Never Like This". The first single "Me My Friend/Hey Mr. Policeman" gets a push from BBC man John Peel. At one special concert the Tubby Hayes Quintet, decked out in white tuxedos, joins them onstage for "Old Songs New Songs". Later that year the band makes its London debut at Royal Albert Hall, opening for Tim Hardin.





1969: FAMILY ENTERTAINMENT released and reaches #6 in the charts. The cover features circus performers on a black background, and the band admits it was "inspired" by the Doors' STRANGE DAYS. Band disapproves of the mixing. Ric Grech leaves during the band's first U.S. tour to join Blind Faith. In the July 1996 issue of the U.K. magazine Mojo, Chapman comments on this by saying that the band was the LAST to find out. He heard it after Hendrix mentioned it in an interview. "He [Grech] could have at least told us before the tour began!" Tour manager Peter Grant recommends John Weider to join on bass, violin and guitar. He leaves L.A. club group Stonehenge, and flies to Detroit so that the Family U.S. tour can continue. At the Fillmore East, Family begins the first of eight shows between the Nice and Ten Years After. On the first night the Nice ignore Bill Graham's word and burn the American flag during "America". Then Family follows, and Chapman's stage antics cause a microphone stand to be sent in Bill Graham's direction off stage, who takes it as a threat. For the following shows, a well-behaved Chapman bores the crowd with his arms pinned to his sides. The tour ends when Chapman loses his voice AND his visa is revoked (why? I do not know...). Some feel that this was the reason that Family failed to achieve the U.S. success so deserved. Family played at the Rolling Stones' Hyde Park gig with King Crimson. In the film/video 'Stones in the Park' (c.1969), there is a scene showing the Stones equipment trucks arriving as "A Song for Me" plays in the background. Roger Chapman can also be seen in a few shots to the side of the stage when the Stones perform. Later that year they played at the legendary Isle of Wight festival . Manager John Gilbert is fired for mismanagement of the previous American tour. Jim King's erratic behavior leads to his dismissal, and he joins Ring of Truth. He is replaced by John "Poli" Palmer (ex Blossom Toes) to play vibes, keys, and flute. Family's sound is altered remarkably.





1970: ANYWAY released and features half-live/half-studio. It goes to #7. Family completes two U.S. tours between October 1969 and June 1971, with slightly more success than before.

1971: OLD SONGS NEW SONGS released. John Weider decides he has tired of bass guitar and joins Stud with Jim Cregan (formerly of Blossom Toes, Julian Covey and the Machine), Charlie McCracken and John Wilson (both formerly in Taste). Cregan goes on to Family 15 months later. McCracken later joins Charlie Whitney's Axis Point. Meanwhile Jim Cregan notifies an old friend about the open position in Family. John Wetton joins on bass, guitar, and vocals. Preceding this, Robert Fripp had asked Wetton to join the Boz Burrell-era King Crimson, but he didn't feel comfortable with the rest of the lineup at the time. Instead, Wetton accepted invitation of Family, but kept in touch with Fripp. FEARLESS released, hits #10 and even charts in U.S.! As their strongest album, it has become their most popular. Album cover features layered paging, with computer-generated band photos, and it's the first Family album to use synthesizer.





1972: Disappointed with near-success, Wetton departs to Crimson pastures, even though new album is ready for release. Jim Cregan leaves Stud and joins the band. BANDSTAND released in an album cover with rounded edges, shaped like an old television, goes to #15. The album features even greater presence of synthesizer, and is a little more straight-forward than the previous. Album climbs to #183 in the U.S. Elton John gets them to open for his U.S. tour, (their first return since 1969). Palmer remembers the audience being caught off guard by their brand of English Rock: "We would play, finish, and there would be silence... The only clapping in this huge stadium would be the guys doing the PA." "Burlesque/the Rockin' R's" reaches #13. Roger Chapman: "By this time we'd become a bit of an island, unable to get across the little stretch of water keeping us apart from bigger things." Poli Palmer is let go as he began to favor his primitive VCS3 synthesizer more and more . The band felt it would take him too long during concerts to program the patches for tiny bits of music. He had planned to form a band with former Family-man Ric Grech, but it never got going. Poli's replacement comes in the form of the talented and rowdy Tony Ashton."My Friend the Sun/Glove" released as a post-album single, doesn't chart. Family forms their own label, Raft.





1973: "Boom Bang/Stop This Car" is released, which also sinks. Band is frustrated at lack of success in the States, decides to pack it in gracefully. Cuts last album IT'S ONLY A MOVIE (which charted at #30) Family's farewell concert at hometown Leicester Polytechnic, with guest players (John Wetton), and Family favorites from all periods. Pete Frame (Rock Family Trees): "They went down with their label; gritty, loose, rough and powerful, they were one of those bands you always remember with a smile. I can still see them now... bunch of lovable scruffy 'erberts."





Discography

Music in a Doll's House (1968) *
Family Entertainment (1969) *
Song For Me (1970) *
Anyway (1970)
Fearless (1971) *
Bandstand (1972) *
It's Only A Movie (1973)
Peel Sessions (1989)
BBC Radio 1 In Concert (1991)
Family Live (2003)
BBC Volume 1: 1968-1969 (2004)
BBC Volume 2: 1970-1973 (2004)

All information and photos courtesy of Strange Band-the Family Home Page www.members.aol.com/songforme

* Recommended



Rock of Ages presents "Footstompin' Music"

"Footstompin' Music" will only be released in early 2007, more details to follow but here is the final tracklisting for you to drool over.... guaranteed to get any self respecting rock party hopping! As you can see we have tried to avoid the usual tracks by these timeless artists, hence no Free Bird, Smoke on the water, Paranoid, Mississippi Queen, etc .... I hope you all rush out and buy it!

Grand Funk Railroad - Footstompin' Music
Deep Purple - Burn
Uriah Heep - Look at yourself
Black Sabbath - Sweat Leaf
Thin Lizzy - Chinatown
Robin Trower - Too rolling stoned
Mountain - Never in my life
Wishbone Ash - Blowin' free
Foghat - I just wanna make love to you
Budgie - Baby, please don't go
Santana - Toussaint l'Overture
Alice Cooper - Muscle of love
Nazareth - Go down fighting
Blue Oyster Cult - The Red & the Black
Lynyrd Skynyrd - Gimme back my bullets
Free - The Hunter
Taste - What's goin' on

Rock of Ages's recommendations



After nearly 35 years on rock's frontline America's greatest rock 'n roll band, Aerosmith, continues to record and tour with a zest and passion unmatched by the majority of rock pretenders. Mssrs Tyler, Perry, Kramer, Hamilton and Whitford return just in time for Xmas with a brand new remastered 'greatest hits' package with 2 new tracks. "Devil's got a new disguise" *** is classic Aerosmith: from the early 70's 1-2 punch-in-the- breadbasket of "Walk this way", "Sweet emotion" and "Dream on" to the late 80's comeback raunch 'n grind of "Love in an elevator", "Dude (looks like a lady)" and "Janie's got a gun" it's the perfect gift for new fans as well as long timers who have maybe forgotten just how hard this band rocks! ...... Regular Rock of Ages fans know that I am always looking for new rock to introduce on the show and so far 2006 has been a stormin' year for new stuff ....





Hispanic American outfit Breed 77's debut album "In my blood (en mi sangre)" **** is about as brutal a metal/hard rock record that you have heard all year - what makes them different to the thousands of other bands out there is that the band graft an amazing flamenco feel to the songs and don't sacrifice melody for the sake of the riff ... "Remember the day" is on permament 'replay' on my iPod and worth the price of the album alone - what a vibe!

Ratings:

| | |
| --- | --- |
| ***** | Volcanic....not to be missed. |
| **** | Seismic....highly recommended...buy it! |
| *** | Aftershock....solid effort. |
| ** | Xmas cracker...Pooof! |
| * | Do I need to explain this? |



Keep the rock real ...

Benjy



---

Contact Rock of Ages

Email:
Website: www.rock.co.za/rockofages
Snail mail:
PO Box 53585, Kenilworth, 7745
Studio phones: 089-2101004


Disclaimer:
The views, opinions, rants, raves and ramblings expressed on this website are the author's own and in no way reflect the views of Radio 2000 or the SABC.



Latest Playlist
Rock Of Ages News
New Music From Hendrix
Leon Hendrix, to be exact: brother of the late Jimi and loser of several attempts to win a piece of big bro's estate. Well, he'll show them. Leon, who says his guitar told him to do it, is releasing an album to be comprised of songs by and about Jimi. Hey, it must be true -- it's on MySpace.

The Hall of Congress
The guy who wrote "Still the One" apparently is. John Hall -- founder of Orleans and producer for folks like Janis Joplin and Bonnie Raitt -- is now Congressman John Hall from New York. He carried one of the Democratic brooms in this week's House cleaning of Republicans. Hall, whose musical skills are exceeded only by his mathematical ones says, "When I make a record, it's 110 percent, when I run for office, it's 110 percent."

Jim Morrison's Dad Breaks Silence, Barely
For 35 years, Jim Morrison's father has had nothing to say publicly about his son's death. Now, in a book released in conjunction with the Doors' 40th anniversary, George Morrison is quoted as saying, "The fact that he's dead is unfortunate." Unfortunate? Something tells me that if you look up 'grief stricken' in the dictionary, you won't see this guy's picture next to the definition.

A White Suit Of Pale
Nearly 40 years after its initial release Procol Harum's classic 'A Whiter Shade Of Pale' is the subject of a dispute. Former keyboard player Matthew Fisher is suing over alleged unpaid royalties. He's taking frontman Gary Brooker and lyricist Keith Reid to court, claiming that he composed the song's organ part. To date, Booker and Reid have been the only writers credited on the hit single.

New Darkness Singer?
Although it's not yet confirmed, we understand that Darkness bassist Richie Edwards is set to take over from the departed Justin Hawkins as the band's new frontman!!!!

Heaven And Monsters
Heaven And Hell? Ronnie James Dio, Tony Iommi, Bill Ward and Geezer Butler are now in the frame to headline next year's Monsters Of Rock Festival, at the Milton Keynes Bowl.

Yngwie DVD
Yngwie Malmsteen is to release a DVD called 'Far Beyond The Sun'. This brings together the live videos 'Rising Force: Live In Japan '85' and 'Trail By Fire: Live In Leningrad '89'. There's also a new interview.

Short Cuts ... Alice Cooper is to write his autobiography. It's to be called 'Alice Cooper, Golf Monster: My 12 Steps To Becoming A Golf Addict'. No publishing date has yet been confirmed ... Billy Idol is the latest rocker to go all Christmassy on us. He releases an album called 'Happy Holidays' on December 4. It features such songs as 'White Christmas' and 'Jingle Bell Rock'.

More Classic Rock?
I can highly recommend the About Classic Rock website run by Dave White. Not only does Dave host one of the most knowledgeable classic rock blogs on the Net but the site itself is very entertaining and informative. There are always great indepth stories on the artists and the rock quizzes are addictive. If you are like me, a classic rock fan, then the weekly About Classic Rock newletter is a must. Sign up at classicrock.about.com

More rock on R2K ......
Suffering from Rock withdrawal symptoms on a Tuesday night? Well then tune the dial el pronto to Barney Simon's show between 8 and midnight every Tuesday on Radio 2000 (or R2K as Barney calls it) for the best in South African rock plus gig guide,albums reviews, demos, new releases, news from around the country and much more ...... Unmissable! .... Also don't forget to catch Michelle Constant between 1pm and 3pm Monday-Friday for news, music, interviews and loads of cool stuff .... and of course .... Mo G on the morning drive, weekdays 8-10am ... Exclusively on Radio 2000.

Live Gigs



Table Mountain Blues Summit

25th November Tafelberg Tavern, Hope Street Cape Town
Featuring: Blues Broers, Boulevard Blues Band, Albert Frost Trio, Piet Botha & Jack Hammer, Southern Gypsy Queen, Terri & Harper Jnr Blues Duo, Gerald Clark ... For ticket sales or more information, contact Mike Combrinck 083-4599748 (mike@gkcmarketing.co.za)

Animal Abuse Gig
18th November Corner Bar, Durbanville – Mind Assault, 12th Avenue, Zenith

Fuzigish
27th Bertie's Mooring

Boulevard Blues Band
19th - Berties Mooring 5pm till 8pm
25th- Robertson Rocks Festival
29th - Berties Mooring 8pm till 11pm (Acoustic Sessions)
30th - Die Boer Durbanville

December 2006:
2nd - Desperados Extreme Bar (Old Barn Celos) before Melkbos on the west coast road
3rd - Berties Mooring
9th - Flaming Fox
17th- Berties Mooring
23rd- Fogeys Railway House Restaurant, Muizenberg
31st - New Years gig at Berties Mooring Gordons Bay.

4 X 4 TOUR (Dorp/Cassette/Love Jones/Bed on Bricks)
15th December Raffles Nite Club, Umhlanga
16th Burn, Durban
17th Speak Easy, Scottburgh 18th Buccaneers, East London
19th Weldon Kaya, Plettenberg Bay
20th Cotton Club - Bay Hotel, Port Elizabeth
21th Plush, George
22th Mercury Live, Cape Town
23th Embargo - Southernright Hotel, Glencarin

Josie Field/Laurie Levine
28th November Back 2 Basix, Westdene

Laurie Levine
22nd November 88 Lounge, Norwood

Stoned Goblin
25th Nov - Desperados, West Coast Rd, Melkbostrand. 9pm, Free Entry.
8th Dec - One Ring, Lower Main Rd, Observatory. 9pm, R20 Entry
23rd Dec - Gandalfs, Lower Main Rd, Observatory. 9pm, R20 Entry


Waka Waka Music Festival, Ladysmith Klein Karoo
1/2nd December - Fokofpolisiekar, Rooibaard, Acid Blues, Brixton Moord en Roof, etc, etc

Jim Neversink

18th November Radium Beer Hall, Orange Grove

London Calling (Fairview JHB)

25th November Metal Night IV with Architectureof Agression, Chromium and Psordid
8th December The Privates, Desmond & The Tutu's and Greenisforturbo

Larry Amos
18th November Toninios, Orange Grove JHB

Springbok N*de Girls on GO Summer Tour in December
15 December - DBN – Rocky Ridge Restaurant, Margate (TBC)
16 December - DBN – Wavehouse, Umhlanga (TBC)
18 December – EC - The Deck, East London
19 December – EC – The Station, Port Alfred
22 December – EC – Tapas Al Sol, Port Elizabeth
23 December – WC – The Workshop, ST Francis
27 December – WC- Plush, George
28 December – WC – Camelot, Mossel Bay
29 December – WC – The Finale Show in Somerset West (Venue TBC)


You say it's your birthday...
November 17
Gene Clark - Byrds - 1944 - 1991
Martin Barre - Jethro Tull - 1946

November 18
Graham Parker - 1950
John McFee - Doobie Brothers - 1953

November 19
Ray Collins - Mothers of Invention - 1937
Fred Lipsius - Blood Sweat & Tears - 1943

November 20
George Grantham - Poco - 1947
Duane Allman - Allman Brothers - 1946 - 1971
Joe Walsh - Eagles- 1947

November 21
Lonnie Jordan - War - 1948
Gary Pihl - Boston

November 22
Little Steven Van Zandt - E Street Band - 1950
Rod Price - Foghat - 1947 - 2005

November 23
Bruce Hornsby - 1954

November 24
Pete Best - Beatles- 1941

Courtesy of
About ClassicRock

Birthday archives


January
February
March
April
May
June
July
August
September
October
November
December


"Benjy says..." Archive

Subscribe to our weekly newsletter

To subscribe to The Rock Of Ages mailing list to receive your weekly dose of Rock News, Playlists, Recommendations, Competitions and much, much more, please go

here »»»



---
Stay tuned every Thursday 8-12pm for the best in classic rock on RADIO 2000.
---
Your Host
Benjy Mudie
Then
Now
Benjy Mudie is a self confessed 'rockaholic' with little chance of recovery ... a music obsessive whose entire life has been spent in search of the lost chord ... from discovering Jimi's "Are you experienced" at 13, he has constantly devoured music through lp's, singles, tapes, cds, dvds, books, magazines, film, concerts, radio, tv and the internet. His entire working life has also been music related: from running a record store and later joining WEA Records in the mid 70's through to his 21 year A&R/Marketing stint at Tusk Music where he signed some of the biggest names in South African rock and pop. The last 8 years have been spent nurturing new talent at his indie label Fresh Music and reissuing classic albums as part of it's ongoing Retro series .... To say that 'music is his first love' (to paraphrase John Miles's classic song) is somewhat understated.
----------------------------------------------------------------------