"Less Talk, More Rock"
Listen to Benjy Mudie every Thursday night between 8 and 12pm on Radio 2000.
Radio 2000
(97.2 to 100.2FM)
Click
here
for the frequency in your area.
Weekly Newsletter
To receive your weekly dose of Rock News, Playlists, Recommendations, Competitions and much, much more, please join our
Mailing List
.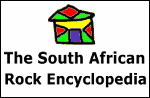 This website is part of the South African Rock Encyclopedia
Benjy says...



A bit of a mixed reaction to the Who's new mini opera "Wire and Glass" aired on Thursday's show, an even split between the older fans who don't think it matches up to the band's legacy and newer Who fans who found it both diversely interesting and are off to buy it. They may never reach the heights of Tommy or Who's Next again and to be honest I don't think that any artist can sustain the kind of intense creative drive that Pete Townshend has over the last 40 years. I'm just happy that Townshend and Daltry are recording again and you know what,with it's faults the new Who's album "Endless Wire" is still streets ahead of most of the opposition ...... I hope you enjoyed the Best of 2006 Special last night, this coming Thursday we will be dedicating the special to the eclectic prog music of Canterbury, England between 1970 and 1976.

As you know I am taking 2 weeks off to go on holiday, the shows of the 28th December and 4th January have been prerecorded. I will be back live in the studio on 11th January. I would like to take this opportunity to thank all of you for your tremendous support over the year and wish each and everyone a very happy, peaceful and safe festive season....



The Rock of Ages Special - The Canterbury Scene





Caravan



The Canterbury Scene (or Canterbury Sound) is a term used to loosely describe the group of progressive rock, avant-garde and jazz musicians, many of whom were based around the city of Canterbury, Kent, England during the late 1960s and early 1970s. Many prominent British avant-garde or fusion musicians began their career in Canterbury bands, such as Fred Frith, Allan Holdsworth, and Peter Blegvad. Over the years, with band membership changes and new bands evolving, the term has been used to describe a musical style or subgenre, rather than a regional group of musicians.The Canterbury scene is largely defined by a set of musicians and bands with intertwined memberships. These are not tied by very strong musical similarities, but a certain whimsicalness, touches of psychedelia, rather abstruse lyrics, and a use of improvisation derived from jazz are common elements in their work. "The real essence of 'Canterbury Sound' is the tension between complicated harmonies, extended improvisations, and the sincere desire to write catchy pop songs." "In the very best Canterbury music ... the musically silly and the musically serious are juxtaposed in an amusing and endearing way."

There is variation within the scene, for example from pop/rock like early Soft Machine and much Caravan to avant-garde composed pieces as with early National Health to improvised jazz as with later Soft Machine or In Cahoots. Didier Malherbe (of Gong) has defined the scene as having "certain chord changes, in particular the use of minor second chords, certain harmonic combinations, and a great clarity in the aesthetics, and a way of improvising that is very different to what is done in jazz.



Gong



The scene had one main root in the Wilde Flowers, a band formed in 1964 which, at various times, was home to most of the founding musicians of both the Soft Machine and Caravan, bands which in turn provided the musicians of several later bands. The genesis of the Canterbury Sound may, in part, be traced back to 1960, when Australian beatnik Daevid Allen lodged at Robert Wyatt's parents' guest-house in Lydden, ten miles to the south of Canterbury. Allen brought with him an extensive collection of jazz records, a different lifestyle, and the jazz drummer George Niedorf who later taught Wyatt the drums. In 1963, Wyatt, Allen and Hugh Hopper formed the Daevid Allen Trio (in London) which metamorphosised into the Wilde Flowers when Allen left for France. Wyatt, Allen, Kevin Ayers (from the Wilde Flowers) and Mike Ratledge (who had played on occasion with the Daevid Allen Trio) formed Soft Machine in 1966.Other key early bands were Delivery and Egg, whose members blended into the Canterbury scene in the early 1970s. For example, Phil Miller of Delivery went on to found Matching Mole and Hatfield and the North, the latter with Dave Stewart of Egg. Both were later in National Health, while Steve Hillage, who had worked with the members of Egg in a previous band, Uriel, was later in Gong with Allen.



Soft Machine



The Canterbury scene is known for having a set of musicians who often rotated into different Canterbury bands. Richard Sinclair, for example, was at different points of his career, in the Wilde Flowers, Camel, Caravan, Hatfield and the North and, briefly, Gilgamesh; he also worked with National Health. His cousin Dave Sinclair was in Caravan, Camel, Matching Mole and, briefly, Hatfield and the North. Robert Wyatt was a member of the Wilde Flowers, Soft Machine, Matching Mole, and also did work as a solo artist. Pip Pyle was in Delivery, Gong, Hatfield and the North, National Health, Soft Heap and In Cahoots. Hugh Hopper was in Soft Machine, Isotope, Soft Heap, In Cahoots and, with Pyle and Allen, Brainville. Other individuals peripheral to the scene but with connections include Mike Oldfield (who played in Kevin Ayers' band) and Bill Bruford (briefly drummed in Gong and National Health and employed Dave Stewart in his late 1970s Bruford band).



Hatfield And The North



The five central Canterbury bands, according to the Calyx website,are Soft Machine, Caravan, Gong, Hatfield and the North and National Health. Other bands were Egg, Gilgamesh, Henry Cow, In Cahoots, Khan, Matching Mole, Bruford, Camel, Caravan of Dreams, Comus, Delivery, Isotope, Mashu, Mirage, Nucleus, Ottawa Music Company, The Polite Force, Quiet Sun, Rapid Eye Movement, Soft Heap, Short Wave, and the Wilde Flowers.



Egg



Key Canterbury musicians include (with example bands):

Daevid Allen (Soft Machine, Gong, Brainville)
Kevin Ayers (Wilde Flowers, Soft Machine, Gong)
Mont Campbell (Uriel, Egg, National Health)
Lindsay Cooper (Henry Cow, Feminist Improvising Group, Mike Oldfield, National Health, Mike Westbrook Orchestra, News from Babel)
Lol Coxhill (Delivery, Kevin Ayers & The Whole World)
Chris Cutler (Ottawa Music Company, Henry Cow, Art Bears, News from Babel, Peter Blegvad Trio)
Elton Dean (Keith Tippett Sextet, Soft Machine, Just Us, Centipede, Soft Heap, In Cahoots, Pip Pyle's Equip'Out)
Fred Frith (Henry Cow, Art Bears)
Alan Gowen (Gilgamesh, National Health, Soft Heap)
John Greaves (Henry Cow, National Health, Soft Heap, Peter Blegvad Trio)
Jimmy Hastings (Caravan, Caravan of Dreams, Hatfield and the North, National Health, Soft Machine)
Mark Hewins (Sinclair and the South, The Polite Force, Soft Heap, Gong, Mashu, Caravan of Dreams)
Steve Hillage (Uriel, Khan, Kevin Ayers, Gong, System 7)
Tim Hodgkinson (Henry Cow)
Allan Holdsworth (Soft Machine, Gong, Bruford)
Hugh Hopper (Wilde Flowers, Soft Machine, Isotope, Soft Heap, In Cahoots, Pip Pyle's Equip'Out)
Karl Jenkins (Nucleus, Soft Machine, Adiemus)
Phil Miller (Delivery, Matchine Mole, Hatfield and the North, National Health, In Cahoots, Richard Sinclair Band, Hugh Hopper Band)
Pierre Moerlen (Gong, Mike Oldfield Band, Gongzilla)
François Ovide (John Greaves Group)
Pip Pyle (Delivery, Gong, Hatfield and the North, National Health, Soft Heap, In Cahoots, Pip Pyle's Equip'Out, John Greaves Band, Hugh Hopper Band)
Mike Ratledge (Soft Machine, Adiemus)
Geoff Richardson (Spirogyra, Caravan)
David Sinclair (Wilde Flowers, Caravan, Matching Mole, Hatfield and the North, The Polite Force, Camel)
Richard Sinclair (Wilde Flowers, Caravan, Delivery, Hatfield and the North, Sinclair and the South, Camel, In Cahoots, Caravan of Dreams)
Gilli Smyth (Gong)
Dave Stewart (Uriel, Egg, Ottawa Music Company, Khan, Hatfield and the North, Gong, National Health, Bruford, Rapid Eye Movement)
Andy Ward (Camel, Marillion, Caravan of Dreams, Mirage)
Robert Wyatt (Wilde Flowers, Soft Machine, Matching Mole)

Research: Wikipedia (www.wikipedia.org)



Camel



Selected Discography

Hatfield and the North - The Rotters Club (1975) **
Camel - Lunar Sea (1973-1985) **
Caravan - For girls who grow plump in the night (1973) **
Cafe Jacques - Around the back (1977) *
The Soft Machine - Out-bloody-rageous (1967-73)
Egg - The Polite Force (1971)
Camel - The Snow Goose (1975)
Camel - Moonmadness (1976)
Gong - The Flying Teapot (1973) **

* recommended
** essential

Keep the rock real ...

Benjy



---

Contact Rock of Ages

Email:
Website: www.rock.co.za/rockofages
Snail mail:
PO Box 53585, Kenilworth, 7745
Studio phones: 021-4342523 / 4342525


Disclaimer:
The views, opinions, rants, raves and ramblings expressed on this website are the author's own and in no way reflect the views of Radio 2000 or the SABC.



Rock Of Ages News
Retro Gilby
Gilby Clarke is to have a self-titled retrospective album released by Spitfire at the end of January. It includes tracks from all of the former GNR guitarist's solo albums. Clarke is now with Rock Star Supernova, also featuring Tommy Lee and Jason Newsted.

Short Cuts ... Guitar hero Uli Jon Roth releases a double CD called 'The Best Of' through SPV on January 29 ... What's the latest info on the a release for the much-delayed Guns N' Roses album, 'Chinese Democracy'? It's the first week in March. Who says so? Axl Rose. We shall see ... Ozzy is expected to go back out on tour in April. And he'll be releasing his new, as yet untitled solo album in February.

More Classic Rock?
I can highly recommend the About Classic Rock website run by Dave White. Not only does Dave host one of the most knowledgeable classic rock blogs on the Net but the site itself is very entertaining and informative. There are always great indepth stories on the artists and the rock quizzes are addictive. If you are like me, a classic rock fan, then the weekly About Classic Rock newletter is a must. Sign up at classicrock.about.com

More rock on R2K. .....
Suffering from Rock withdrawal symptoms on a Tuesday night? Well then tune the dial el pronto to Barney Simon's show between 8 and midnight every Tuesday on Radio 2000 (or R2K as Barney calls it) for the best in South African rock plus gig guide,albums reviews, demos, new releases, news from around the country and much more. ..... Unmissable!. ... Also don't forget to catch Michelle Constant between 1pm and 3pm Monday-Friday for news, music, interviews and loads of cool stuff. ... and of course. ... Mo G on the morning drive, weekdays 8-10am. .. Exclusively on Radio 2000.

Live Gigs
Boulevard Blues Band
31st - New Years gig at Berties Mooring Gordons Bay.

Love Jones
31 Dec Sun-Coast Casino, Durban New Year's Bash

Mojo's, The Square, Durban
Classic rock every Friday night 8.30-midnight with Salty Dog

The Rock 'n Roll Circus (12th Avenue/ Autopilot/ Kings of Vegas)
30th - Cool Runnings, Observatory, Cape Town
31st - Corner Bar - New Year's Eve Party, Durbanville, Cape Town

The Parlotones/ Wonderboom/ Evolver
26 December The Deck, Gonubie EC
27 December The Station, Port Alfred
28 December Tapas Al Sol, Port Elizabeth

Prime Circle/ Bloodmoney/ Driverlane
26 December Rocky Ridge Restaurant, Ramsgate
27 December Wavehouse, Umhlanga

Springbok Nude Girls/ The Finkelsteins/ Scarlet Box
27 December – WC- Plush, George
28 December – WC – Camelot, Mossel Bay
29 December – WC – The Finale Show in Somerset west (Venue TBC)


Vinyl Junkies
I'm often asked by Rock of Ages listeners where they can find classic rock vinyl as well as South African rock and jazz records? Well there are two great stores in Cape Town who specialise in the above: Vibes Vinyl @ Stadium on Main, Claremont and Mabu Vinyl in Kloof Street. .. check them out, they know their stuff!
You say it's your birthday...
December 21
Frank Zappa (Mothers Of Invention) (1940-1993)

December 22
James Gurley (Big Brother & the Holding Company)
Barry Jenkins (The Animals) (1944)
Rick Nielsen (Cheap Trick) (1946)

December 23
Ron Bushy (Iron Butterfly) (1945)
Luther Grosvenor (Mott the Hoople) (1946)
Jorma Kaukonen (Jefferson Airplane) (1940)

December 24
Jan Akkerman (Focus) (1946)

December 25
Noel Redding (Jimi Hendrix Experience) (1945-2003)

December 26
Phil Spector (1940)

December 27
Larry Byrom (Steppenwolf) (1948)
Mick Jones (Foreigner) (1944)
David Knopfler (Dire Straits) (1952)
Mike Pinder (Moody Blues) (1941)
Pete Quaife (The Kinks) (1943)

December 28
Alex Chilton (Box Tops) (1950)
Edgar Winter (Edgar Winter Group) (1946)

December 29
Cozy Powell (Black Sabbath) (1947-1998)
Marianne Faithfull (1946)
Ray Thomas (Moody Blues) (1941)

December 30
Jeff Lynne (Electric Light Orchestra) (1947)
Felix Pappalardi (Mountain) (1939-1983)

December 31
Burton Cummings (The Guess Who) (1947)
Tom Hamilton (Aerosmith) (1951)
Andy Summers (Police) (1942)
George Thorogood (1951)

Courtesy of
About ClassicRock

Birthday Archives
January
February
March
April
May
June
July
August
September
October
November
December


Newsletters

Weekly Newsletter

To receive your weekly dose of Rock News, Playlists, Recommendations, Competitions and much, much more, please join our

Mailing List

.



News Archives
Previous newsletters are available in the News Archives.
Playlist Archives
All the playlists are available in the Playlist Archives.
---
Stay tuned every Thursday 8-12pm for the best in classic rock on RADIO 2000.
---
Your Host
Benjy Mudie
Then
Now
Benjy Mudie is a self confessed 'rockaholic' with little chance of recovery. .. a music obsessive whose entire life has been spent in search of the lost chord. .. from discovering Jimi's "Are you experienced" at 13, he has constantly devoured music through lp's, singles, tapes, cds, dvds, books, magazines, film, concerts, radio, tv and the internet. His entire working life has also been music related: from running a record store and later joining WEA Records in the mid 70's through to his 21 year A&R/Marketing stint at Tusk Music where he signed some of the biggest names in South African rock and pop. The last 8 years have been spent nurturing new talent at his indie label Fresh Music and reissuing classic albums as part of it's ongoing Retro series. ... To say that 'music is his first love' (to paraphrase John Miles's classic song) is somewhat understated.
----------------------------------------------------------------------