"Less Talk, More Rock"
Listen to Benjy Mudie every Thursday night between 8 and 12pm on Radio 2000.
Radio 2000
(97.2 to 100.2FM)
Click
here
for the frequency in your area.
Weekly Newsletter
To receive your weekly dose of Rock News, Playlists, Recommendations, Competitions and much, much more, please join our
Mailing List
.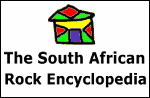 This website is part of the South African Rock Encyclopedia
Benjy says...



Dear Rock of Ages subscribers,

Another Xmas out of the way, I hope that Santa brought you lots of rock goodies in your stockings ... As you know I am still away on holiday, enjoying the solitude of a remote beach somewhere in the Cape .... I have my iPod with me tho' and rest assured the rock will be banging! .... In the meantime tune in this Thursday for a different kind of special as we take a stroll through one of the most important eras in the development of modern rock music - the psychedelic explosion of the 1967-1970 period in San Francisco, USA.



The Rock of Ages Special - San Franciscan Nights





Quicksilver Messenger Service



The San Francisco Sound refers to rock music performed live and recorded by San Francisco-based rock groups of the mid 1960s to early 1970s. It was associated with the counterculture community in San Francisco during these years. Prominent in this development were groups such as the Beau Brummels, the Vejtables, Jefferson Airplane, the Grateful Dead, Big Brother & the Holding Company, and Quicksilver Messenger Service – and later the David LaFlamme Band, Steve Miller Blues Band, Fifty Foot Hose, Santana, Moby Grape, Blue Cheer, Venus Flytrap, Uther Pendragon, Tripsicord (Music Box), Fritz, Lee Michaels and the Loading Zone.



Janis Joplin



Many bands formed, and each band had its characteristic sound, but enough commonalities existed that there was a regional identity, too. By 1966, fresh and adventurous improvisation during live performance (which many heard as being epitomized by the Grateful Dead) was one characteristic of the San Francisco Sound. A louder, more prominent role for the electric bass – typically with a melodic or semi-melodic approach, and using a plush, pervasive tone — was another feature. This questing bass quality has been wryly characterized as a "roving" (rather than the conventional "stay-at-home") style.Exploration of chordal progressions previously uncommon in rock & roll, and a freer and more resourceful use of all instruments (drums and other percussion, electric guitars, keyboards, as well as the bass) went along with this "psychedelic-era" music. Trumpets and saxophones were rarely used, unlike in contemporary R&B and soul bands and some of the white bands from the U.S. East Coast (e.g., Blood, Sweat & Tears or Chicago). Sly & the Family Stone, a San Francisco-based group that got its start in the late '60s, was an exception, being a racially integrated hippie band with a hefty influence from soul music, hence making use of brass instrumentation.)



Steve Miller



This was the period when "rock" was differentiating itself from "rock & roll," partly due to the upshot of the British Invasion. In San Francisco, musical influences came in from not only London and Liverpool, but also the American bi-coastal folk music revival scene of the 1950s and 1960s, the Chicago electric blues scene, the soul music scenes in Detroit, Memphis, and Muscle Shoals, jazz styles of various eras and regions, and more.The lyrical content of the San Francisco Sound was both emotional (which carried over from early rock & roll) and intelligent, reflecting the influence of such pioneering contemporary lyricists as Bob Dylan and John Lennon. Lyrics were deliberately, and often skillfully, poetic. In this respect for poetry, the San-Francisco-Sound writers were no doubt also influenced by the Beat Generation poets of the San Francisco Renaissance of a decade before (and, incidentally, Beat writers like Jack Kerouac and Gary Snyder had already served to influence people like Dylan). The quest for peaceful good times, for love, empathy, brotherhood, and solidarity, for increased wisdom, for harmony with nature, and for personal and collective fulfillment was represented in lyrics. Typically, a San Francisco band's live performance included at least a few musical jams, displaying a spirit simiar to jazz. On these numbers, the musicians took the audience along on an exciting journey.



Country Joe and the Fish



The San Francisco bands' music was everything that AM-radio pop music wasn't. Their performances contrasted with the "standard three-minute track" that had become a cliché of the pop-music industry, due to the requirements of AM radio (and to the limited potentials of many pop songs and song treatments). The San Francisco bands would often show their improvisatory zest by playing a given song or instrumental for, say, five to thirty minutes (and sometimes for longer). The music was loud and community-connected: bands sometimes presented free concerts in Golden Gate Park and "happenings" at the city's several psychedelic clubs and ballrooms.Because San Francisco had an especially vibrant and attractive countercultural scene in the late half of the 1960s, musicians from elsewhere (along with the famous hip multitude) came there. Some stayed and became part of the scene. An example would be the Sir Douglas Quintet, whose music took on more of the character of the San Francisco Sound, while yet retaining some of its original Texas flavor.



Sopwith Camel



The San Francisco Sound was widely influential during its heyday and since.

Influential bands:



Santana
Big Brother and the Holding Company (featuring Janis Joplin)
Country Joe and the Fish
The Grateful Dead
The Sopwith Camel
Blue Cheer
Creedence Clearwater Revival
Jefferson Airplane
It's a beautiful day
Quicksilver Messenger Service
The Doobie Brothers
Steve Miller
Gravy Train
The Count 5
Tower of Power

Doobie Brothers



Research: Wikipedia (www.wikipedia.org)

Keep the rock real ...

Benjy



---

Contact Rock of Ages

Email:
Website: www.rock.co.za/rockofages
Snail mail:
PO Box 53585, Kenilworth, 7745
Studio phones: 021-4342523 / 4342525


Disclaimer:
The views, opinions, rants, raves and ramblings expressed on this website are the author's own and in no way reflect the views of Radio 2000 or the SABC.



Latest Playlist
All the playlists are available in the
Playlist Archives.
Rock Of Ages News
Retro Gilby
Gilby Clarke is to have a self-titled retrospective album released by Spitfire at the end of January. It includes tracks from all of the former GNR guitarist's solo albums. Clarke is now with Rock Star Supernova, also featuring Tommy Lee and Jason Newsted.

Short Cuts ... Guitar hero Uli Jon Roth releases a double CD called 'The Best Of' through SPV on January 29 ... What's the latest info on the a release for the much-delayed Guns N' Roses album, 'Chinese Democracy'? It's the first week in March. Who says so? Axl Rose. We shall see ... Ozzy is expected to go back out on tour in April. And he'll be releasing his new, as yet untitled solo album in February.

More Classic Rock?
I can highly recommend the About Classic Rock website run by Dave White. Not only does Dave host one of the most knowledgeable classic rock blogs on the Net but the site itself is very entertaining and informative. There are always great indepth stories on the artists and the rock quizzes are addictive. If you are like me, a classic rock fan, then the weekly About Classic Rock newletter is a must. Sign up at classicrock.about.com

More rock on R2K. .....
Suffering from Rock withdrawal symptoms on a Tuesday night? Well then tune the dial el pronto to Barney Simon's show between 8 and midnight every Tuesday on Radio 2000 (or R2K as Barney calls it) for the best in South African rock plus gig guide,albums reviews, demos, new releases, news from around the country and much more. ..... Unmissable!. ... Also don't forget to catch Michelle Constant between 1pm and 3pm Monday-Friday for news, music, interviews and loads of cool stuff. ... and of course. ... Mo G on the morning drive, weekdays 8-10am. .. Exclusively on Radio 2000.

Live Gigs
Boulevard Blues Band
31st - New Years gig at Berties Mooring Gordons Bay.

Love Jones
31 Dec Sun-Coast Casino, Durban New Year's Bash

Mojo's, The Square, Durban
Classic rock every Friday night 8.30-midnight with Salty Dog

The Rock 'n Roll Circus (12th Avenue/ Autopilot/ Kings of Vegas)
30th - Cool Runnings, Observatory, Cape Town
31st - Corner Bar - New Year's Eve Party, Durbanville, Cape Town


Vinyl Junkies
I'm often asked by Rock of Ages listeners where they can find classic rock vinyl as well as South African rock and jazz records? Well there are two great stores in Cape Town who specialise in the above: Vibes Vinyl @ Stadium on Main, Claremont and Mabu Vinyl in Kloof Street. .. check them out, they know their stuff!
You say it's your birthday...
December 28
Alex Chilton (Box Tops) (1950)
Edgar Winter (Edgar Winter Group) (1946)

December 29
Cozy Powell (Black Sabbath) (1947-1998)
Marianne Faithfull (1946)
Ray Thomas (Moody Blues) (1941)

December 30
Jeff Lynne (Electric Light Orchestra) (1947)
Felix Pappalardi (Mountain) (1939-1983)

December 31
Burton Cummings (The Guess Who) (1947)
Tom Hamilton (Aerosmith) (1951)
Andy Summers (Police) (1942)
George Thorogood (1951)

January 1
Morgan Fisher (Mott the Hoople) - 1950
Joe McDonald (Country Joe & the Fish) - 1942

January 2
Chick Churchill (Ten Years After) - 1949

January 3
Sir George Martin (Beatles producer) - 1926
John Paul Jones (Led Zeppelin) - 1946
Stephen Stills (Crosby Stills Nash & Young) - 1945

January 4
Michael Stipe (R.E.M.) - 1950



Courtesy of
About ClassicRock

Birthday Archives
January
February
March
April
May
June
July
August
September
October
November
December


Newsletters

Weekly Newsletter

To receive your weekly dose of Rock News, Playlists, Recommendations, Competitions and much, much more, please join our

Mailing List

.



News Archives
Previous newsletters are available in the News Archives.
Playlist Archives
All the playlists are available in the Playlist Archives.
---
Stay tuned every Thursday 8-12pm for the best in classic rock on RADIO 2000.
---
Your Host
Benjy Mudie
Then
Now
Benjy Mudie is a self confessed 'rockaholic' with little chance of recovery. .. a music obsessive whose entire life has been spent in search of the lost chord. .. from discovering Jimi's "Are you experienced" at 13, he has constantly devoured music through lp's, singles, tapes, cds, dvds, books, magazines, film, concerts, radio, tv and the internet. His entire working life has also been music related: from running a record store and later joining WEA Records in the mid 70's through to his 21 year A&R/Marketing stint at Tusk Music where he signed some of the biggest names in South African rock and pop. The last 8 years have been spent nurturing new talent at his indie label Fresh Music and reissuing classic albums as part of it's ongoing Retro series. ... To say that 'music is his first love' (to paraphrase John Miles's classic song) is somewhat understated.
----------------------------------------------------------------------