Weekly Newsletter
To receive your weekly dose of Rock News, Playlists, Recommendations, Competitions and much, much more, please join our
Mailing List
.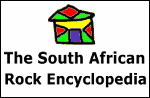 This website is part of the South African Rock Encyclopedia
Benjy says...



Greetings Rock of Ages subscribers, listeners and avid rock fans,

I hope you all had a peaceful festive season .... I went away for a week to a small fishing village up the Cape East Coast for a little chilled R&R and to recharge the batteries. It's great to be back 'tho and as you would have heard on the show last week I have returned with loads of new albums to play so tune in this Thursday ..... I get a fair amount of enquiries on where to buy cds by the likes of The Asylum Kids, éVoid, Freedom's Children, Otis Waygood, Falling Mirror, Dog Detachment, Hawk and many other great SA bands. Check out the Retro section of the Fresh Music website at www.freshmusic.co.za where there is a 30% off deal on all albums for the month of January. It's safe and secure online shopping ..... All albums have been digitally remastered with bonus tracks, extensive liner notes and rare photos. What's more if you buy 2 albums or more you get a free 16 track CD sampler ....... Our webmaster, the illustrious Brian Currin, has been hard at work tinkering on the ROA website and it is undergoing some changes to the look and feel, [if you click on www.rock.co.za/rockofages] you'll see that we have added an MP3 jukebox plus a great new logo - which by the way is a proposed ROA t-shirt logo! We still have some more changes to make that will make your rock browsing an even more pleasurable experience. By the way check out Brian's own dedicated rock music site at www.currin.co.za

Listening to the Judas Priest Special last week I was impressed by just how melodic the band are: yes they are 'heavy metal' but what sets them above most metal bands is that their music is much more than just mindless riffing and yowling. 2005's "Angel of retribution" was an absolute monster with great songs along with it! A lot of the newer bands, and particularly the American metal outfits, seem to have traded song writing, hooks and power for 200mph shredding and 'growling' unintelligible lyrics - I don't get it! It's not an age thing as I love newer bands like Breed 77 and Tool who riff like hell but seem to retain a sense of light and shade in the songs ...... This coming week the featured special will be a band that in my humble opinion have been unfairly maligned by the critics and dismissed as a 'pop' band. Make no mistake about it The Eagles are not a pop band - anyone who has listened to songs like 'One of these nights', 'Life in the fast lane' and 'These shoes', for instance can vouch that they can rock with the best of them.



The Rock of Ages Special - The Eagles



The Eagles were a major force in popularizing the southern California country rock sound around the nation. The band formed in 1971 when Linda Ronstadt's then-manager, John Boylan, extracted Glenn Frey, Bernie Leadon, and Randy Meisner from their previous affiliations. They were short a drummer until Frey phoned Don Henley, whom he had met at the Troubadour in Los Angeles. The band backed up Ronstadt on a two-month tour, then decided to form their own band, which would become the Eagles.





Their first album, Eagles, was filled with pure, sometimes innocent country rock, and yielded three Top Forty singles. "Take It Easy", was a song penned by Glenn Frey's friend, neighbor and fellow country rocker, Jackson Browne. Frey heard him playing it and asked if the Eagles' could use it. Browne agreed and with a few lyrics added in by Frey, the song was recorded and became a classic,propelling the Eagles to stardom. This was followed by the bluesy "Witchy Woman" and the soft country rock ballad "Peaceful Easy Feeling".Rolling Stone magazine's 2003 list of the "500 Greatest Albums of All Time" ranked Eagles at #374.Their second album, Desperado, was themed on Old West outlaws and introduced the group's penchant for conceptual songwriting. Throughout the album, the story of the notorious Wild West gang, the Doolin-Dalton gang was the main focus, like in the songs, "Doolin-Dalton", "Bittercreek", "Desperado" and "Doolin-Dalton/Desperado". The album wasn't as commercially successful as the first,although it yielded the classics "Tequila Sunrise" and "Desperado", which ironically,became two of the Eagles' most popular songs, the former commonly being the Eagles' last encore in a concert.The first two albums were produced by Glyn Johns, who previously worked with The Beatles, Led Zeppelin, The Rolling Stones, and The Who. The band wanted to rock, but Johns tended to emphasize the lush side of their double-edged music. On their third album, On the Border, the Eagles' started off with Johns producing, but after completing only two songs, turned to Bill Szymczyk to produce the rest of the album. Szymczyk brought in Don Felder to add slide guitar to a song called "Good Day in Hell", and the band was so impressed that two days later they invited Felder to become the fifth Eagle. He appears on only one other song on the album, the uptempo breakup song,"Already Gone", in which he performed the memorable dual guitar solo with Glenn Frey. On the Border yielded "Best of My Love", which hit the top of the charts on March 1, 1975, becoming the Eagles' first of five chart toppers.Their next album, One of These Nights, had an aggressive, sinewy rock stance. The album further displayed the growing strength of the Henley/Frey songwriting team, particularly on the album's title track and the Grammy Award winning "Lyin' Eyes". "One of These Nights" hit #1 on the Billboard chart August 2, 1975. The song itself has often been cited by Frey as his all-time favorite Eagles tune. The album was also the first Eagles' #1 on the pop album charts. They had reached the summit of rock success, but all was not well with the band internally.By this time, members of the band had started to fight with each other. Recording and touring had been brutal since the eponymous debut album and tempers were boiling over and egos were clashing. Between the album release and the subsequent tour, Bernie Leadon left the group, disillusioned with the direction the band's music was taking. They were no longer concentrating on the country rock in which Leadon excelled and the hiring of Don Felder meant that Leadon's role would be significantly diminished. The group quickly replaced Leadon with Joe Walsh, a veteran of such groups as the James Gang and Barnstorm and a solo artist in his own right, in order to continue with their tour schedule. The addition of Walsh made the group's aim perfectly clear: they wanted to rock.





Meanwhile, in early 1976, Their Greatest Hits (1971-1975) was released. It went on to become the best-selling album in U.S. history, selling over 29 million copies to date.The group's next album, Hotel California, came out in late 1976. "New Kid in Town" was a #1 hit. "Life in the Fast Lane" was also a huge hit, becoming a catchphrase in the process, and established Joe Walsh's position in the band with its more hard-rock sound. The striking, mournful ballad "Wasted Time" closed the first side of the record, while an instrumental reprise of it opened the second side. The album concluded with "The Last Resort", the song Frey, to this day, refers to as Don Henley's greatest work. In all, Hotel California is generally considered to be the band's masterpiece, and has appeared on several lists of the best albums of all time; it is also easily their best-selling studio album, with well over 16 million copies sold to date in the U.S.During the final leg of the ensuing tour, Randy Meisner decided he had seen enough hotel rooms in his seven years as an Eagle and left the band for the relative quiet of Nebraska to recuperate and begin a solo career. The Eagles replaced Meisner with the man who had succeeded him in Poco, Timothy B. Schmit. In February 1978, the Eagles went into the studio to produce their final studio album, The Long Run. The album took two years to make, but yielded the group's fifth and last #1 single "Heartache Tonight". The tour to promote the album intensified personality differences between band members, made worse on a night in November 1980, when Henley was arrested for cocaine, Quaalude, and marijuana possession after a nude 16-year-old prostitute had drug-related seizures in a hotel room. Henley was subsequently charged with contributing to the delinquency of a minor. In addition, Glenn Frey and Don Felder had to be separated by police and fellow band members backstage at a 1980 fundraising concert for California Senator Alan Cranston Frey claimed he confronted Felder after he heard him insult Senator Cranston under his breath.





The tour ended on July 31, 1980, in Long Beach, California, when tempers boiled over into what Bill Szymczyk memorably described as "The Long Night At Wrong Beach." Frey and Felder spent the entire show describing to each other the beating each planned to administer backstage ... "Only three more songs until I kick your ass, pal," Frey recalls Felder telling him near the end of the band's set. Felder recalls Frey making a similar threat to him just as they began to sing "The Best Of My Love." As soon as the show was over, mayhem broke out. Frey launched an assault on Felder, who protected himself with his guitar. Within seconds, the rest of the band had joined in. A dozen roadies then pulled apart the warring factions. apart.It appeared to be the end of the Eagles, although the band still owed Warners a live record from the tour. Eagles Live (released in November 1980) was mixed by Frey and Henley on opposite coasts ... the two decided they couldn't bear to be in the same state, let alone the same studio, and as Bill Szymczyk put it,the record's perfect three-part harmonies were fixed "courtesy of Federal Express." With credits that listed no fewer than five attorneys, the album's liner notes simply said, "Thank you and goodnight

After the Eagles
After the breakup of the Eagles, each ex-member tried their hand in a solo career. Joe Walsh had already established himself as a solo artist in the 70's before and during his time with the Eagles, but it was uncharted waters for the others.Walsh tried continuing his solo career, which included the hits, 1973's "Rocky Mountain Way" and 1978's "Life's Been Good", but found hits hard to come by after the breakup. 1981's album, There Goes the Neighborhood was considerably successful, but successive albums throughout the 80's, such as Got Any Gum? proved to be mediocre. During this time he also performed as a session musician for Dan Fogelberg, Steve Winwood and Emerson, Lake and Palmer, among others, and produced and co-wrote Ringo Starr's "Old Wave" album.

Don Henley turned out to have the greatest solo success of the five during this period. In 1982 he released the well-received I Can't Stand Still, featuring the hit "Dirty Laundry". He then released a single, the duet with Stevie Nicks, "Leather and Lace". The first album paled in comparison, though, to his next release: 1984's smash, Building the Perfect Beast. Off of this album came the Hot 100 #5 hit and classic rock radio staple, "Boys of Summer". It also yielded the #9 hit, "All She Wants to Do Is Dance" and "Sunset Grill". He wouldn't release another album for five years, when 1989's The End of the Innocence was released. This album was also a major success including the hits, "The End of the Innocence" and "The Heart of the Matter". This was his final album before the Eagles reunited in 1994.

Glenn Frey also found solo success in the 1980s. In 1982, he released his first album, No Fun Aloud, which spawned the #14 hit, "The One You Love". He followed up this album with 1984's The Allnighter, which featured the #20 hit, "Sexy Girl". He scored a #2 hit with "The Heat Is On", from the Beverly Hills Cop soundtrack. He had another song stall at #2 in 1985 with "You Belong to the City" from the smash hit, Miami Vice soundtrack, which featured another Frey song, "Smuggler's Blues". He also contributed the songs "Flip City" to the Ghostbusters II soundtrack, and "Part of Me, Part of You" to the soundtrack for Thelma and Louise.





Resumption
Thirteen years after the breakup, an Eagles country tribute album titled Common Thread: The Songs of The Eagles was released (1993). Travis Tritt insisted on having the Long Run-era Eagles in his video for "Take It Easy", and they complied. After the "Take It Easy" video was completed the following year, the band reunited after years of public speculation that they would. The personnel were the five Long Run-era members - Frey, Henley, Walsh, Felder and Schmit - supplemented by additional players on stage. "We never broke up, we just took a 14-year vacation," announced Frey at the taping of their first live performance in April 1994. The ensuing tour spawned a live album titled Hell Freezes Over (named for Henley's recurring statement that the group would get back together only when hell froze over) which debuted at #1 on the Billboard chart, and two new singles - "Get Over It" and "Love Will Keep Us Alive." Controversy followed on September 12, 1996, when the band dedicated "Peaceful Easy Feeling" to Saddam Hussein at a United States Democratic Party fundraiser held in Los Angeles. In 1998, the band was inducted into the Rock and Roll Hall of Fame. During the induction ceremony, Frey, Henley, Felder, Walsh, and Schmit performed together, and former members Bernie Leadon and Randy Meisner rejoined the band for the performance, where the band played "Take It Easy" and "Hotel California". Several subsequent reunion tours would follow (without Leadon or Meisner), notable for their record-setting ticket prices.

In February 2001, Don Felder was fired from the group; Felder and the Eagles filed lawsuits against each other. In 2003 the Eagles released a new single, the September 11-themed "Hole in the World." In 2005, the Eagles released a new 2-DVD set titled Eagles Farewell Tour I: Live from Melbourne featuring two new songs: Glenn Frey's "No More Cloudy Days" and Joe Walsh's "One Day at a Time". As of 2006 the Eagles consist of Frey, Henley, Walsh, and Schmit. On their "Farewell Tour I" they are supplemented by eight additional players.

A new Eagles album - their first new studio album since 1979 - expected to be titled The Long Road To Eden, has been reportedly in production for several years. In an August 2006 interview, Joe Walsh predicted a 2007 release.

Band members

Glenn Frey - guitar, piano, vocals
Bernie Leadon - guitar, banjo, mandolin, vocals
Randy Meisner- bass, guitar, vocals
Don Henley - drums, vocals
Joe Walsh - guitar, keyboards,vocals
Timothy B. Schmit - bass, vocals

Discography



Eagles (1972)
Desperado (1973)
On the border (1974)
One of these nights (1975)
Hotel California (1976)
Greatest Hits (1976)
The Long Run (1979)
Eagles Live (1980)
Greatest Hits Vol.2 (1982)
Hell Freezes Over (1994)

Information and pics courtesy of www.wikipedia.net

Rock of Ages's recommendations

The debut album by Frost is the first to be given an unqualified five stars since I started recommending albums to subscribers..and it is well deserved! ... "Milliontown " ***** (SPV Records) is an absolute, near perfect modern prog-rock album. Wide sweeping symphonic keyboard flourishes, heart-stopping guitars, metronomic time signature changes that defy description. From the bone jarring riffs of "The other me" through the magic carpet ride that is "Black Light Machine" they are without one of the best bands that I have heard for years and I look forward to playing them on the show as often as I can. The highlight for me is the 26 minute title track that takes the listener on a musical journey that changes along the way and is surprisingly different every time you hear it .... Who do they sound like? Well think of a mixture of Fragile-period Yes meets Porcupine Tree meets the best of Genesis meets Dream Theatre and you aren't even close - Listen for yourself, get this album.

Ratings:
***** Volcanic....not to be missed.
**** Seismic....highly recommended...buy it!
*** Aftershock....solid effort.
** Xmas cracker...Pooof!
* Do I need to explain this?

Keep the rock real ...

Benjy

---

Contact Rock of Ages

Email:
Website: www.rock.co.za/rockofages
Snail mail:
PO Box 53585, Kenilworth, 7745
Studio phones: 021-4342523 / 4342525


Disclaimer:
The views, opinions, rants, raves and ramblings expressed on this website are the author's own and in no way reflect the views of Radio 2000 or the SABC.



Latest Playlist
All the playlists are available in the
Playlist Archives.
Rock Of Ages News
Whiter shade of green
Former Procol Harum keyboard player Matthew Fisher has won the rights to 40 per cent of all future songwriting royalties on the band's seminal '67 hit 'A Whiter Shade Of Pale'. Fisher had sued the band's vocalist vocalist Gary Brooker, claiming that he'd written the instantly recognisable organ part, and wanted a share of past royalties, plus 50 per cent of all future monies. Brooker intends to appeal.

Asylum Kids vid
For all you Asylum Kids fans out there check out this early 80's clip of ... Fight it with your mind... at YouTube.

Blank Tree
Porcupine Tree are to call their new album 'Fear Of A Blank Planet'. It should be released by Roadrunner in April.

Whole Lotta Fame
'Whole Lotta Love' from Led Zeppelin, and the albums 'Who's Next' by The Who, the self-titled debut album by The Ramones, plus 'London Calling' from The Clash have been elected into the Grammy Hall Of Fame.

Green Rip Off?
Did Green Day rip off Oasis? That's what the latter's Noel Gallagher is claiming. He insists that Green Day's 'Boulevard Of Broken Dreams' has the same arrangement as the Oasis classic 'Wonderwall'.

Myers Heads To The Moon
Mike Myers is in line to play late Who drummer Keith Moon in a planned biopic, which is expected to be called 'See Me Feel Me (Keith Moon Naked For Pleasure)'.

Spies and Stamps
What do The Beatles have in common with the notorious World War II British codebreakers? The newest Beatles stamp will be released in England on January 9. The first day of issue post mark will be applied at the same facility that housed the counterspies who broke the secret codes used by the German military. This should go down well with those who maintain that much of The Beatles' music contained hidden messages.

Mullets Rule!
Lynyrd Skynyrd, Ted Nugent, Boston, Blue Oyster Cult, Cheap Trick, REO Speedwagon and Cinderella are all featured on the compilation 'Mullets Rock! Too: Mullets In Love!'. This is released in March. Also included are songs from Kansas, Nazareth, Eddie Money, Bonnie Tyler, Night Ranger, Ace Frehley, Jefferson Starship, Foghat, Aldo Nova, J Geils Band and Joan Jett & The Blackhearts.

Sabbath: New Songs
The upcoming compilation 'Black Sabbath: The Dio Years' is set to include three new songs. These are 'Shadow Of The Wind', 'Devil Cries' and 'Ear In The Wall'. As we all know, Ronnie Dio, Geezer Butler, Tony Iommi and Vinny Appice will tour as Heaven And Hell, starting in Canada during the Spring.

Police Alert!
Although The Police never actually said they were breaking up, their last album was released in 1983, and they went on tour for the last time the following year. They played three concerts in 1986, and three songs when they were inducted into the Rock and Roll Hall of Fame in 1993. And for the past 20+ years, band members Stewart Copeland, Sting, and Andy Summers have vigorously pursued solo careers. With 2007 marking the 30th anniversary of their US breakthrough single, "Roxanne" the rumor mill has been spitting out copious tidbits about a possible US/UK tour by The Police this year. Here's what we know for sure. A&M Records plans one or more CD/DVD boxed set releases of The Police catalog this year. Founder/drummer Copeland and guitarist Summers have publicly supported the idea of a reunion for years. Vocalist/bassist Sting has been publicly reluctant about the idea of a reunion.

A noncommittal statement from an A&M spokesman just published says, "While we can confirm that there will indeed be something special done to mark the 30th anniversary, the depth of the band's involvement still remains undetermined." Stay tuned. Time will tell.

Short Cuts..... The Rolling Stones were the biggest live attraction in North America during '06. They sold $138.5 million worth of tickets!!!!! ..... Velvet Revolver frontman Scott Weiland is planning to release his second solo album towards the end of this year. It's to be on the Softdrive label, which he co-owns. The singer's previous solo album, '12 Bar Blues', was released in 1998 .... The Red Hot Chili Peppers are to have two songs used as the soundtrack for rides at Disneyland. 'Around The World' will be heard on the California Screamin' ride, while 'Higher Ground will accompany Space Mountain ... Uriah Heep are to start recording a new album with producer Mike Paxman in the spring, as yet untitled, this is to be released by Sanctuary .... Both The Doors and The Grateful Dead are to receive Lifetime Achievement Awards at next year's Grammys. The ceremony happens in Los Angeles on February 11 ... Robert Plant is expected to revive The Honeydrippers for a charity show in February. All proceeds are to go towards paying for local woman Jackie Jennings to have treatment for a brain tumour ... Just a year after their wedding, Dita Von Teese has filed for divorce from Marilyn Manson. She cites 'irreconcilable differences' ... Van Halen are to be inducted into the Rock 'N' Roll Hall Of Fame. This is to happen during a ceremony in New York on March 12 .... Congratulations to Evanescence singer Amy Lee on her engagement to her boyfriend, a psychiatrist called Josh (she may need it) ... Iron Maiden are to be one of the headliners for the Desert Rock Festival, in Dubai. They'll play on March 9, on a bill also set to feature Stone Sour, Mastodon, In Flames and Children Of Bodom .... Jeff Scott Soto is officially the new singer with Journey. He's recently been filling for Steve Augeri, who's been absent through illness. Now, it's permanent.

More Classic Rock?
I can highly recommend the About Classic Rock website run by Dave White. Not only does Dave host one of the most knowledgeable classic rock blogs on the Net but the site itself is very entertaining and informative. There are always great indepth stories on the artists and the rock quizzes are addictive. If you are like me, a classic rock fan, then the weekly About Classic Rock newletter is a must. Sign up at classicrock.about.com

More rock on R2K. .....
Suffering from Rock withdrawal symptoms on a Tuesday night? Well then tune the dial el pronto to Barney Simon's show between 8 and midnight every Tuesday on Radio 2000 (or R2K as Barney calls it) for the best in South African rock plus gig guide,albums reviews, demos, new releases, news from around the country and much more. ..... Unmissable!. ... Also don't forget to catch Michelle Constant between 1pm and 3pm Monday-Friday for news, music, interviews and loads of cool stuff. ... and of course. ... Mo G on the morning drive, weekdays 8-10am. .. Exclusively on Radio 2000.

Live Gigs
Boulevard Blues Band
12/13th Die Boer-Durbanville
19th Fogey's Railway House, Muizenberg
21st Bertie's Mooring, Gordon's Bay
26th Lord Nelson's, Simonstown
27th Kunskafee, Durbanville
28th Guzzlers, Tableview

Jack Hammer
17th Steak & Ale, Centurion

Mike Hill
2nd Feb Independent Armchair Theatre,Obs ... ALBUM LAUNCH

Robin Auld
12/13th Masque Theatre, Muizenburg

The Hellphones
27th Back2Basix,Westdene
You say it's your birthday...
January 11
Clarence Clemons (E Street Band) - 1942
Tony Kaye (Yes) - 1943

January 12
Long John Baldry (Bluesology) - 1941

January 13
Trevor Rabin (Yes) - 1954

January 15
Ronnie Van Zant (Lynyrd Skynyrd) - 1948
Captain Beefheart - 1941

January 16
Bob Bogle - Ventures - 1937
William Francis - Dr. Hook - 1942

January 17
Mick Taylor - Rolling Stones - 1948
Susanna Hoffs - Bangles - 1959

January 18
Larry Smith - Bonzo Dog Doo Dah Band - 1944



Courtesy of
About ClassicRock

Birthday Archives
January
February
March
April
May
June
July
August
September
October
November
December


Newsletters

Weekly Newsletter

To receive your weekly dose of Rock News, Playlists, Recommendations, Competitions and much, much more, please join our

Mailing List

.



News Archives
Previous newsletters are available in the News Archives.
Playlist Archives
All the playlists are available in the Playlist Archives.
---
Stay tuned every Thursday 8-12pm for the best in classic rock on RADIO 2000.
---
Your Host
Benjy Mudie
Then
Now
Benjy Mudie is a self confessed 'rockaholic' with little chance of recovery. .. a music obsessive whose entire life has been spent in search of the lost chord. .. from discovering Jimi's "Are you experienced" at 13, he has constantly devoured music through lp's, singles, tapes, cds, dvds, books, magazines, film, concerts, radio, tv and the internet. His entire working life has also been music related: from running a record store and later joining WEA Records in the mid 70's through to his 21 year A&R/Marketing stint at Tusk Music where he signed some of the biggest names in South African rock and pop. The last 8 years have been spent nurturing new talent at his indie label Fresh Music and reissuing classic albums as part of it's ongoing Retro series. ... To say that 'music is his first love' (to paraphrase John Miles's classic song) is somewhat understated.
----------------------------------------------------------------------