Weekly Newsletter
To receive your weekly dose of Rock News, Playlists, Recommendations, Competitions and much, much more, please join our
Mailing List
.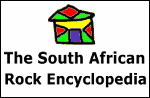 This website is part of the South African Rock Encyclopedia
Benjy says...



Greetings and welcome to Rock of Ages,

To the many first-timers who have recently subscribed to the newsletter, it's great to have you on board, thank you for being part of the only national classic and new 'retro' rock radio experience. A huge thank you all the Jethro Tull fans who called in to the show to share their stories, especially the listeners from Zimbabwe and Botswana - I didn't think our audio 'footprint' stretched that far but hey .... cool to hear from you! A couple of listeners questioned (in the nicest way possible 'natch) whether the Tull could be classed as a bona fide 'prog' band bearing in mind their whimsical folk and Celtic influences? ... Why not, isn't that what progressive music is all about - the mixing of various styles, time signatures, moods, instruments & languages, etc to forge something different to the norm? I would like to know your opinion on this so feel free to bang a mail off to me - Speaking of progressive rock this week's special is ... well ... special - a 90 minute audio adventure of some of the great new 'prog' bands including Frost, Riverside, Porcupine Tree, Glass Hammer, Dream Theater, Circulus, GPS, Pendragon, Coheed & Cambria, Opeth and more - from the metallers to the symphonic to the folksy to the plain off-the-wall - so join me on Thursday for ....

The Rock of Ages Special - The New Prog



Glass Hammer



Progressive rock ("prog") is an ambitious, eclectic, and often grandiose style of rock music which arose in the late 1960s principally in England, reaching the peak of its popularity in the early 1970s, but continuing as a musical form to this day. Progressive rock was largely a European movement, and drew most of its influences from classical music and jazz fusion, in contrast to American rock, which was influenced by rhythm & blues and country, although there are notable exceptions in the New World such as Kansas and Rush — considered by many to be the finest examples of the form. Over the years various sub-genres of progressive rock have emerged, such as symphonic rock, art rock and progressive metal. Progressive rock artists sought to move away from the limitations of radio formatted rock and pop, and "progress" rock to the point that it could achieve the sophistication of jazz or classical music. It is admired by its fans for its complexity, requiring a high level of musical virtuosity to perform. Critics have often derided the genre as pompous and self-indulgent. This is because, unlike such stylistically consistent genres as country or hip hop, progressive rock is difficult to define in a single conclusive way. Outspoken King Crimson leader Robert Fripp has voiced his disdain for the term. The major acts that defined the genre in the 1970s (Yes, Genesis, Emerson Lake and Palmer, Rush and King Crimson) do not sound alike. There is also debate on whether bands such as The Beatles, Phish, and Radiohead belong to the genre.



Frost



Some common, though not universal, elements of progressive rock include: Long compositions, sometimes running over 20 minutes, with intricate melodies and harmonies that require repeated listening to grasp. These are often described as epics and are the genre's clearest nod to classical music. An early example is the 23-minute "Echoes" by Pink Floyd. Other famous examples include Jethro Tull's "Thick as a Brick" (43 minutes), Yes' "Close to the Edge" (18 minutes) and Genesis' "Supper's Ready" (23 minutes). More recent extreme examples are the 60-minute "Light of Day, Day of Darkness" by Green Carnation and "Garden of Dreams" by The Flower Kings.

Lyrics that convey intricate and sometimes impenetrable narratives, covering such themes as science fiction, fantasy, history, religion, war, love, and madness. Many early 1970s progressive rock bands (especially German ones) featured lyrics concerned with left-wing politics and social issues. Concept albums, in which a theme or storyline is explored throughout an entire album in a manner similar to a film or a play. In the days of vinyl, these were usually two-record sets with strikingly designed gatefold sleeves. Famous examples include The Lamb Lies Down on Broadway by Genesis, Tales from Topographic Oceans by Yes, 2112 by Rush, Dark Side of the Moon and The Wall by Pink Floyd, and the more recent Metropolis Part II: Scenes from a Memory by Dream Theater and Snow by Spock's Beard. Aqualung, perhaps the best-known record by Jethro Tull, is often regarded as a concept album due to its recurring themes, but songwriter Ian Anderson has always claimed that the album is just "a bunch of songs".



Riverside



Prominent use of electronic instrumentation — particularly keyboard instruments such as the organ, piano, Mellotron, and Moog synthesizer, in addition to the usual rock combination of electric guitar, bass and drums.

Use of unusual time signatures, scales, or tunings. Many pieces use multiple time signatures and/or tempi, sometimes concurrently. Solo passages for virtually every instrument, designed to showcase the virtuosity of the player. This is the sort of thing that contributed to the fame of such performers as keyboardist Rick Wakeman and drummer Neil Peart.

Inclusion of classical pieces on albums. For example, Yes start their concerts with a taped extract of Stravinsky's Firebird suite, and Emerson Lake and Palmer have performed arrangements of pieces by Copland, Bartók, Moussorgsky, Prokofiev, Janacek, Alberto Ginastera, and often feature quotes from J. S. Bach in lead breaks. Jethro Tull recorded a famous cover of J. S. Bach's "Bouree", in which they turned the classical piece into a "sleazy jazzy night-club song", according to Ian Anderson. Marillion started concerts with Rossini's La Gazza Ladra (The Thieving Magpie). Symphony X has included parts by, or inspired by, Beethoven, Holst and Mozart.

An aesthetic linking the music with visual art, a trend started by The Beatles with Sgt. Pepper's and enthusiastically embraced during the prog heyday. Some bands became as well-known for the art direction of their albums as for their sound, with the "look" integrated into the band's overall musical identity. This led to fame for particular artists and design studios, most notably Roger Dean, whose paintings and logo design for Yes are so essential to the band's identity they could be said to serve the same function as corporate branding. Hipgnosis became equally famous for their unusual sleeves for Pink Floyd, often featuring experimental photography quite innovative for the time (two men shaking hands, one of whom is in flames, on the cover of Wish You Were Here). H.R. Giger's painting for Emerson Lake and Palmer's Brain Salad Surgery is one of the most famous album sleeves ever produced. Progressive rock's popularity peaked in the mid-1970s, when prog artists regularly topped readers' votes in mainstream popular music magazines. With the advent of punk rock in the late 1970s, and its earlier precursor pub rock, popular and critical opinion moved toward a simpler and more aggressive style of rock, with progressive rock increasingly dismissed as pretentious and overblown. This attitude has remained in place to the present day.



Spock's Beard



The early 1980s saw something of a revival of the genre, led by artists such as Marillion, Saga, and Kate Bush. Groups that arose during this time are sometimes termed neo-progressive. Around the same time, some progressive rock stalwarts changed musical direction, simplifying their music and including more obviously electronic elements. In 1983, Genesis achieved international success with the song "Mama", with its heavy emphasis on a drum machine riff. In 1984, Yes had a surprise number one hit with the song "Owner of a Lonely Heart", which contained modern (for the time) electronic effects and was accessible enough to be played at discos. The genre enjoyed another revival in the 1990s with the so-called "Third Wave", spearheaded by such bands as Sweden's The Flower Kings, the UK's Porcupine Tree, and Spock's Beard from the United States. One of the most important bands of the alternative rock movement, The Smashing Pumpkins, incorporated progressive rock into their unique, eclectic style, going so far as to release two albums dealing with the same concept. In recent years, the most commercially viable category of prog has been progressive metal. These bands are usually happy to be known as progressive, and produce very long pieces and concept albums. Several of the leading bands in the prog-metal genre (particularly Dream Theater) cite pioneer progressive hard-rockers Rush as a prime influence. Meanwhile, other heavy metal bands not generally considered prog-metal, such as System of a Down and The Mars Volta,have nevertheless incorporated prog-influenced elements like bizarre shifts in time signatures and tempo in their music.

The work of contemporary artists such as Ween and post-rock bands like Sigur Rós and Godspeed You! Black Emperor could be said to incorporate some of the experimental elements of progressive rock, sometimes combined with the aesthetic sensibilities of punk rock to produce music which many find challenging, innovative and imaginative. The Mars Volta is notable for intentionally fusing punk with progressive rock, two elements once polar opposites. Among more experimental and avant garde musicians, the Japanese composer Takashi Yoshimatsu publicly cites progressive rock bands as a prime influence on his work. play music. "Punk" gave rise to the cold wave in the eighties and prog rock was reduced to what was called neo progressive (a simpler form of the symphonic prog but with much present drums), and an embryo of what became at the beginning of the nineties the metal prog . SAGA were probably the first to play this neo prog, but MARILLION, IQ and PENDRAGON are the best representatives of this sub-genre. Landmark albums include "Misplaced Childhood" by MARILLION, "Masquerade Overture ('96)" by PENDRAGON and "Ever" by IQ.



Porcupine Tree



Metal prog developed with DREAM THEATER's "Images And Words". However, in the eighties some groups were already playing a heavy metal based progressive music : QUEENSRYCHE, FATES WARNING, WATCHTOWER. Thanks to Mike Varney in the USA, who founded the prog label Magna Carta, and in Europe the Inside Out Label. Apart from metal prog. SPOCK'S BEARD were playing a symphonic prog with references to GENTLE GIANT and GENESIS and ECHLOLYN and IZZ were playing a music closer to neo prog. In the Northern Europe, a Scandinavian symphonic prog scene developed with bands such as The FLOWER KJINGS, ANGLAGARD and SINKADUS, A post RIO scene also developed with DJAM KARET, THINKING PLAGUE… Some groups play jazz-fusion : KENSO, CARTOONE, DEUS EX MACHINA. PORCUPINE TREE and OZRIC TENACLES play space rock. COLLAGE, CLEPSYDRA are great bands hat are strongly influenced by IQ and MARILLION.

Information and pics courtesy of www.progarchives.com





Rock of Ages's recommendations

The Beatles - Love

When I first heard that the 'new' Beatles album, "Love", was devised as a soundtrack for the new Cirque du Soleil show in Las Vegas, I was skeptical to say the least. After all what more could be done with the music of one of the most innovative trailblazers in rock music - we've had the countless thematic reissues, the 'lost' songs,the 'new' songs etc, etc. However I was impressed with "Love" **** (EMI) - Using the original multi track tapes what Giles Martin and his Beatles producer father, George, have done is 'mash' elements of various songs together and construct brand new tunes. So what you get are things like the the trippy sitar mix of "Tomorrow never knows meshing flawlessly with "Within you, without you" and the jangly "Drive my car" meets "The Word". Listening to these great songs again you can't help but remember just how incredible they were as musicians and writers. This is one for the car stereo - roll up for the mystery tour!

Ratings:
***** Volcanic....not to be missed.
**** Seismic....highly recommended...buy it!
*** Aftershock....solid effort.
** Xmas cracker...Pooof!
* Do I need to explain this?

Rock of Ages presents "Footstompin' Music"



"Footstompin' Music" is almost ready for release through Universal Music, I guess it should be in the stores at the end of February or early March at the latest. Here is a pic of the front cover for you to drool over as well as the final tracklisting:



Grand Funk Railroad - Footstompin' Music
Deep Purple - Burn
Uriah Heep - Look at yourself
Black Sabbath - Sweat Leaf
Thin Lizzy - Chinatown
Robin Trower - Too rolling stoned
Mountain - Never in my life
Wishbone Ash - Blowin' free
Foghat - I just wanna make love to you
Budgie - Baby, please don't go
Santana - Toussaint l'Overture
Alice Cooper - Muscle of love
Nazareth - Go down fighting
Blue Oyster Cult - The Red & the Black
Lynyrd Skynyrd - Gimme back my bullets
Free - The Hunter
Taste - What's goin' on

Keep the rock real...

Benjy

---

Contact Rock of Ages

Email:
Website: www.rock.co.za/rockofages
Snail mail:
PO Box 53585, Kenilworth, 7745
Studio phones: 021-4342523 / 4342525


Disclaimer:
The views, opinions, rants, raves and ramblings expressed on this website are the author's own and in no way reflect the views of Radio 2000 or the SABC.



Latest Playlist
All the playlists are available in the
Playlist Archives.
Rock Of Ages News
Guns 'n Roses live in SA for the My Coke Fest 2007

This year Coca-Cola and 5FM are proud to announce the coming of MY COKE FEST - 2007's biggest music festival. This exciting music festival kicks off in Johannesburg on Friday the 27th of April at the New Market Racecourse, then moves to Kenilworth Racecourse in Cape Town on Tuesday the 1st of May. ...first up and apparently confirmed for the gig are Guns 'n Roses.....

Police back on the beat?
As we reported several weeks ago, the tea leaves have increasingly been seeming to foretell an imminent reunion of The Police. A reunion is now a certainty, at least for a one-off performance. The folks who bring us the GRAMMY Awards will be bringing us a Police reunion in the form of the opening performance on the February 11 GRAMMY Awards telecast on CBS. Sting, Stewart Copeland and Andy Summers will be performing publicly together for the first time since their Rock and Roll Hall of Fame induction ceremony in 2003. Everything beyond that is pure speculation, but this confirmed appearance provides a bit more credence to the conjecture. Billboard magazine is reporting that details of a 30th anniversary (of their hit single, "Roxanne") world tour are to be announced shortly.

Stooges Post New Track
The Stooges have posted new track 'My Idea Of Fun' at www.myspace.com/iggy. This comes from new album 'The Weirdness', due out in March.

No Papa's, only Mama's
Suddenly, Michelle Phillips is the last living member of the Mamas and the Papas, the folk rock band that defined the California sound in the late 60s. Denny Doherty has died, at the age of 66, at his Toronto area home. He suffered an abdominal aneurysm on January 19 after having undergone surgery a few weeks earlier.

Eagles Flying again?
If we don't kill each other first, "Don Henley tells the crowd at a Las Vegas concert, the Eagles will be releasing their first new studio album in nearly 30 years within a matter of weeks. According to the Las Vegas Review-Journal, Henley told the audience at a private show at MGM Grand Garden Arena on January 27 that the album would be "coming out in 60 to 90 days," subject to the aforementioned caveat about doing bodily harm to one another. It has been a long time since The Long Run, the band's last studio album of all new music, released back in 1979. The last Eagles release of any kind, Hell Freezes Over coincided with the band's 1994 reunion following a 12 year breakup.

Kiss Save The World!
Kiss are getting back into the comics world. They've just started up Kiss Comics Group, and the first publication is to be 'Kiss K4', which tells the tale of the band's transformation from rock stars into 'world protecting warrior spirits'.

Shorts Cuts....Uriah Heep are looking for a new drummer. This follows Lee Kerslake's decision to quit the band due to health problems.... Van Halen are to release a 19-track compilation through Rhino in mid-March. Called 'Best Of (1978-1984)', it concentrates solely on the David Lee Roth era...Courtney Love is expected to be one of the judges on the next series of 'American Idol', although this has yet to be confirmed (may the gods help/spare/curse us).

More Classic Rock?
I can highly recommend the About Classic Rock website run by Dave White. Not only does Dave host one of the most knowledgeable classic rock blogs on the Net but the site itself is very entertaining and informative. There are always great indepth stories on the artists and the rock quizzes are addictive. If you are like me, a classic rock fan, then the weekly About Classic Rock newletter is a must. Sign up at classicrock.about.com

More rock on R2K......
Suffering from Rock withdrawal symptoms on a Tuesday night? Well then tune the dial el pronto to Barney Simon's show between 8 and midnight every Tuesday on Radio 2000 (or R2K as Barney calls it) for the best in South African rock plus gig guide,albums reviews, demos, new releases, news from around the country and much more...... Unmissable!.... Also don't forget to catch Michelle Constant between 1pm and 3pm Monday-Friday for news, music, interviews and loads of cool stuff.... and of course.... Mo G on the morning drive, weekdays 8-10am... Exclusively on Radio 2000.

Live Gigs
The Hellphones, Karma, Love Jones
6 February Tings and Times, Hatfield PTA

The Hellphones, Holly and The Woods, Love Jones, Karma
9 February The Roxy Rhythm Bar, Main Rd, Melville

Jim Neversink
9 February Back2Basix, Westdene

15 February The Bohemian, Richmond

Jack Hammer
7th Oppieplaas

16th Cafe Barcelona, Pretoria
17th Johannesburg Art Gallery
24th Impala Bike Rally, Hartebeespoort

The Kants
10th The Winston, Durban

Josie Field (unplugged) & Laurie Levine Duo
14 February Back2Basix

The Mochines
16th March Club EVOL Farryl Purkiss
9 Feb - Potch University Rag Potchefstroom
10 Feb - Tanz Cafe Bryanston (with Josie Field and Baz Corden)
14 Feb - Spiga D' Oro Durban
15 Feb - Society Durban (with Josie Field and Baz Corden)
Wrought Iron Party (Hard Rock & Metal)
3rd Hectic on Hope. Hope Str

Stoned Goblin 24th Gandalf's, Cape Town
27th Back2Basix, Westdene
You say it's your birthday...
February 1
Ray Sawyer - Dr. Hook - 1937
Mike Campbell - The Heartbreakers - 1950
Rick James - 1948

February 2
Graham Nash - Crosby Stills Nash & Young, Hollies - 1942
Ross Valory - Journey, Steve Miller Band - 1950
Alan McKay - Earth, Wind & Fire - 1948

February 3
Dave Davies - Kinks - 1947
Eric Haydock - Hollies - 1943

February 4
Alice Cooper - 1948
John Steel - Animals - 1941
Phil Ehart - Kansas - 1951

February 5
Alex Harvey - 1935
Al Kooper - Blood Sweat & Tears - 1944
J.R. Cobb - Atlanta Rhythm Section - 1944
Cory Wells - Three Dog Night - 1942

February 7
Jimmy Greenspoon - Three Dog Night - 1948

Courtesy of
About ClassicRock

Birthday Archives
January
February
March
April
May
June
July
August
September
October
November
December


Newsletters

Weekly Newsletter

To receive your weekly dose of Rock News, Playlists, Recommendations, Competitions and much, much more, please join our

Mailing List

.



News Archives
Previous newsletters are available in the News Archives.
Playlist Archives
All the playlists are available in the Playlist Archives.
---
Stay tuned every Thursday 8-12pm for the best in classic rock on RADIO 2000.
---
Your Host
Benjy Mudie
Then
Now
Benjy Mudie is a self confessed 'rockaholic' with little chance of recovery... a music obsessive whose entire life has been spent in search of the lost chord... from discovering Jimi's "Are you experienced" at 13, he has constantly devoured music through lp's, singles, tapes, cds, dvds, books, magazines, film, concerts, radio, tv and the internet. His entire working life has also been music related: from running a record store and later joining WEA Records in the mid 70's through to his 21 year A&R/Marketing stint at Tusk Music where he signed some of the biggest names in South African rock and pop. The last 8 years have been spent nurturing new talent at his indie label Fresh Music and reissuing classic albums as part of it's ongoing Retro series.... To say that 'music is his first love' (to paraphrase John Miles's classic song) is somewhat understated.
----------------------------------------------------------------------